Highlights:
Christine Masters is driving product management for Contentstack's AI roadmap
The company's new AI Assistant offers generative content capabilities powered by ChatGPT
Contentstack's AI approach is helping to mitigate concerns like data privacy
The combination of AI Assistant and Automation Hub delivers unique advantages
---
Artificial Intelligence has long been a popular trope in the sci-fi genre. Most of us could rattle off a string of films about machines gone amuck, from 2001: A Space Odyssey to Ex Machina.
The stories are almost always identical: Humans create AI. The world marvels at its promise. People check out. AI becomes self-aware and decides humans need to be exterminated. Epic battles ensue.
And it's all downhill from there.
While advancements in real-world AI have been profound, they're a far cry from the popcorn pop-culture dystopias we see in the movies. Sure, there's trepidation, but no threat of total machine domination (we hope). And AI models like ChatGPT – which has captured the moment's zeitgeist – are already proving their value in multiple use cases. 
Generally speaking, the AI features being added to CMS platforms show promise, not peril. At the same time, they're fraught with challenges – and if there's one Schwarzenegger-level threat suffering from a bit of time dilation, it might be the customer experience. Compounded by pressure to seize the opportunity and a need to remain in competitive lockstep, many AI features have been rushed to market at hyperbolic speed.
But what makes them different? And are they really delivering value? That depends a lot on how a user creates content in a CMS.
When I was in Europe last month, I met with Neha Sampat, Conor Egan, and Susan Beerman – the leadership team at Contentstack. One of the discussion topics was Contentstack's new AI Assistant, which I had previewed and found quite compelling. I wanted to dive deeper, so they sent me to the source: Senior Product Manager Christine Masters.
Christine's bailiwick is Emerging Products, where she's working on the front line of innovation. Her months-long mission to launch Contentstack's new AI features has yielded dynamite results, and she gave me a guided tour. We also talked about the big challenges the market is wrestling with, and how Contentstack's approach to generative AI – from content to code – is supercharging their composable DXP.
Mastering product management
Christine joined me on Zoom from her home in Iowa – an easterly track from her California roots, but a more temperate 80 degrees on an otherwise sweltering summer day.
"I remember 119 degrees," she reminisced. It's worth noting that the record in Death Valley is 134, which makes 80 sound downright cool.
And cool is precisely the right word for Christine. She's easygoing, confident, and genuinely passionate about her work. From an experience perspective, she's a fluent industry stalwart that's seen the evolution of content into the digital realm, starting in print at a newspaper in Fort Wayne, Indiana – where she used tools like QuarkXPress.
After operational roles in media, she managed CMS platforms at BLOX Digital, focusing on digital transformation for media applications in cloud and SaaS. She later became a senior director of core platforms, where she conducted focus groups to help build better CMS experiences.
Coming from a more traditional monolithic CMS background, Christine brings an unmatched perspective to her work in Emerging Products, specifically with Contentstack's new AI features. The company announced its ChatGPT integration in late March, relatively early in the hype cycle.
The new AI initiative was ambitious, enabling in-line user extensions that assist in creating brand-specific content in seconds. The stated capabilities were simple but powerful: editors would be able to quickly publish summaries, outlines, metadata descriptions, keyword-optimized blogs, and more – all by using prompts. But that was just the beginning.
In April, Contentstack hosted a webinar introducing its ChatGPT connector and the future of AI-driven composability. The messaging established that the company sees AI and automation technologies touching virtually all facets of the digital experience stack – transforming content creation, code development, and asset creation.
Quite a charter, and one that will keep Christine busy for some time to come.
Understanding customer concerns with AI
Death by PowerPoint is a common fatality in the tech world, but Christine offered a single yet poignant slide before diving into the demo – one that crystallized the key challenges most companies face when considering AI. This educational entry point has become common for her.
"We've had a ton of interest, but a lot of concerns as well," she said. "Many companies are asking, what should we be doing with AI? I've been on maybe 30 or 40 calls not just consulting, but talking and listening to their concerns. Some people are much more AI-friendly, and some are very nervous. There's kind of this fear that when we let ChatGPT in, it's going to suck up all our data to learn things and use it elsewhere, even with my competition."
It's a real concern – and one I've heard repeatedly from platforms and users. Will my company's proprietary content become fodder for the training model? Or will another bug allow my competitors to see my chat sessions?  
I asked Christine how Contentstack is assuaging these fears. She quickly pointed out that their new service taps the ChatGPT API, but none of the data is being trained by the broader model. Additionally, only prompt data is stored for troubleshooting purposes and cleared out after 30 days. All of these tactics meet GDPR compliance, providing greater assurance around data privacy.
---
"You need to make sure you have humans at the right step, particularly if it's content created from scratch."
---
That said, OpenAI has become a powerhouse tech company with more than 100 million users, making it a prime target for hacking. Last month, Group-IB reported that thousands of ChatGPT login credentials were leaked to the Dark Web, forcing Google and other companies to warn employees not to add sensitive information to the large language model. Contentstack addresses some of these risks with a combination of optimization and policy.
Accuracy is another blocker, and ChatGPT's well-documented hallucinations have caused significant challenges to trust. "Sometimes it sounds very convincing, but it's a total lie," Christine added. "You need to make sure you have humans at the right step, particularly if it's content created from scratch."
Given this, Christine focuses on the use cases where ChatGPT excels, such as creating short summaries from longer-form content or extracting keywords. "We've been doing things like this for years now, so it's become table stakes," she said, noting that AWS has been making AI scalable for quite some time with products like Amazon Rekognition.  
But what is novel are the prompts being used to simplify and execute – and how Contentstack is harnessing its automation capabilities to streamline AI at exactly the right places in the content creation experience.
"That's where we're coming from with these products," she punctuated.
Conjuring content with AI Assistant
Contentstack's ChatGPT integration has two main products it intersects with: AI Assistant and Automation Hub. The combination of the two provides a unique ecosystem of capabilities that enriches the generative creation of content and the automation and streamlining of its entire AI workflow.  
As Christine pointed out, an important distinction with the AI Assistant is its nature as an app in Contentstack's composable ecosystem. I knew other platforms had instrumented their AI with a more coupled architecture, so I asked her to elaborate on the advantages.
"One really great thing about our CMS is the extensibility," she explained. "You can build your own apps and modules to extend the capabilities through a marketplace approach. With monolithic CMS platforms, you might keep adding features – but after ten years, it gets bloated and filled with toggles. By extending CMS through apps, you can keep it agile and lean."
With the AI Assistant being an app, Christine began her demo in the most logical place: the installation process. This is critical, as users can choose to connect ChatGPT using their own API keys, or use Contentstack – which is free. In either case, the whole piece is painless.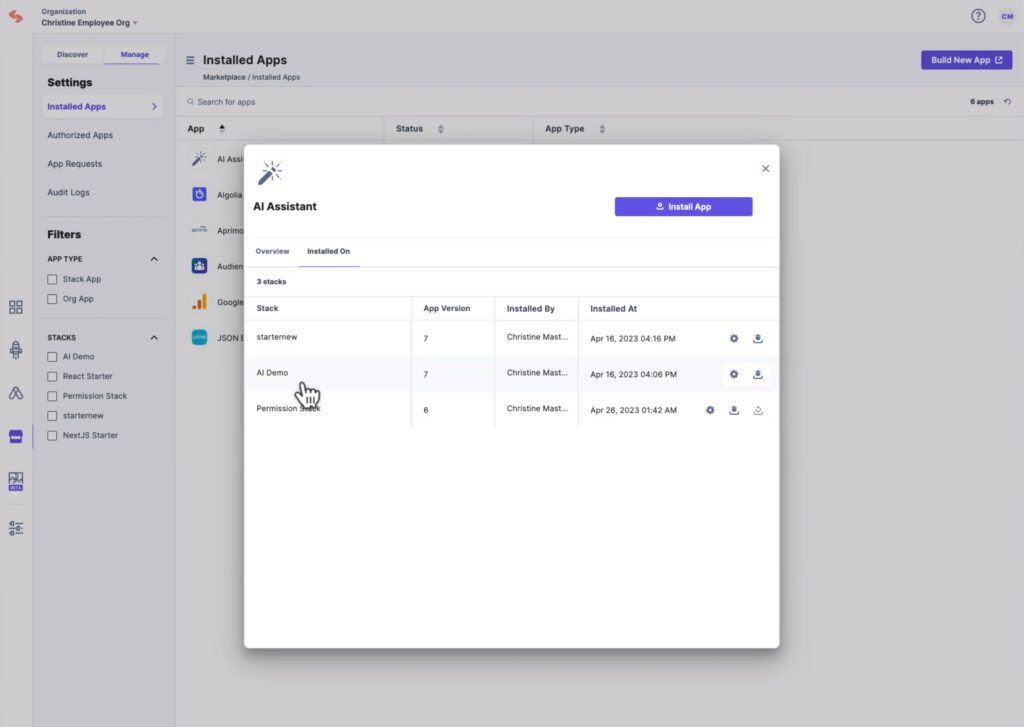 Inside the tool, there are lots of pre-configured features that allow you to build prompts for almost anything. You can add a pre-defined set of icons that conform with your brand standards or build custom prompts aligned with your organization's content style. (Sidenote: prompt engineering courses have now emerged to help assist users with this new skill. Go figure.)
In Contentstack's AI, the prompts can get very granular. For example, a customer can enter explicit instructions like when to use associated trademarks or which competitor should never be mentioned. 
From a UI perspective, the AI Assistant "lives" where the content writer creates new entries, enhancing the experience without disrupting the editorial flow. The whole experience is lightweight and elegant, and reflects thoughtful analysis of where the elements should co-exist. Users can interface with the tool via custom actions already configured for spelling and grammar, then add functions to write summaries, extract keywords, and even provide translations. 
As Christine pointed out, writers and editors aren't typically creating content from scratch with AI. In most cases, they use it to augment their writing in different ways.
"As a quick example, let's say I want to write a blog post about something," she said. "You can use our pre-built Idea Generator to create ideas and use custom prompts to be in the tone and voice of your brand. Most of the time, writers want ideas and outlines, so they have more control."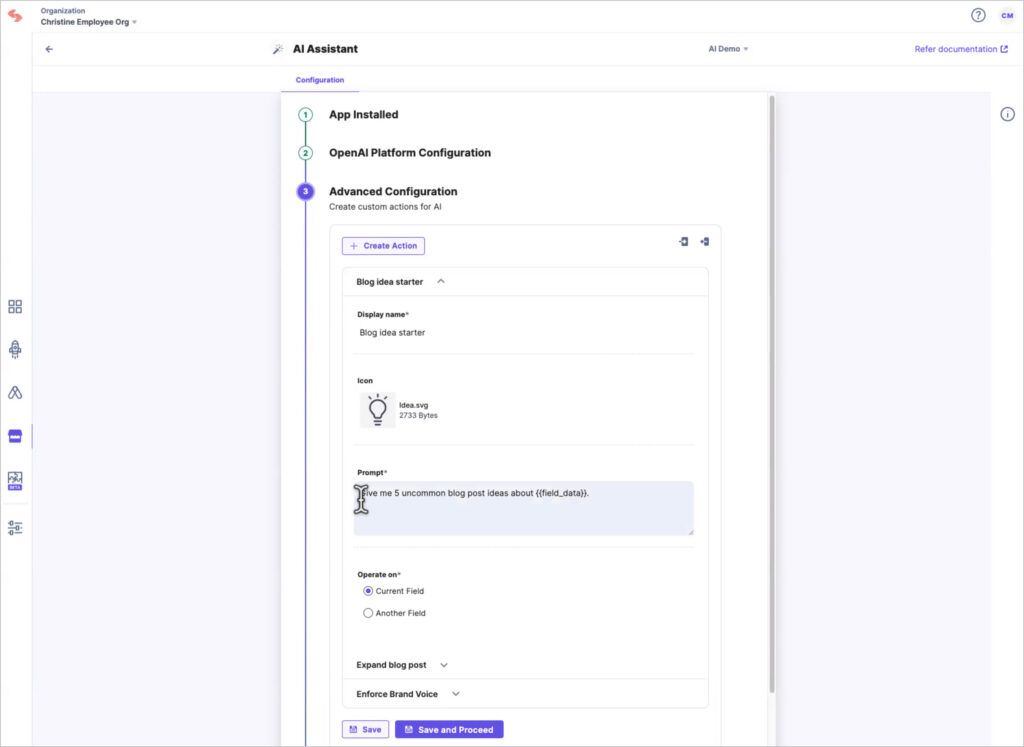 From a success standpoint, Christine offered some experience-based advice about prompting, explaining how the assistant can produce better and more accurate results when properly fed. This includes prompt curation around overused terms that might seem cliché or incompatible with a brand's voice.
"You might tell ChatGPT to 'make it more exciting' and it returns words and phrases like 'trailblazing' or 'revolutionary.' Everything can start to sound the same. 'In the realm of digital experiences' is another example that you see out there. These would be my guidelines for what not to use."
Looking at the prompt capabilities, I asked if there was a plan to make the customizations more repeatable and sharable. Christine said that's on the roadmap – along with other features.
"We really want to make sure that we're providing something very useful for our customers they can actually use."
Adding some magic with Automation Hub
The 1-2 punch of Contentstack's AI offering is the unique combo of AI Assistant and Automation Hub.
If you're unfamiliar with the service, it's an existing feature of the Contentstack DXP that delivers an easy, no-code solution for streamlining business processes. It starts with a trigger or action and allows you to define a specific workflow using a graphical interface – which is incredibly lithe and intuitive. The tool is designed to help simplify the complexity of integrations and automate routine tasks. 
"Now [with Automation Hub], you can build up a series of automated steps with the ChatGPT connector, which brings in an automatic prompt trainer," Christine described. "It's a webhook with a trigger – like publishing a new article – and you build steps afterward that are API calls or snippets of code performing functionality."
According to Christine, Automation Hub is ideal for applications like translations, where ChatGPT can be automatically tapped to return languages based on specific fields and requirements. ChatGPT does a decent job with translations, and there's already broad market trust with third-party tools like Weglot that leverage AI.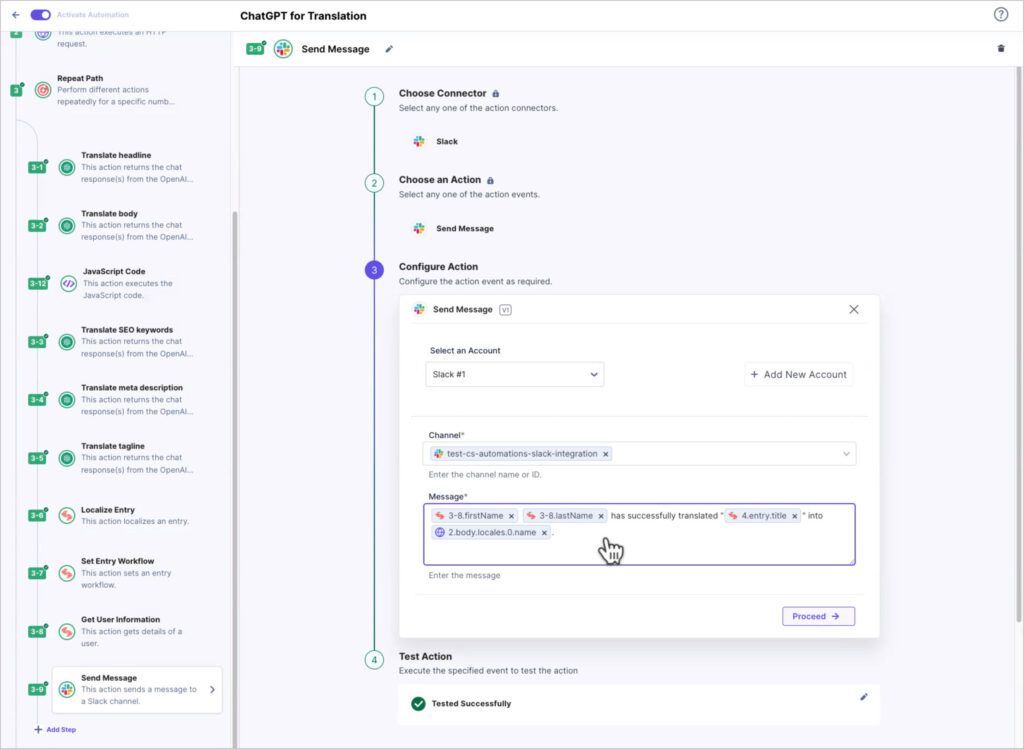 In just a few minutes, she demonstrated how simple it is to activate the "ChatGPT for Translation" automation in the UI and configure both the connector and the associated actions. Once the translation was completed, we even added a step with Slack, automatically letting team members know the task was completed. Pretty slick. 
"Summaries, keywords, translations – if you do something a hundred times over and you never have to change it, this can take the place of people. But you always want a human in the loop knowing what's going on."
In an upcoming version, Christine mentioned that users will be able to add in multiple prompts, but also specific function calls via API or http connections. For example, ChatGPT could be harnessed to tap a stock or sports score database at 9 AM and send an email to a list of recipients in a pre-defined format.
"Text enhancement is really the starting point," she said. "I can't wait to get this into the hands of more users. I don't think we've even started to think about the cool ideas they'll be able to implement."
What's ahead for Contentstack and AI
We've been on the ChatGPT "hype train" for well over six months now. I asked Christine how the landscape is unfolding, particularly with similar offerings from other platforms. She agreed that competitors are driving AI in a commoditized direction, but that Contentstack's app architecture – and its focus on streamlining and automating processes – is unique.  
So what's driving that value quotient for customers in these early days?
"We're seeing a lot of use with things like extracting keywords, tapping language translations," she motioned, "but there are also cost savings when you consider replacing other tools for things like SEO optimization. And if you're using our Contentstack API keys, it's even free."
Free is good, but will it last? Christine did suggest that large organizations will likely opt to use their own ChatGPT keys – and if more translation is required, costs may increase with the scaling token requirements. But it's clear that Contentstack sees its AI features as a value-add, and having a free entry point is a smart move to build adoption. 
Based on the demo, there's ample room to streamline the clicks required within Contentstack's AI experience. This is where Automation Hub really sings, delivering both efficiency and control to users. As she noted, it's the "boring" integrations – the undifferentiated heavy lifting – that Contentstack is endeavoring to supplant. By doing so, users can focus on building high-value, high-utility apps and experiences. You know... the cool stuff. 
"Whatever you trust AI to do, we can automate that," she declared.  
Get started with AI Assistant
If you want to join Contentstack's AI Assistant program, sign up by filling out this form. After agreeing to a few terms, you'll receive a link to install the app – which, as mentioned, is currently free.
Christine said we can expect more announcements in the coming months. You can also check out Contentstack's recent June release highlights for current details.  
All challenges aside, the introduction of AI in CMS platforms has tremendous potential to improve productivity for content editors and developers. I've always contended that AI should stand for augmented intelligence, because it's really about enhancing our creativity and productivity – not replacing it.
"Humans are great at the interesting things," Christine observed.
Exactly. Like writing sci-fi scripts... about AI.