Contegro is a commercial Website CMS solution for medium to large organizations that is targeted at design focused Web Design, Graphic Design and Advertising agencies looking for a high end Website CMS for their clients.
Contegro's key point of difference over other Website CMS systems is that it removes the developer from the website lifecycle. Allowing design focused companies to deliver functionally rich websites, without the need to employ developers for any coding. This is achieved by building in an extensive level of control within the User Interface, providing partners with all the control they need to produce functional, high end websites while providing their clients (the end-user) with total control over the management of their content within a very user-friendly interface.
In a nut shell, it simplifies the website development life cycle while delivering a feature-rich, technically advanced website solution for their client.
Due for release on November 17th, Contegro's fourth rendition of their popular WCMS is still in testing but we've been granted a chance to dig deep and see what this system is made of.
Contegro has a number of addon modules that can be used to extend the system to allow for additional functionality. The modules available include: Blog, Directory, Document Library, E-Card, E-Commerce, E-Commerce Lite, Email Marketing, Form Builder, Image Gallery, Investor Relations Suite, Microsite Ability, Podcasts, Product Catalog, RSS reader, Seminar, Store Locator, Vehicle Booking and Voting Poll. For more descriptions, see Contegro Addon Modules.
When you first log in to the Administrative Interface for Contegro, you are greeted with a familiar look and feel to what you would expect from a Windows Desktop: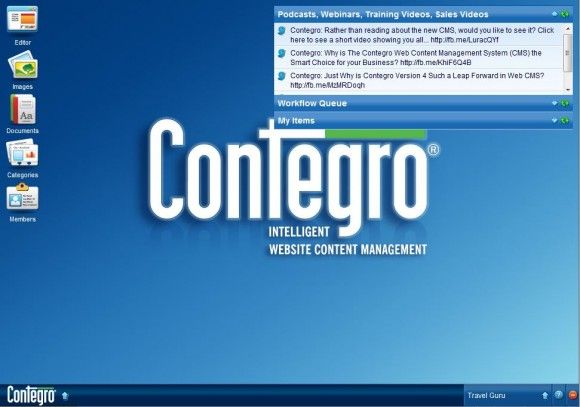 Double clicking on the editor on the Contegro web desktop pops up an editor that allows you to browse the various aspects of the site and edit them.
Within editor view, there are three icons located on the right side of the window that allow you to switch between the various modes:


The icons in order that they appear are: Preview, Compact Edit and Preview Edit.
Preview mode should be pretty obvious. It shows you a preview of the site without any obstructions. Compact edit shows the site layout with the individual module boxes and no previews available: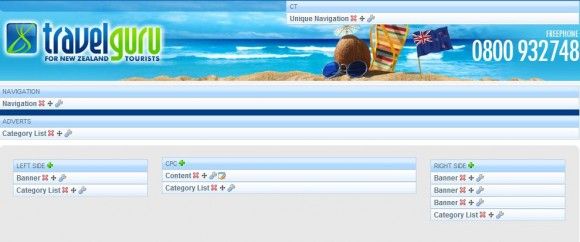 Lastly, Preview edit shows the site as you see below: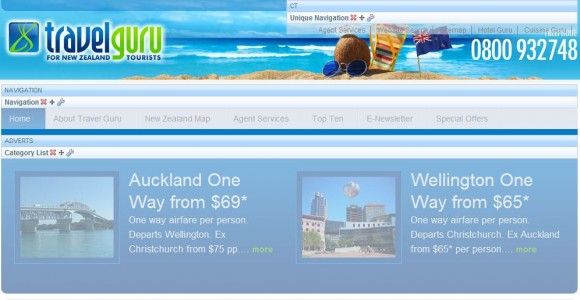 Right clicking on any of the pages on the left pane brings up a context menu with various options:

Do you wish to change the order of your pages? You can do so by simply clicking and dragging the page to it's new location directly from the left pane of the window in the screenshot above.
Should you move a page to a new parent page, you will be prompted to create a 301 redirect to ensure that you maintain your search engine visibility. This is a handy and well thought out addition that makes rearranging your site's structure less daunting.
Modifying the individual modules is easy to do as well. You simply click on the wrench icon and a new window with the various settings for that module appears. Let's say you want to change the categories to display by order of popularity instead of by name. Simply click on the wrench for the category list: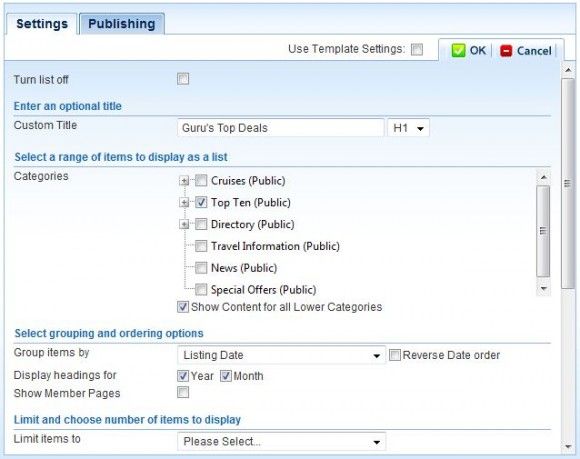 There is a dropdown menu available called "Group Items By:" that you can simply adjust to use popularity. It's as simple as that. As you can see, there are plenty of options and ways to customize the individual modules to best suit them to your needs.
Each area of the template can be given a specific set of design rules or CSS attributes and you can see how this works very easily. Simply drag your module from the left pane of your website to the middle pane and the module will automatically reskin itself based on the CSS attributes of that pane. This saves you a ton of time when it comes to making adjustments to your site's appearance.
Adding modules to your site is also fairly straight forward. To add a module to an area, click on one of the green + signs beside your module name:
This will bring up a dropdown box for you to select your new module from. In the drop down box are a number of modules for you to select from.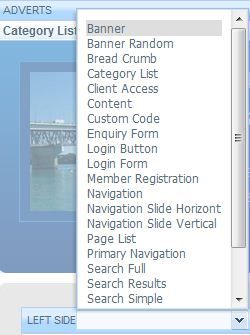 Editing content and settings from here is as simple and straight forward as clicking on the appropriate icon. Should you wish to edit content, for instance, you can simply click the icon for editing and up pops the window: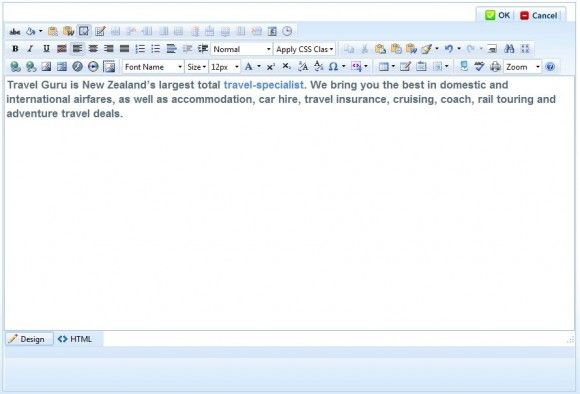 Right now, the editor shows the full set of available options but can easily be restricted to show only specific buttons, should you wish.
The file explorer can be found by clicking on the Document icon on the Contegro desktop. This window allows you to browse the hierarchical structure of your documents and images as well as manage the contents within.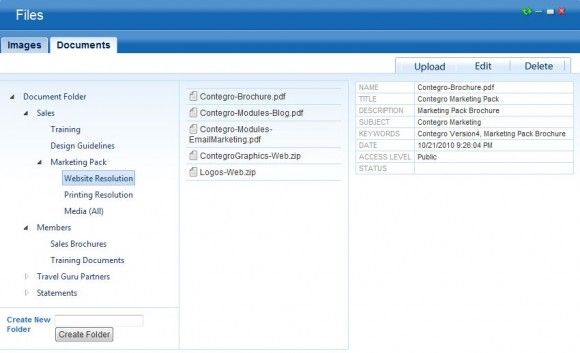 As you can see in the screenshot above, you can also edit the metadata of the individual documents as well as their access levels should you choose to do so. One thing I encountered and I initially found a bit inconvenient is that there does not appear to be a way to upload multiple documents to the repository from this application. It seems to only allow you to upload them one at a time.
I was informed, however, that there is a document Library add-on module that is used for managing large volumes of documents as it takes away the manual linking. The Document Library includes an import feature that allows you to zip all documents and import as one file and is ideal for managing from 100 – 10,000 + documents.
When it comes to managing images, you can easily select and upload multiples in one go and it uploads them quickly without issue.
Moving to the security management aspect of the product, I found access permissions to be quite easy to configure with numerous restrictions that can be applied quickly and easily: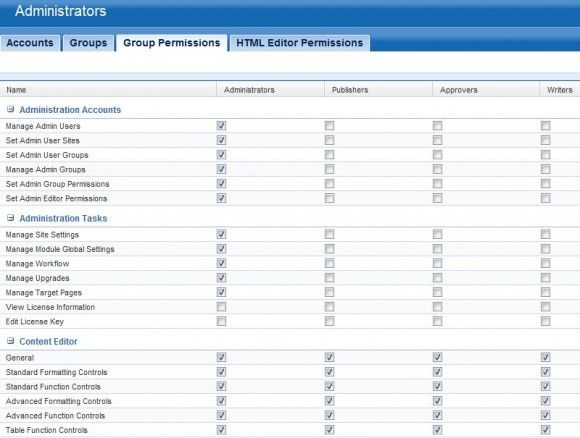 What I especially like is the ability to modify HTML Editor Permissions. Often in my consulting work, I am asked if the systems that are available can be made as simple as possible and this is a great way to do so. You can restrict the toolbars within the editor to only show the basics so as not to overwhelm those who are not as comfortable with technology. This is a great addition and you don't have to hunt and peck around the software to find it, which is nice.
Developers will love the template management that Contegro offers as well. You can add, move, replace quickly and easily from the template menu. There is also the ability to lock the module in place so it cannot be moved, allow or disallow additional modules to be added to a defined template area and allow or disallow module deletion.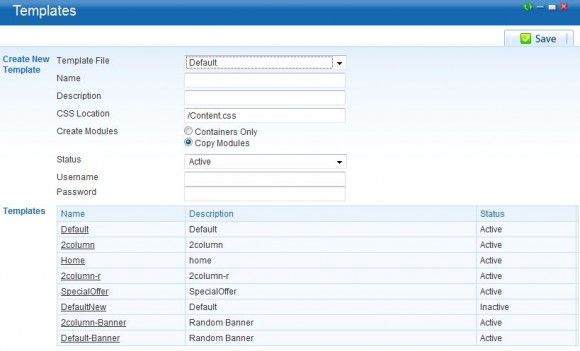 Creating new templates is quick and easy and you can specify custom CSS files to use for each template within the system. Contegro also allows you to create and add snippets of code into your templates quickly and easily. To find your available snippets, simply click on the Contegro start menu, Content, Snippets. You will be able to see all prepopulated snippets and be able to quickly and easily insert your own.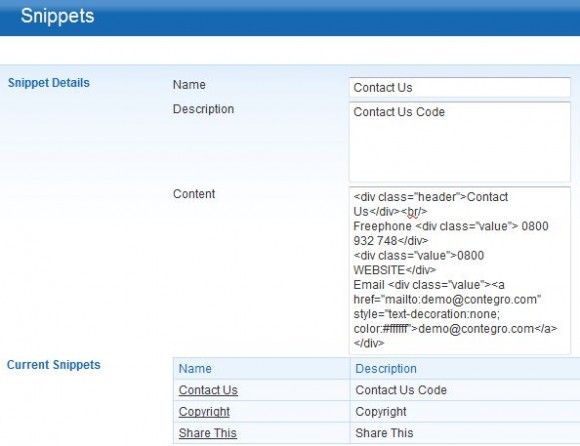 Once you've created a snippet, adding them to your template is as simple as selecting the template area you wish to add it to and selecting it from a drop down list.
Workflow management is an integral part of any CMS and Contegro is no exception to the rule. It has an extensive 2 & 3 step workflow process that can be managed down to page level. To setup workflow for different groups, click on the Contegro Start Bar >> Accounts >> Administrator >> Group Permissions.
Do you need the ability to manage multiple sites? Contegro can easily handle this as well. New sites can be created directly from within the CMS using the following menu item: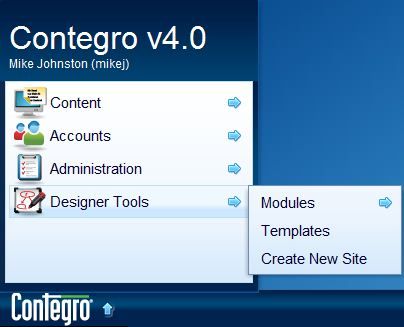 Once created, switching is as easy as selecting the new site from a popup on the right side of the screen.
Conclusion
In summary, if you are a developer or designer looking for a stable product with plenty of functionality that offers scalability, ease of use and excellent security management then Contegro is a great choice.
With it's easy to use template system, ability to integrate code snippets and multi-site management capabilities.. Contegro is sure to be a hit among the design community.
Do you wish to learn more? Check out these videos showcasing Contegro's capabilities:
Alternatively, you can peruse their user guide here: http://www.contegro.com/UserGuide/
Website: http://www.contegro.com