In a recent interview, I invoked the original Star Wars film as a thematic backdrop. It seemed an apropos analogy for exploring the galactic frontier of composable – and, hopefully, made for a fun read.
Now, at great risk of crossing my sci-fi streams, I'm going to channel Star Trek.
I know, I know. What is he thinking? These are distinct mythologies, each with a fiercely devoted fan base. But rest assured, my goal isn't to stir up debate over which is better – I'll leave that to you. Think of me as Switzerland… if it was a planet in the Dagobah system.
So why am I doing this?
Because every time I read the words "content federation," I can't help but think of Star Trek's unmistakable "United Federation of Planets." Key to the franchise canon, this futuristic authority has unified species and cultures across the expanse, enabling a utopian coexistence built on collaborative exploration and the betterment of humanity.
In so many ways, this mirrors the mission of Hygraph – a headless CMS designed for the purpose and promise of content federation. Its captain, Michael Lukaszczyk, is seeking out ways to chart this frontier by uniting content data from different sources with one universal API.
It's not science fiction. Much like Star Trek's Federation, Hygraph is pioneering a new quadrant of headless space as the first "Federated Content Platform," ushering in a new reality for content management. It's a strange new world where a headless platform is both frontend and backend agnostic, and data can be joined across multiple sources using a single GraphQL query.
With so much change and commoditization in the headless category, I connected with Michael to learn more about the benefits of Content Federation, why he's betting the future on it, and how it's powering the warp drive behind Hygraph's market acceleration.
A digital experience explorer
For some DX professionals, the path to a platform is often incongruous. But for Michael, it seemed his destiny was always in the stars.
Joining me from his home base in Germany, about an hour north of Frankfurt, he chronicled his origin story. At age 11, he was already adopting the mantle of a digital wunderkind, building websites for friends and family. He pursued this passion at the university level, studying abroad in Spain and Sweden.
After completing his master's degree, he began his career at a company called Canto, a digital asset management (DAM) vendor. While challenging, it wasn't entirely his cup of early grey tea.
"I was in professional services, but I didn't enjoy it," he confessed unabashedly. "I was building integrations, but I always wanted to work on the core product and in distribution."
It was at Canto in 2015 that Michael met Daniel Winter. The two would become thick as thieves – much like Kirk and Spock – sharing a common sentiment on architecting and delivering software. By early 2016, the pair had already built a prototype for their own DAM solution.
"But then, on a Friday night," Michael recalled vividly, as if only yesterday, "I was scrolling through my Twitter feed before going to sleep, and I stumbled onto a post called 'What is a Headless CMS' by Chris Coyier from CSS Tricks. I didn't know what a headless CMS was. No one did [in those days]. But as I read the post, I was impressed."
As Michael shared, the durability and sustainability of the headless CMS product model is what really appealed to him. "Whatever comes next in terms of digital channels, wherever you want to distribute your content to – AR, VR – you're already set. Headless lets you build a sustainable content strategy."
After sharing the article with Daniel, they took a risk and pivoted from DAM to headless CMS, with one unique etch: the introduction of GraphQL, a new query language for APIs. They had already been experimenting with it in their DAM prototype and knew its potential for improving the developer experience. The rest, as they say, is history.
"The next day, we started to build the first GraphQL native CMS out there," he said. "[We introduced] the product in early 2017, got some angel funding, and grew to a company of 90 people across the globe, from San Francisco to Manila."
What followed can only be described as a meteoric rise. After an initial raise of $13 million, the company closed on a Series B of $30 million in March of this year. They christened the vessel "GraphCMS," but later rebranded to "Hygraph" to avoid any confusion or biases around page-building capabilities or publishing workflows. It also sounds cool and futuristic – exactly where the company wants to be. 
The voyage from headless CMS to federated content platform
Over the last few years, Michael and his team have been chasing the answer to a very simple question: what will the next generation of CMS actually look like?
As you might guess, that question isn't so simple to answer. The evolution of CMS has been a long one – and with the explosion of the device ecosystem, things changed significantly. Demands shifted from a single web channel to multiple channels. This paradigm gave rise to the headless CMS, rendering the CMS frontend agnostic and turning it into a one-to-many relationship of content sources and destinations.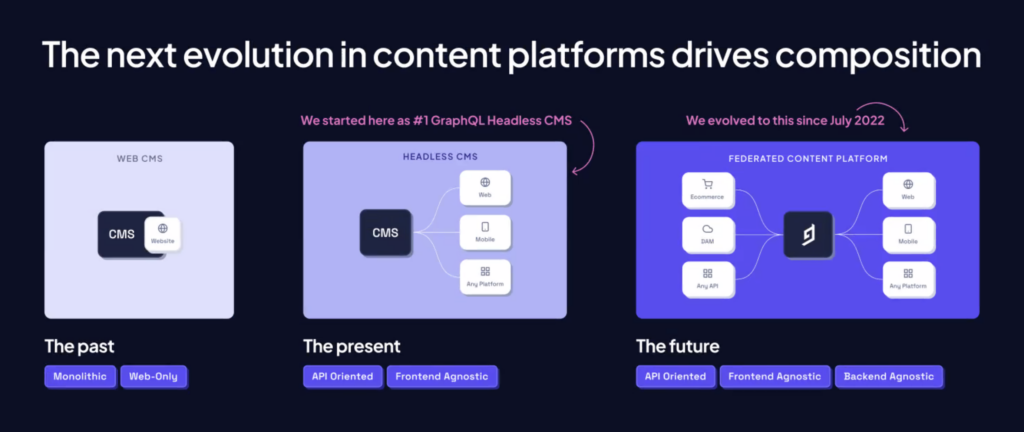 "What we launched last year – what we call the federated content platform – is turning the promise of the headless CMS around," he said. "Now, it's not just frontend agnostic, but also backend agnostic, meaning you can source the content and data that lives in your backend stack on the other side of the API."
Bottom line: Hygraph has transformed the headless CMS from one-to-many to many-to-many across content sources and destinations. Developers and product builders can turn all backend systems into one universal API, allowing users on the frontend to work in any way with their data.
This plays directly into the concept of federation. As Michael pointed out, the term originated in the GraphQL community, with the basic idea of merging multiple APIs together in a sort of "Super API" (powered by dilithium crystals?)
"It was a very easy progression to being a GraphQL headless CMS to adding federation capabilities to the mix," he added. "We were already so strong on GraphQL that it just made sense."
I asked Michael what else was driving this change, aside from the obvious. That brought us back to the core question about the next generation of CMS, and a key word: composable.
---
We're adapting to a new reality where content and data aren't residing in one source anymore... content federation is content management for a new reality.
---
"We're adapting to a new reality where content and data aren't residing in one source anymore," he professed. "The typical stack now is modular. With composability, the monolith is going away, and companies are establishing more modular architectures in their tech stack and picking the best tool for the job."
While building so-called "best-of-breed" stacks sounds great, composable has its share of side effects. As Michael reinforced, things aren't integrated as tightly, and this can cause huge problems and delays. Enterprises are left tending to these integrations, and man… it's hard.
"Before content federation, the biggest challenge we saw was building middleware," he said. "It's really expensive and painful to develop. You have to design, maintain, authorize, secure, make fast, wire up with CDNs. Each time there's a new component or system coming in or new business requirement, you have to adapt the code base. It's an innovation bottleneck."
This is where Hygraph fires its photon torpedoes to eliminate that bottleneck, allowing you to configure all your systems downstream and easily tap all content sources and destinations with a single API. It solves the customization and integration challenges that hold back innovation or slow time to market.
As Michael punctuated, "Content federation is content management for a new reality." And it certainly feels like a Star Trek-level next generation of headless CMS.
Charting the composable frontier
Hygraph is a member of the MACH Alliance, a not-for-profit organization focused on open, best-of-breed technology ecosystems – and the defacto voice of the composable movement. As I shared in previous posts, I had the opportunity to judge entries in the MACH Two Impact Awards this past June.
During our conversation, I shared with Michael how inspiring and intimidating some of the project examples were. The system integrators behind these transformations were creative and ambitious. In some cases, the resulting stacks felt a bit like Frankenstein's monster coming to life – miraculous, but potentially scary. Could content federation help change this?
"I actually think Frankenstein is a good term for it," he replied. "What led us to content federation is that we would see the integration requirements and what kinds of Frankensteins [our customers] would build. One reason why it's hard to maintain is that very often, the people who can build these Frankensteins can be strong characters – very experienced enterprise architects. There's a human factor, and there can be a lot of arguing about how things are built."
The human factor. Of course. One of the biggest risks to the success of a modular, composable architecture is the mindset – which, by its very nature, is about people and processes. Larger organizations have the resources to support both, but I wondered if Hygraph might be looking downstream as it removes many of the challenges from going composable.
"We want to make complex architectures feasible, not just possible," he said. "Even for the mid-market. A lot of vendors in the MACH space address [that segment], so there has to be some way to get those technologies together more easily."
A warp engine for content-rich applications
In the expanding universe of digital experiences, content is fueling opportunity – hence the continued explosion of CMS, DXP, and other technologies in the ecosystem. Some estimates put the market potential at over $123 billion by 2026, with a CAGR of 17 percent.
At the same time, the headless CMS market is approaching a Neutral Zone of commoditization, with composable forcing greater downward pressure on price and parity. Most platforms provide similar functionality, and some are feeling the pinch to add new features that challenge their MACH posture as pure-play composable solutions.
I asked Michael what gives Hygraph an edge in this battle.
"A lot of CMS vendors focus on websites and marketing personas. But we've built powerful capabilities that have attracted different kinds of use cases to our platform, the kind that we were surprised to see a CMS being used for and not a database."
Michael referred to these as content-rich applications, where the content itself is the main asset of the product being sold. Like Netflix for streaming movies or Peloton for workout classes, content creators only need tools to maintain those experiences. In these cases, it's not marketers using Hygraph, but domain experts that don't require page builders or WYSIWYGs.
On the channel side, Hygraph is partnering with SIs and collaborating with other MACH vendors to build deeper API-based integrations. While much of this attention is focused on enterprise, there's some solid mid-market in the mix, where it's easier to find early adopters of their technology. Regardless, organizations stand to gain significant benefits from content federation.
"It can help consolidate the legacy stack within an organization," he explained. "You integrate all the services under the hood, and you get a fresh façade, like a renovation for all the APIs you have. All of a sudden, a company can attract better developers because they can work with modern tools. If you want top talent, you have to keep iterating."
Content-rich applications are one dimension. Enterprises are also wrestling with multiple CMSes under on roof. "We've seen enterprises have as many CMSes as teams or divisions, and they need to stay there for a couple of years. Content federation is enabling this to work, making it easy to consolidate and build new digital experiences."
Phasers locked on growth
As Michael noted, the biggest challenge to growth in composable is that no one knows how to Google the problem they have. It's a bit like being trapped on an alien planet with no universal translator.
"Headless CMS is mature, and people are aware, but we are so early with composability and building the tooling that a lot of education still needs to happen," he proclaimed. "I'm happy the MACH Alliance is around, as it's a joint effort to educate and position to other vendors. It's the category creation process that needs to be innovated."
For Michael, the role of the MACH Alliance can't be understated. I recall Kelly Goetsch, one of its co-founders, saying that if the Alliance does its job, it might become less necessary in the future. That said, the rise of new certifications brings greater certainty and confidence to technology buyers.
Michael said he wouldn't be surprised if the MACH Alliance became a marketplace to bundle those services under one umbrella. Driving that belief is the challenge of procurement.
"With monolithic vendors, you have all the tools with one vendor, one renewal process, one customer success manager. In a composable stack, you have ten solutions you have to deal with ten times a year. At some point, market consolidation may happen – and the MACH Alliance might be in the best spot to do this."
There are a lot of challenging headwinds, to be sure. Composable is growing, perhaps more in Europe right now, but I asked Michael how his approach to growth as a leader is setting Hygraph up for success.
"It's challenging economically, but we're still growing at a good pace," he said confidently. "We've built four strong pillars of growth: product-led strategy, a good sales team and quotient, the right ecosystem partners, and a commitment to customer success – so our customers buy again. It's important to go the extra mile to make sure they implement successfully. Otherwise, after three or four months, it's a safe churn."
Scotty, beam me up…
Whether you're a Star Trek fan or not (and really, who isn't?), you can't argue its impact on pop culture. Content federation might be on a similar trajectory within the CMS industry as it evolves the composable landscape.  
As Michael reflected on our conversation, he returned to that tipping point of opportunity and the importance of having a solid vision and a good story to pitch. "Innovation and differentiation are so important. If we hadn't pivoted to GraphCMS, we wouldn't be here. Everyone told me not to go fundraise for a Series B, but the whole process took 90 days to being at the notary and signing the round. A differentiated, unique story is incredibly important in that aspect."
I asked what's ahead for Hygraph as 2023 warps toward a new year. I also inquired about AI, as peer platforms continue to add functionality to their toolsets.
"We're very focused on federation and larger releases, but what we see with a lot of vendors is that they're wrapping ChatGPT around a UI plugin and giving you ChatGPT tools in their CMS. Is there a real value add? In reality, you can say you're a CMS with AI capabilities, but you're just copying and pasting from ChatGPT with better integration."
Michael suggested there are stronger use cases for AI in content management. For example, in the future, companies may be able to define schema and allow AI to build out the rest of an application – reducing the fail rate for software projects. There are clearly boundless opportunities for automation that still put users in control.
As Hygraph continues to explore the DX galaxy under Michael's leadership, it's clear that content federation is the prime directive. It's the kind of innovation that could very well shape the next generation of content management and drive significant growth.
I'm betting it will live long and prosper.