Snapshot
Contentful just launched new products and capabilities focused on digital teams.
Features include enhancements to its Contentful Platform, Contentful Studio, and Contentful Ecosystem. 
The new Experience Builder provides deeper visual composition capabilities.
Generative AI has been introduced for content and image creation along with AI-powered partner integrations.
---
Steve Sloan is excited.
And why shouldn't he be? There's a lot of cool stuff happening under his watch. 
As CEO of Contentful, he's manning the helm at a leading content platform, deftly navigating the choppy waters of composable and staring down the waves of change with innovative solutions.
"We've seen a lot of evolution in the past five or six years," he said in our recent chat. "This space is pretty different than it was in 2017 or 2018. And honestly, there's a lot going on, but I think it's an incredibly exciting time."
Steve took the wheel in 2019, just as the composable threshold was being breached in earnest (and the pandemic was still on the horizon). As he observed, a lot has changed – but Contentful has been a steady engine of headless innovation through this modern era of transformation.
That trend line is about to get longer. Today, the company announced the launch of several new products and capabilities to its composable platform – including AI-powered advancements – that effectively unlock all digital content across an organization to deliver impactful experiences at scale. 
There are three key components to the company's announcement: high-utility enhancements to its Contentful Platform, the new Experience Builder in its Content Studio, and the expansion of partnerships and technologies in its Contentful Ecosystem. Contentful has also incorporated a variety of generative AI-driven capabilities within each leg of the tripod.
I spoke to Steve about the new products and capabilities, which will be the central topic of discussion at the company's last two stops of its Storylines Tour in Silicon Valley and Berlin later this month. I was also treated to a demo preview from Contentful's Mairead O'Donovan, Chief Product Officer, and Satya Krishnaswamy, VP of Product Management.
Delivering meaningful AI to Contentful users
As indicated, AI is intricately woven through each of the three areas included in the announcement, providing new capabilities that solve problems for digital teams. Steve shared a bit on the genesis of the investment, and how AI is providing some of the connective tissue across its new offerings.
"In the last 18 months, it became clear that we need to help the entirety of the digital team, not just the developers," he shared. "And so we're endeavoring to do that. That's number one. But number two has been the emergence of generative AI. For content and experience creators, the opportunity to use these tools to create more variants for personalization was an obvious story, and a lot of people have talked about it. The piece that I think was less obvious, we realized coming out of an experiment we did." 
As Steve described it, they compared ChatGPT with several other emerging generative AI platforms, giving them all the exact same task with a standard rubric for quality. What they discovered is that their accuracy was anywhere between 60% and 80%. 
"In my job, being right 60% of the time? That's not good enough," he remarked. "Particularly if there's anything at stake – including our reputation. The models are great in terms of being predictive, but they're frequently based on a broad set of contexts. The biggest challenge is how do you train your model on the content that is most trusted? Your bots will only be as good as the content or the data on which they have been trained."
---
In the last 18 months, it became clear that we need to help the entirety of the digital team, not just the developers. And so we're endeavoring to do that."
---
Here's where Contentful saw an opportunity to thread the needle. By helping customers increase access to their most trusted content – from CMS to CDP to DAM – they could further scale the creation of rich, omnichannel experiences. 
This led to the evolution of orchestration across systems, but it also allowed AI to be focused on the right content to train models for maximum accuracy and efficacy.  
"As an API-first platform, [our users] store lots of trusted content directly in Contentful," Steve said. "But then you also have important content that lives in other systems that can be trusted. In Contentful, we can make it easy to include content you use across any device or experience. But it's also used as the place in which you can train your models."
As Steve noted in the company's press release, generative AI has ushered in a new era – one where we all can accelerate creativity by leveraging the power of machines to improve speed, experimentation, and collaboration. This will have a significant impact on how we create, deliver, and interact with content.
"At Contentful, our vision is unlocking the power of digital content for our customers, and we are already enabling this power through our latest composable content capabilities, infused with the power of AI, with more planned on our product roadmap to help digital teams reach their full potential." 
Orchestrating everything in the Content Platform
The enhancements to the Contentful Platform are plentiful. At their core, they enable developers to break down content silos and orchestrate content from any source across an organization. The net effect: teams create and deliver digital experiences at a faster clip but with brand governance, consistency, and scale.
Contentful's references and cross-space references effectively "unlock" content from different systems – think DAMs, PIMs, and commerce platforms – as well as within Contentful itself. This helps teams efficiently leverage all their content for reuse in any digital experience across brands, regions, and use cases.
"As you know all too well, work happens in silos," Steve emphasized. "A lot of stuff gets handed off via email, and all these other very, very clunky ways of working. And going back to grumpy customers, they get really frustrated with it taking too long because different teams work in different ways. So, the ability to bring that together? We think that's really compelling."
The embellishments to the Content Platform also include enhanced enterprise governance and security, including an expanded EU data residency footprint to help address data protection and compliance needs. 
From an AI perspective, the platform also features an AI Content Type Generator, which was previously announced. It streamlines the content model creation process so developers can accelerate time to market. As Steve noted, this is a useful attribute for a marketer, but also a tool that improves how people work together.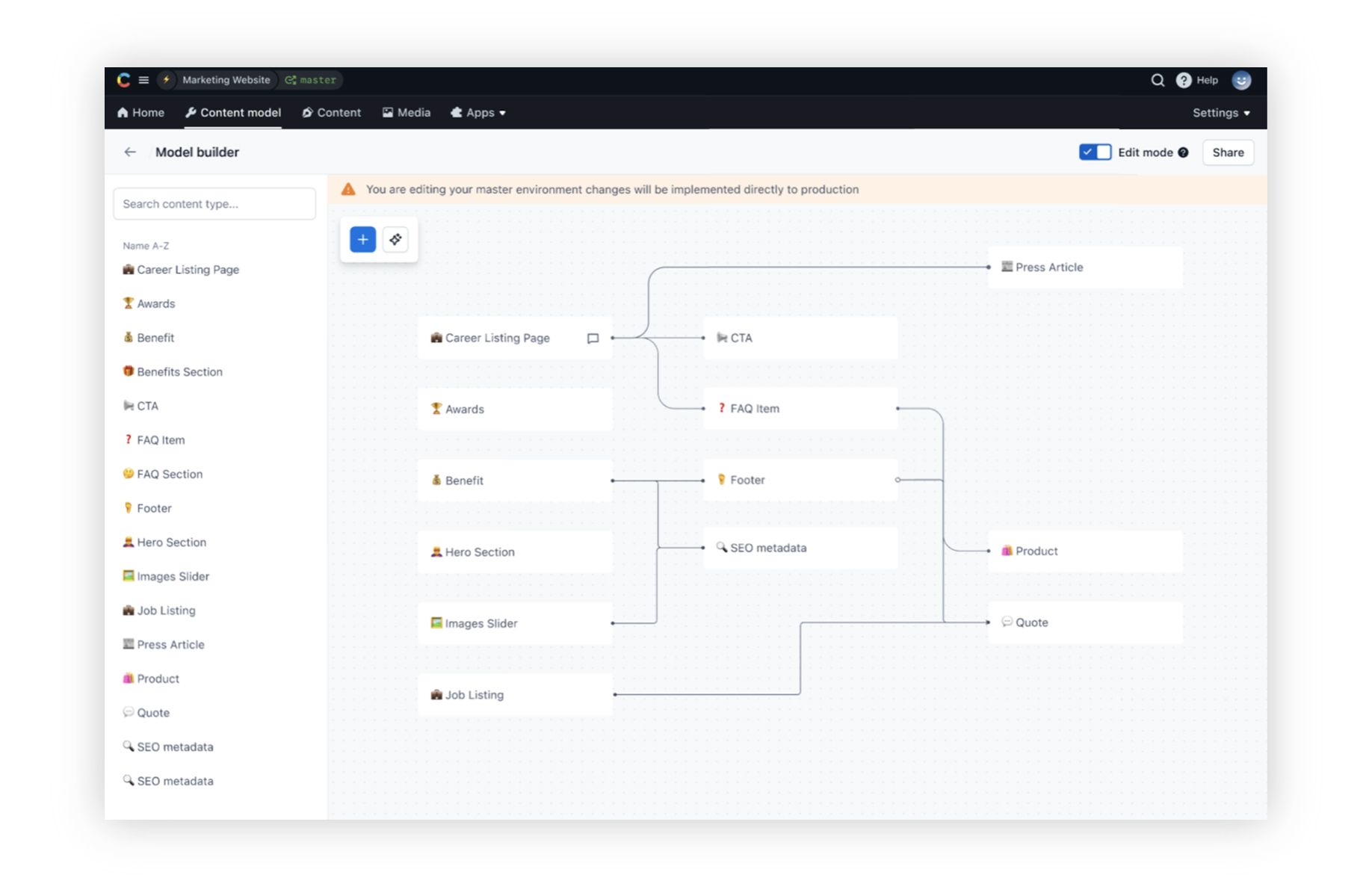 Another great enhancement is the generative AI-based Visual Content Modeler, which creates the baseline for someone who isn't as technical to set up the structure at the beginning of the process. This enables marketers to start the process and reduce the burden on developers.  
"One of the things we also saw was that creating content models – thinking about content in a structured way – it's just not something that everybody knows how to do. But it's essential to be able to be able to scale your experiences over time and make them consistent." 
Visually composing with the new Experience Builder in Contentful Studio
In my demo with Mairead O'Donovan and Satya Krishnaswamy, I was blown away by some of the new features in the Contentful Studio – namely, the new Experience Builder.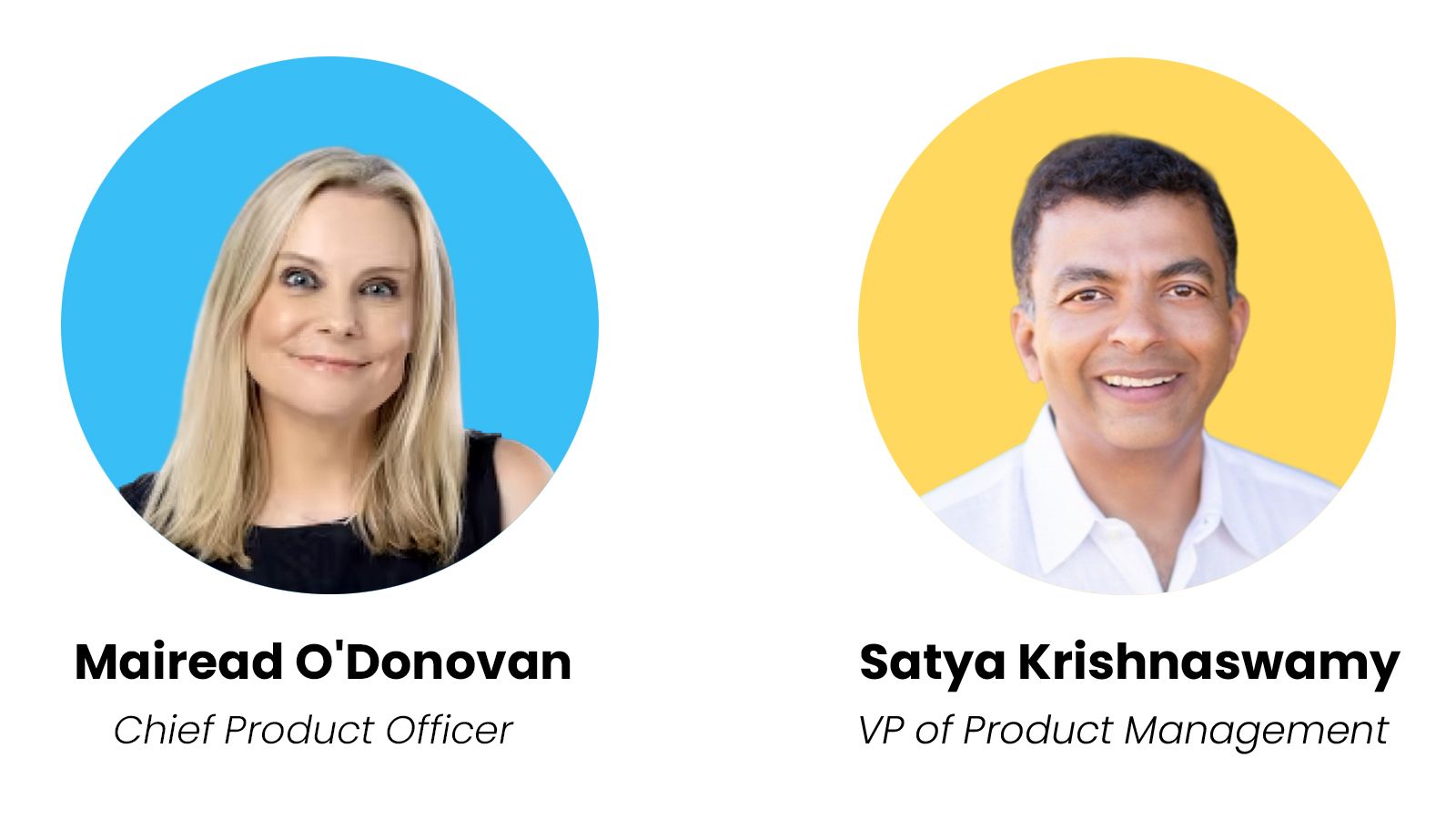 Contentful Studio already empowers digital teams – including marketers, designers, and content creators – to manage and even visually assemble digital experiences for any channel, all without developer support. 
The Experience Builder takes composition to the next level. It provides a familiar, easy-to-use visual canvas that allows users to create on-brand experiences using their own design system components with a structured content foundation. This enables teams to combine creativity with governance to ensure consistency and scalability across every experience.
As Satya walked me through the demo, I was immediately impressed by its elegance and simplicity. The UI was clean and compact, providing quick access to component libraries and content elements. It all felt very easy.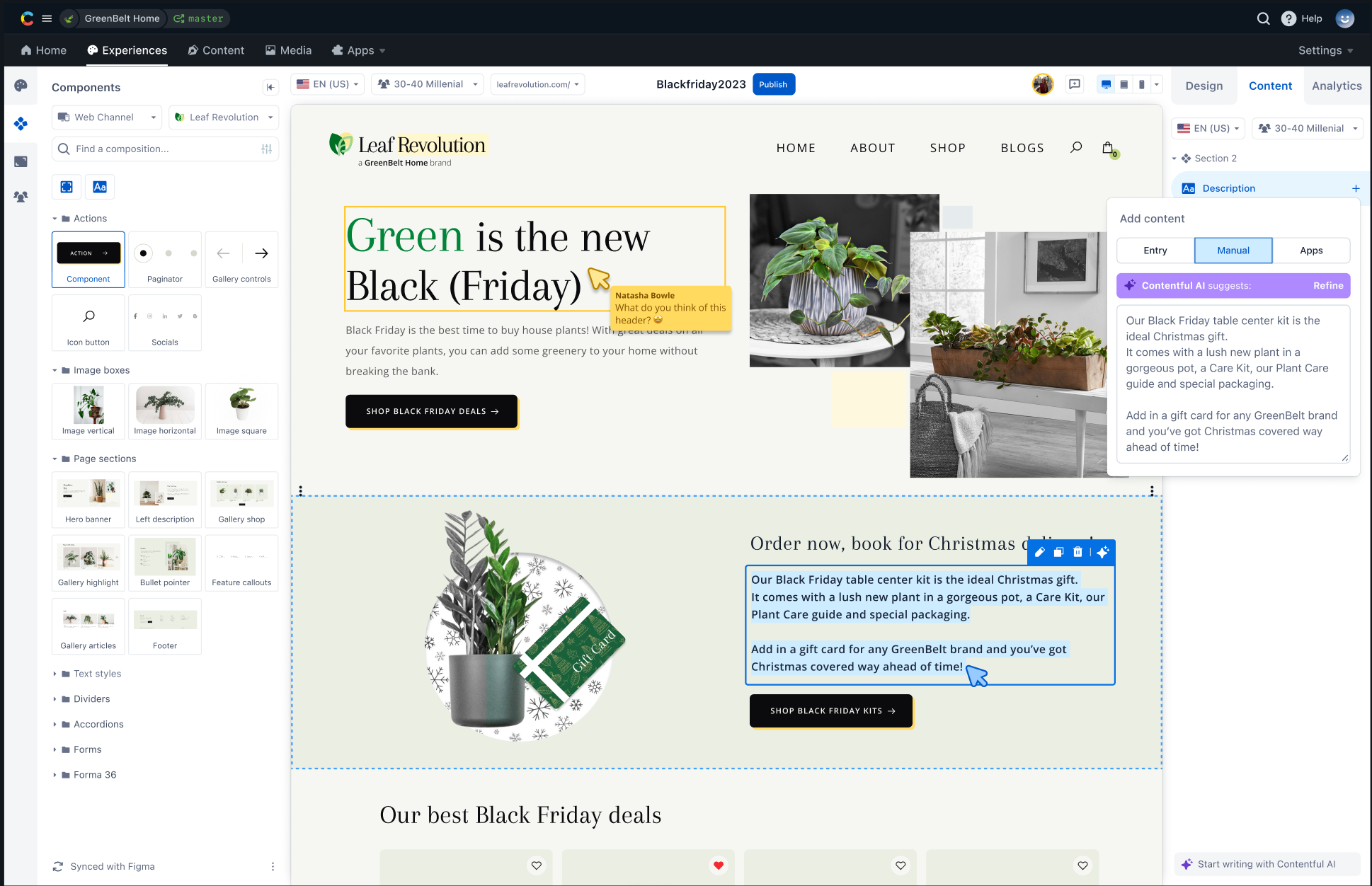 With Contentful's enhancements around external reference consolidation – and the use of its GraphQL API – all of the assets being used are complete with detailed information from their source system. For example, if a product originates in commercetools, Contentful delivers all of the relevant product information in JSON. Marketers no longer have a blind spot with just a product ID or have to go back to an outside system. Contentful delivers it all in a single call. 
Pretty slick. 
AI is also present throughout the Studio experience. Users can access the improved Content Generator to quickly create or recommend content, translations, and SEO keywords. The built-in AI Image Generator can also be used to render or manipulate images on the fly.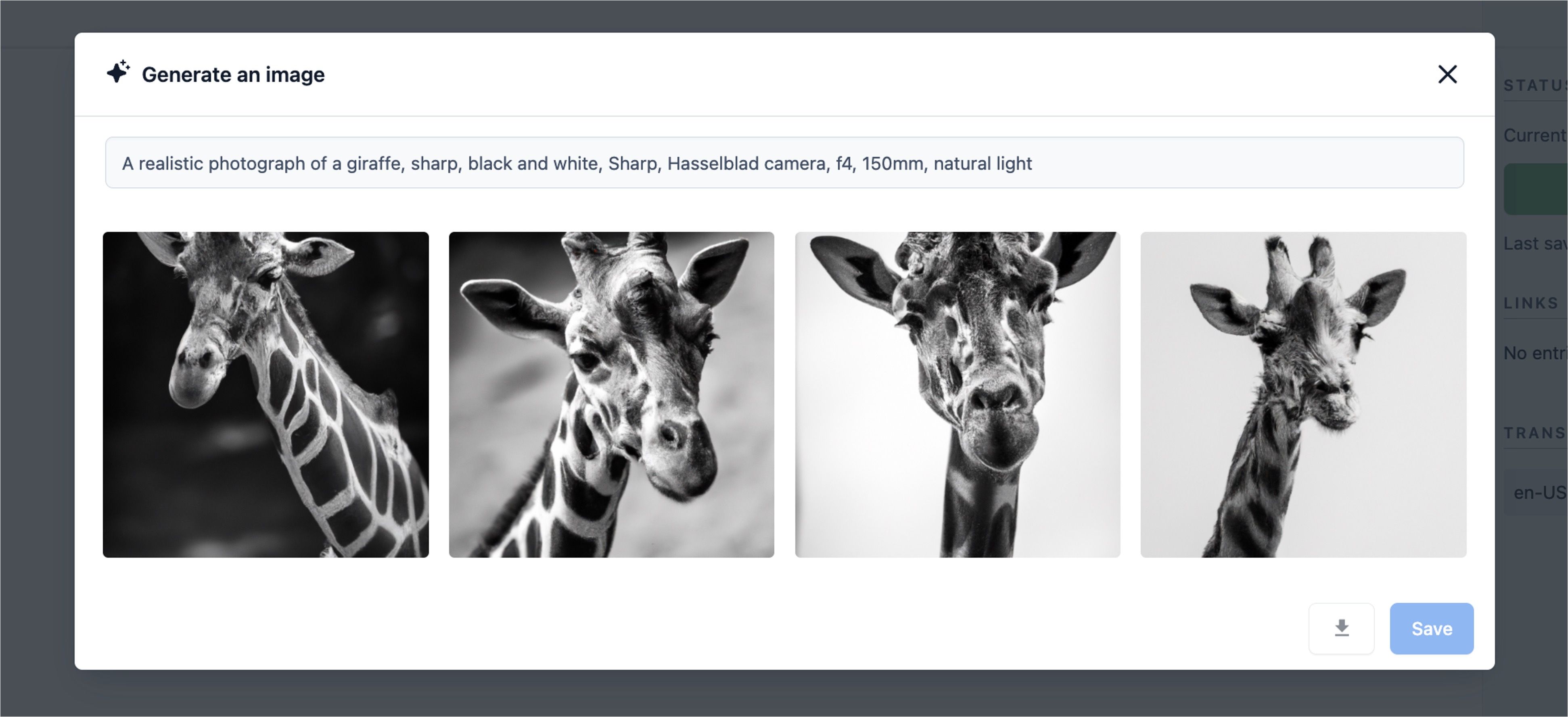 "This new set of products is really directed at non-technical marketers," Steve said. "And because it's built directly on top of Contentful, they still have all the benefits of structured content, which allows them to store, manage, and scale any type of content delivered to any device anywhere in the world in milliseconds. So you get all the benefits of the platform, but you have a purpose-built tool for non-developers."
Expanded partnerships and integrations in the Contentful Ecosystem
According to the press release, the Contentful Ecosystem includes a growing portfolio of solution and technology partners, all with the goal of helping customers get to market faster with impactful digital experiences – the kind of experiences that meet customer expectations and drive business value. 
As part of the announcement, Contentful has added new partnerships and enhanced integrations from a deeper bench of best-in-class enterprise solutions. This includes AWS, Salesforce, SAP, Twilio Segment, commercetools, BigCommerce, Cloudinary, and WPP – enabling digital teams to improve accessibility, analytics, and performance, simplify front-end dev, and streamline content operations to bring differentiated experiences to life quickly. This adds to the 80 partners that are already building on Contentful. 
As Steve pointed out, the growth in the ecosystem is being driven by composability – and choice. 
"Earlier on, there was this notion that we want to create great experiences on top of a cohesive platform," he reinforced. "But customers demanded choice, right? And so giving them the opportunity to use the tools they need, not just the tools you happen to have – I think it's a very, very different orientation than the DSPs that are monolithic."
AI is also present in the ecosystem, largely due to the focus on artificial intelligence by other technologies and solution providers. Advancements from partners include the new AI Content Detector from Writer, which enables users to assess content that might be generated by AI so that they can maintain transparency and integrity. Additionally, the Surfer SEO app delivers AI-driven search engine optimization, helping digital teams drive website traffic more effectively. 
What's the availability and cost of the new features?
Most of the new products and features are generally available and will begin rolling out in a limited, early-access program. Customers can expect additional announcements and updates to follow, particularly on AI. 
Contentful is finalizing the pricing and packaging details, which it plans to announce at a later date. For more info, you can visit contentful.com/whats-new.
The Takeaway
It's hard not to be impressed with the scope of new features that Contentful has introduced, particularly its new Experience Builder. That said, on the AI side of the ledger, the market is drowning in noise – and it's become exceedingly difficult to communicate real differentiation when many features swimming in a sea of sameness. 
What I really appreciate about Contentful's approach is its focus on the customer. While others rushed to add AI, they took their time experimenting – but also breaking down the voice of the user to understand what's at stake. They also doubled down on their efforts to solve real problems with orchestration, which unified content in new and impactful ways while providing the added benefit of training AI more effectively. And all their innovation was amplified by a deeper investment in their partner community. 
It looks like a win-win-win. 
As Steve mentioned, the word "trust" is going to be at the top of our collective AI vocabulary list. That's a human construct, by the way – something AI can't grasp. That means we need to focus on the right training, governance, and guardrails to deliver something that can truly be trusted. 
"A big part of it comes back these grumpy customers and understanding what their pain points were," he conveyed. "They're really the inspiration for everything we're building, and our solution partners helped us discover those moments of pain and possible ways to solve it. We have a very active Partner Advisory Board, where we work with CTOs who are very close to our shared customers and their challenges. And we spend a lot of time getting input from them, finding creative ways to solve this next generation of problems."