Snapshot:
Zmags has rebranded as Fastr and launched its new FastrAI service.
New AI features will power multivariate experimentation with greater speed and agility.
Generative AI provides content that is on-brand and optimized for SEO, Core Web Vitals, and more.
New Experience Canvas UI provides design tools, collaboration, and more for building no-code experiences.
---
When I spoke to Ryan Breen last week, we traded notes about our recent meeting in Boston at the fall edition of the Boye & Company CMS Experts Group. 
In passing, I described our "exotic" community as sort of a digital safari. We never know what we might spot roaming the plains of DX, or if any wayward explorers might join our expedition. 
This time around, we were lucky to score the legendary Bill Rogers, founder of the eponymous Ektron CMS.
There was no campfire in our WeWork room, but members of our CMS cabal seemed ready to chant. And while Bill spun tales of yore, he spent more time peering into the dense forests of AI and talking about his new startup, ai12z – which builds copilots and next-gen AI apps, and advises on generative AI implementations. 
AI: A Song of Fire and Ice might have been a good title for his talk. With so much contention around the impact of AI on the digital experience landscape, it's hard to separate the hype from the hope. 
But Ryan is all in. 
"It was really timely and fun seeing Bill come in as a 'true believer' of generative with copilots and the direction they're going," he said, still dazzled by Rogers (like most of us). "I was like, yup, yup, I'm right there with you. A lot of stuff changed in December of last year that was [previously] very difficult to do, but now it's just effortless – because you can wave that generative AI wand and things become easier."
Now, Ryan is weaving his own AI tale. His company, Fastr (formerly Zmags) – a digital experience composition platform focused on e-commerce – just launched a new service called FastrAI. The solution streamlines e-commerce experience creation to support multivariate experimentation and fast iteration. The AI learns from tests, which helps optimize performance for brands.
"Whether you're aiming to improve conversion rates, increase average order value, or drive engagement, we can get you there disruptively faster," Ryan said. "The traditional process for experimenting on e-commerce sites is either too limited or too slow. Brands can't hit their aggressive targets with incremental improvements to copy or button colors. And they can't wait for long prototyping and development handoff cycles to create experience variants to test."
That's where Fastr comes in. Using the platform's lightning-fast capabilities, businesses can intelligently test their e-commerce-enabled experiences – things like upsell carousels or dynamic bundle offers – all without tapping developer resources. FastrAI is also adaptive, meaning it can respond to each test and generate optimized experiences in minutes.  
The evolution from Zmags to Fastr
While AI is at the center of Fastr's announcement, the company is going through another evolution around its identity – shedding its previous Zmags moniker and adopting a component of its core product: Fastr.
The new mantle unifies the legacy Zmags business, which was founded in 2006 and regarded for its Publicator digital catalog and Creator Studio software. It also folds in the professional services of Be A Part Of, an award-winning BigCommerce partner agency that Zmags acquired the previous year. 
According to Ryan, this transition was a long time coming, as it speaks to the speed of a product that claims to deliver composable commerce in days. When he began this journey nearly three years ago as the Chief Technology Officer at Zmags, he was always thinking about the frontend experience and how acceleration was key to success.
"We finally got our brains around going Fastr," he said, "and that I can roll with."
With Fastr Frontend – the company's core product – customers have the freedom to create the e-commerce stores they envision using digital experience composition tools. Fastr enables them to design at will, leveraging a blank canvas to import designs from Figma, Sketch, or Adobe. 
Fastr Frontend also removes the silos walling off e-commerce data, enabling brands to set conditions for specific details like inventory availability or pricing. Data can also come from any source via APIs, page data, or anywhere on the web. 
---
"A lot of stuff changed in December of last year that was [previously] very difficult to do, but now it's just effortless – because you can wave that generative AI wand and things become easier."
---
One of the big benefits of Fastr Frontend is the simple, elegant integration with an existing CMS. After an e-commerce journey has been built out, the platform provides a single line of code to paste into your content management system. Because it's all architected in a lightweight fashion, the experiences load as fast or faster than most existing pages (hence the name).
Orchestration is also a big part of the promise with Fastr. In addition to building composable frontend experiences that are extensible to the omnichannel, Fastr Frontend effectively "glues together" your backend applications with what's in your API, on your website pages, or anywhere on the web.
Wrestling with integrations and legacy systems
It's a fact: integrations can be a sticky wicket, particularly with legacy platforms that simply can't be avoided. Despite what some platforms might say, not everything has an off-the-shelf connector. To that end, Fastr provides a host of professional services to help design or implement almost any kind of connection to bring experiences to life. 
"When we rolled out Fastr Frontend, the focus was really to bring in those integrations," Ryan explained. "Whether you're still on a monolithic stack or you've gotten more composable and now have 40 different vendors, you need to orchestrate on top. We wanted to make something that any business user can look at and say, 'We're going to grab these elements from Einstein personalization,' or 'I'm going to show and hide things if they're low on stock or have different CTAs.' That's exactly how [Fastr] works."
Integrations in Fastr execute as JavaScript snippets within a browser as your experiences are rendering. They essentially act as conduits for API calls or data retrieval from a specific page, allowing data to be fetched dynamically. 
Ryan said that while some of the API work is handled on the customer side, this is an area where Fastr's solution engineering team really shines. Even if it's an integration they haven't seen before, they can typically handle it within 24 hours. 
Obviously, these kinds of exotic connections tend to be the domain of large enterprises, where Fastr plays. As Ryan described, this is where the pain is most acute.
"Maybe you've got two things you want to replatform off of, but that one ERP is still hanging out back there," he said. "And you need to ask it some things or certain data lives over there. We help glue it all together."
Experimenting with FastrAI and Experience Canvas 
FastrAI is built into Fastr Frontend's new user interface, which it calls Experience Canvas. Layered on the foundation of Penpot – a popular open-source design and prototyping app – Experience Canvas provides robust design tools, asset and component libraries for easy brand management, and real-time collaboration features. It also includes integrations to orchestrate your e-commerce technology ecosystem. 
Non-developers can easily set conditions for dynamic experiences without writing code. For teams with development resources, the platform also offers easy access to create and manage the underlying integrations for complete control of your composable ecosystem.
During a brief demo, Ryan showed me how Fastr is harnessing AI to target specific elements within a digital experience and allowing an easier, more fluid way of building commerce-focused experiences and testing multi-variant options. 
I'll say this: Fastr's UI is slick and easy to navigate, conjuring a familiar Photoshop experience that speaks to my inner designer. Assembling components on the visual pasteboard is simple, and collaboration tools are intuitively baked into the flow. From there, adding variants is fairly straightforward.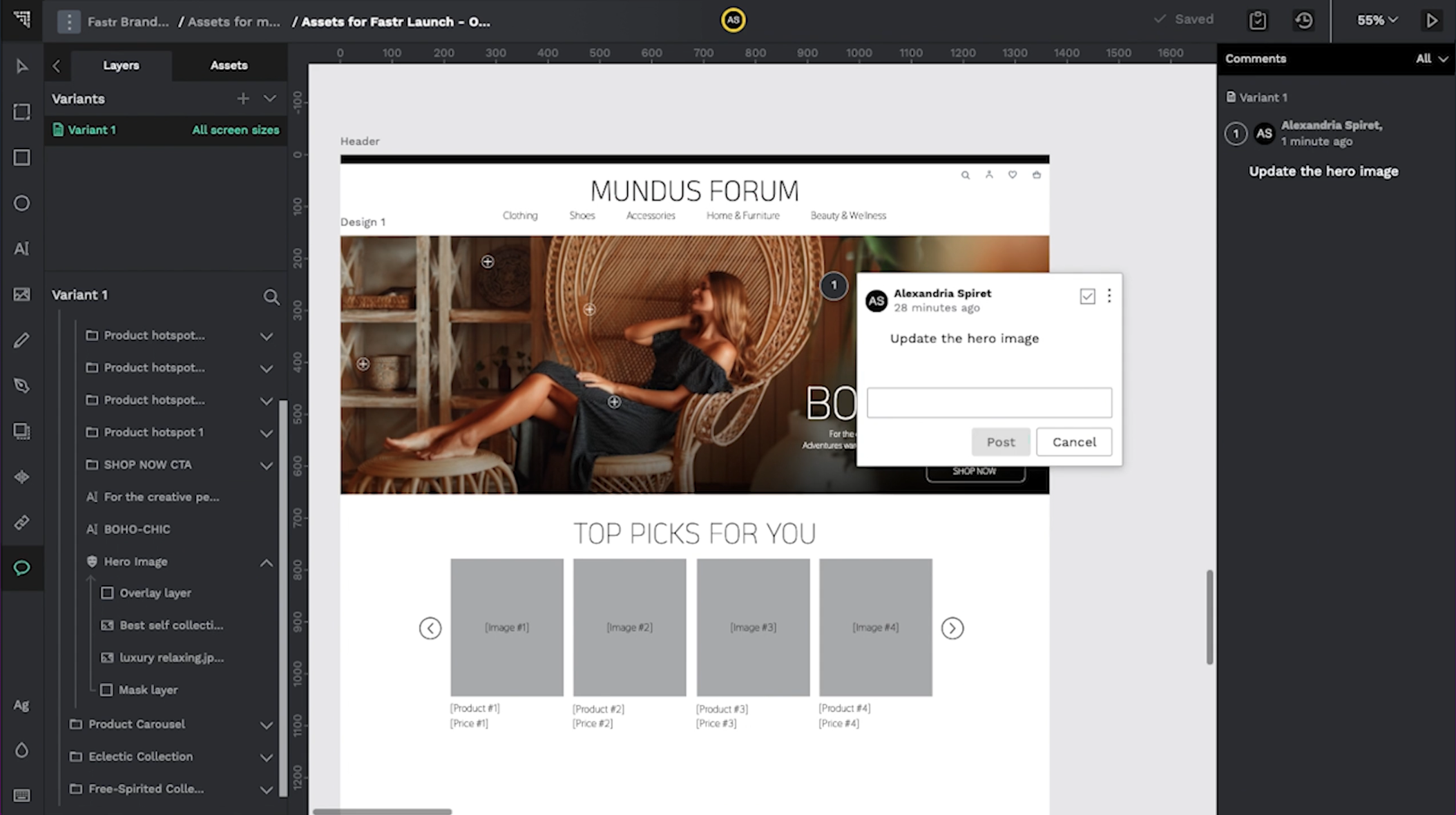 With easily accessible AI, users can ask for recommendations on options for, say, a blog – or even a cross-sell carousel that optimizes click-through – and then request specific types of assets from the commerce system. Then, they can test what they create.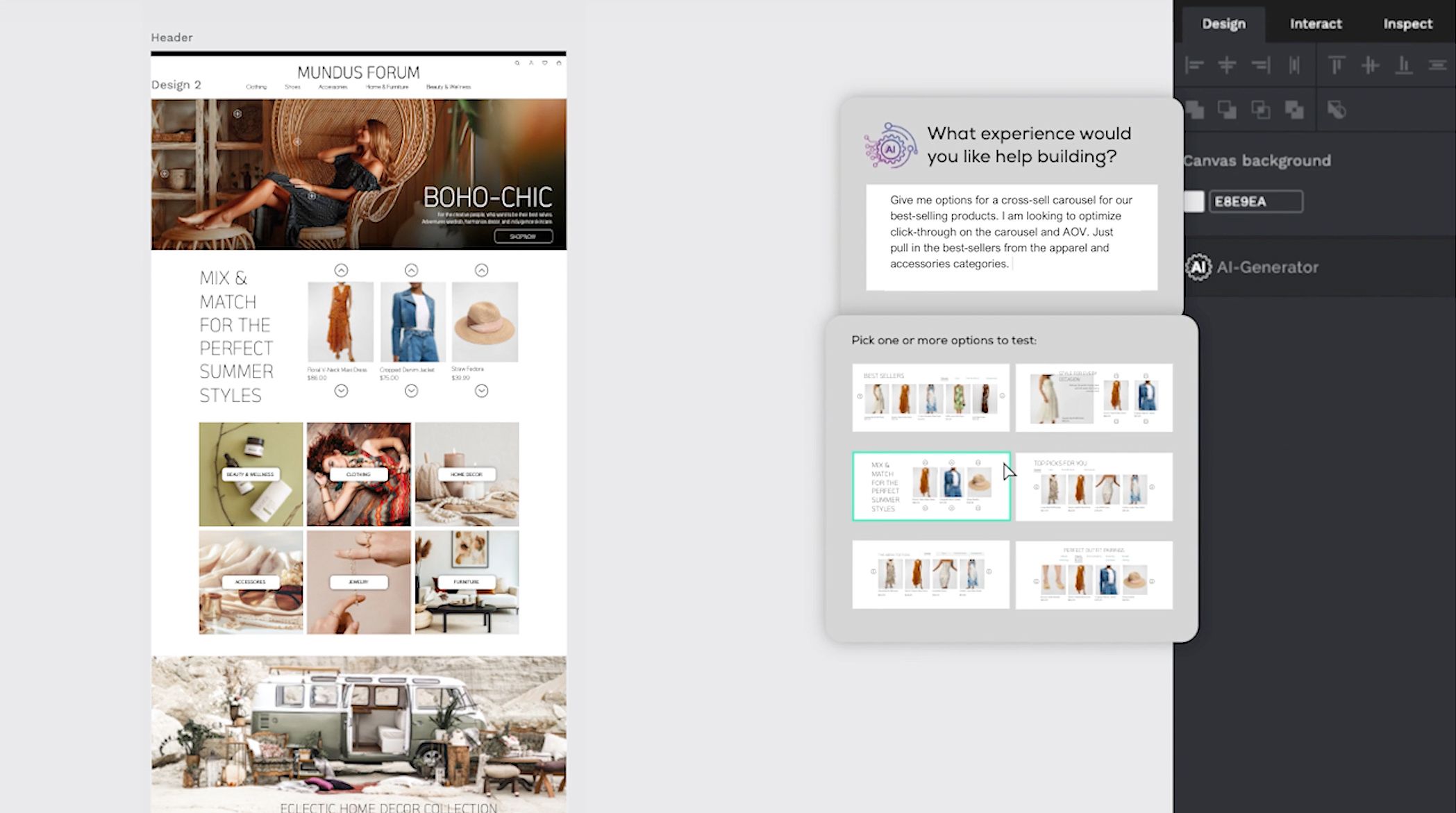 "In every product detail page under the sun, there's some level of carousel, but people don't have control over it visually," he explained. "But just as importantly, in terms of the business logic, what's it going to do? What products are we going to show? When we talked to our design services and e-commerce experts internally, we said, hey, rattle off the 20 different things you would like to test if you are building out a carousel – and it surprised me even after being in this business for almost three years now."
As Ryan clarified, Fastr's customers use their platform to create things that aren't just data-informed, but where they can control every aspect of how an experience is rendered on the front end. It's an orchestration – and the actual artifact in a CMS is one line of code targeted at whatever space a customer targets.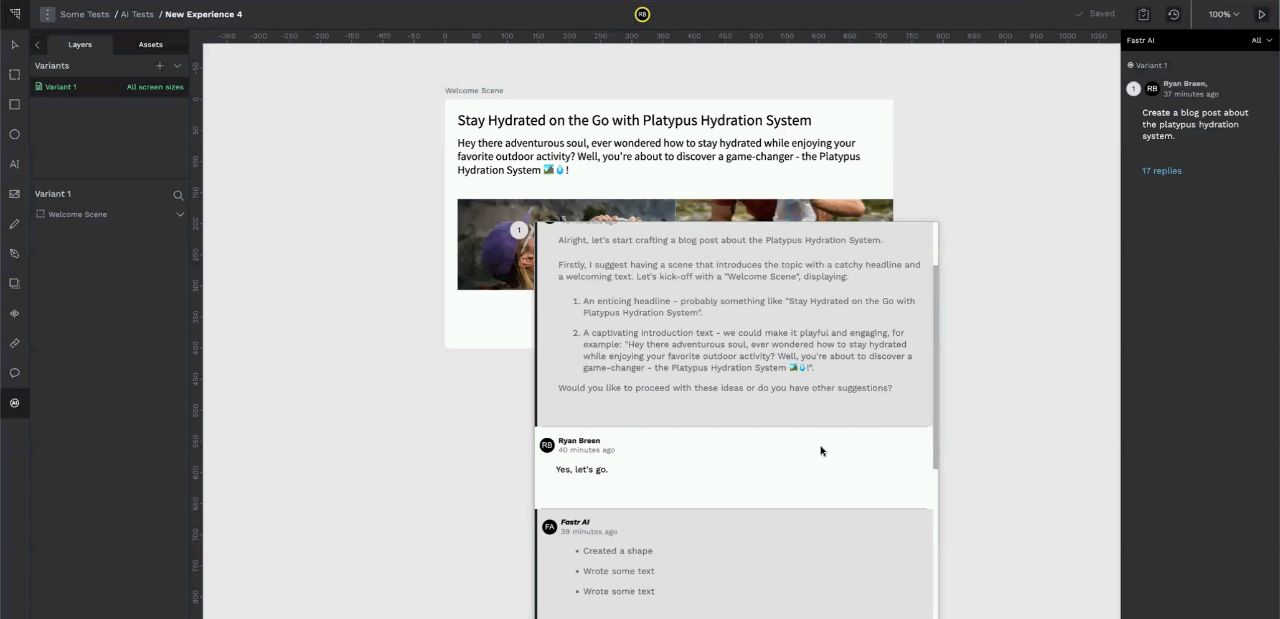 Building on that orchestration with AI, Fastr ensures e-commerce stakeholders that all AI-generated content is optimized for accessibility and SEO while restricting it to brand guidelines like typography, color, logo elements, and corporate content. It also supports Core Web Vitals, ensuring optimized design and API calls for the fastest time to render. It also delivers multi-language support, providing the ability to scale to as many locales as needed.
What does it cost, and when will it be available?
As noted in the press release, Fastr is offering an Early Access program for its AI starting today. Ryan indicated that they expect it to be GA on December 12th. You can visit the company's website to learn more or get in touch.
I asked about pricing, and it sounds like we can expect more updates over the coming weeks. As Ryan pointed out, Fastr has a consumption-based, value-driven model – and that might be an indicator of what to expect when pricing the new features. 
"The majority of our pricing is really based on usage, like what percentage of page views you drive through us because we power those parts of your site," he clarified. "And so anything that increases your desire to have us on more of your site, then that's a cool way for us to have a better long-term relationship with our customers. If you trust us more, you use us more."
The Takeaway
For brands in retail and commerce, headless has been a digital game-changer. It has enabled greater freedom and flexibility to build and connect, and is a cornerstone technology for MACH and composable. And while omnichannel still represents a smaller slice of the overall pie, it's growing. 
At the same time, the lack of visualization and control for marketers has been a huge detractor. It's also stymied testing and experimentation, which enables content creators to refine and respond with greater agility.
Fastr's use of AI looks promising – and really speaks to the need for speed. It also addresses one of the key pain points for enterprise marketers: optimization. Without the ability to test and iterate, experiences struggle to meet their potential. What's more, the capacity to orchestrate and scale without the limitations of code is precisely what marketing teams need.
If there's one corner of the DX market where a slow day can kill you, it's e-commerce. 
And moving faster is what Fastr is all about.