What can I say? I'm obsessed with Halloween.
But it's not just me.
For the last 17 years, my wife and I have spent the months of September and October avoiding zombies, dodging demons, and thwarting chainsaw-wielding psychopaths at Universal Studio's Halloween Horror Nights.
Man, 17 years is a long time.
For context, we started going when our son could barely crawl, eventually bringing him for the first time in 2018. Now, he accompanies a terrified mob of fellow University of Florida students as part of an annual pilgrimage to the park. The next morning, we have random college students strewn across spare beds and splayed on sofas, most having survived the night in one piece. 
I love it. 
This Labor Day weekend, we attended the opening of the 32nd year of HHN, which will feature a record-breaking 48 nights of festivities. Attendance is already expected to be high, and the first night was sold out.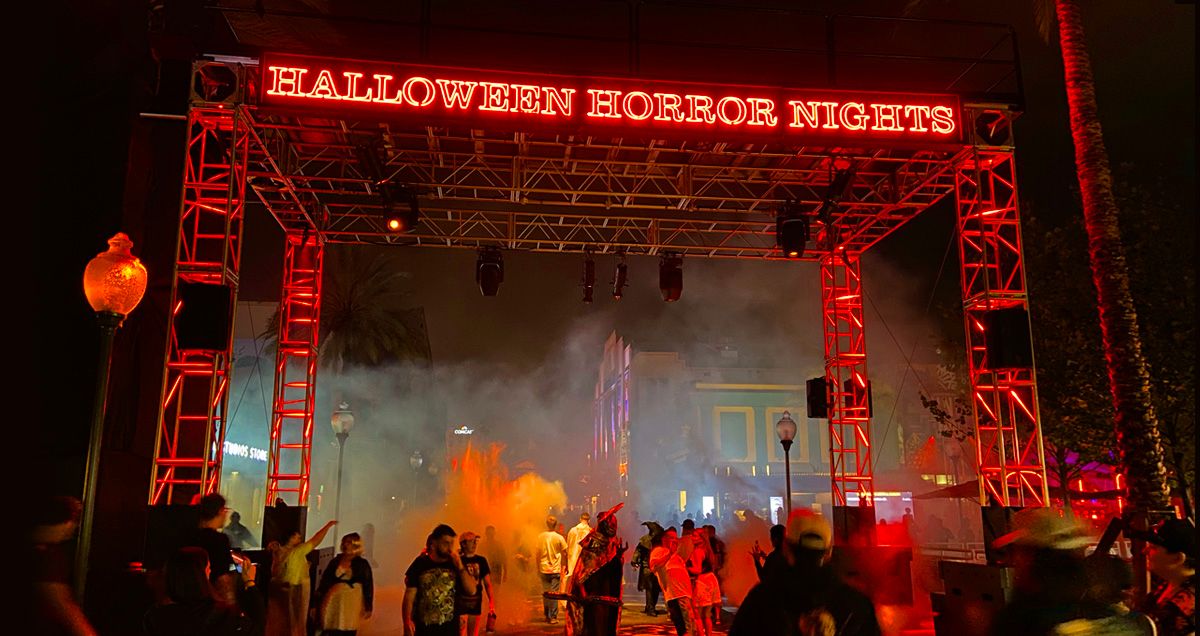 Clearly, Halloween is more than just a holiday in America – it's a season. A unique phenomenon celebrated by people from all walks of life, young and old. It gives us permission to transform, to be something other than ourselves and revel in the exhilaration of being scared. As it turns out, Halloween has its roots in pagan rituals, and some version of it is celebrated in countries around the globe. 
Last year, Americans spent over $10.6 billion on Halloween. That includes the pricetag for events like HHN, which is considered "monster mecca" for rabid fans. 
For me, it's fun watching the mix of fear and delight as people traverse the bevy of haunted houses and "Scare Zones" around the park. This year was no exception, as streaming properties like Stranger Things and The Last of Us came to life in terrifyingly ornate detail. 
At the same time, original concepts showcase the depth of Universal's creative teams, sporting new characters like the mysterious Dr. Oddfellow (caution: a physical with this MD might result in bites to the neck and a fear of garlic). 
The production quality at HHN is simply off the charts. It requires months of development and thousands of people to pull off, including the event's signature "Scare Actors," costume and prosthetics designers, set builders, lighting techs… the list goes on and on.
To be sure, there are still challenges for the faint of heart. The lines can be notoriously long, and you need an expensive Express Pass to see everything. Heck, the scariest thing might be the price tag for food and memorabilia. But overall, the experience is second to none, and digital has helped deliver more thrills and chills than nightmares.
As Unlimited Frequent Fear passholders, we have the opportunity to indulge in HHN multiple times throughout the season. Working in the DX industry, I've paid close attention to the ways digital transformation has made Halloween Horror Nights a blood-curdling success over nearly two decades – and it's something to behold.
One of the best examples is the evolution of Universal's mobile app. Not only has it eliminated paper-based ticketing and scanning, but it also features current wait times for each event. Super handy when making decisions about what venue to hit when the park is packed. 
Feedback is also being collected from willing parkgoers via tablets as they leave the property, and social listening has become something of an art form as devoted fan communities have arisen over the years (yup, we're part of them). 
On the content side of the Necronomicon, text and assets are being pushed across multiple screens and devices, and integrated eCommerce payment systems are as commonplace as ghouls and goblins. 
Universal has also been pioneering virtual reality in its park rides, so I'm just scratching the surface.
No doubt, AI is part of the witch's brew. While not visibly evident, it's most certainly at use behind the scenes, analyzing customer data at scale to improve decisions about food distribution, queue management, and merchandise. With the sheer number of data points and interactions at play, these are tasks no human (or the undead) is capable of doing.
While the world wrestles with the ethical dilemmas around AI, I think Universal and HHN demonstrate how technology and innovation have continuously supported immersive physical experiences. There would be no "spine-tingling" without the presence of performers and artisans. At the same time, new technologies are enriching productivity, shortening creative cycles, and improving the customer experience in every dimension. 
Could some roles be displaced? Tarot cards aside, it's more than probable. But the night is always darkest before dawn, and the potential for new jobs and opportunities will likely outweigh the perceived negatives. 
On some level, we all fear the future. In fiction, we're quick to demonize technology, tapping some innate mistrust of ourselves and what we endeavor to create. It's easy to let our imagination get the best of us, especially with the rapid adoption of ChatGPT. And while many technologies have rushed to integrate generative AI with their offerings, I see most of them assuring their audiences that they're mindful of the ethics… and this is not Frankenstein's monster.
Halloween might not be your jam, but embracing the unknown and understanding its pros and cons is how we face the future. Brands like Universal are leveraging it to improve its theme park experiences, a place where the physical and digital are now locked in a danse macabre.
So why not brave the new world? If you're lucky, you might have a little fun along the way.  
So fun, it's scary.