Getting to the top level is what Hygraph does best. 
Today, the next-generation headless CMS announced a major update to its enterprise-grade federated content platform by introducing top-level remote fields.
The new capability is a significant part of Hygraph's overall federated content vision to power a many-to-many relationship between content sources and devices as organizations look to create new digital services and business models at scale.
"Top-level remote fields empower enterprises to unify distributed content from across multiple systems, to deliver to any destination and without duplication," said Michael Lukaszczyk, CEO and Co-Founder, Hygraph. "For example, in the context of e-commerce, organizations can now fetch data from their commerce, digital asset management, and CRM systems from Hygraph's content API in one single query. This promises to be a real game changer."
Evolving the headless CMS landscape
Hygraph's federated content platform allows organizations to innovate faster and at lower cost, replacing tedious custom software development associated with many of today's headless Content Management Systems (CMS).
With the recent proliferation of composable architectures, federated content enables enterprises to seamlessly develop and run content-rich features. Top-level remote fields further enable the advantages by streamlining and modernizing content connections. Rather than making multiple API calls to different systems, top-level federation capabilities allow users to fetch all content and data from a single Hygraph GraphQL endpoint.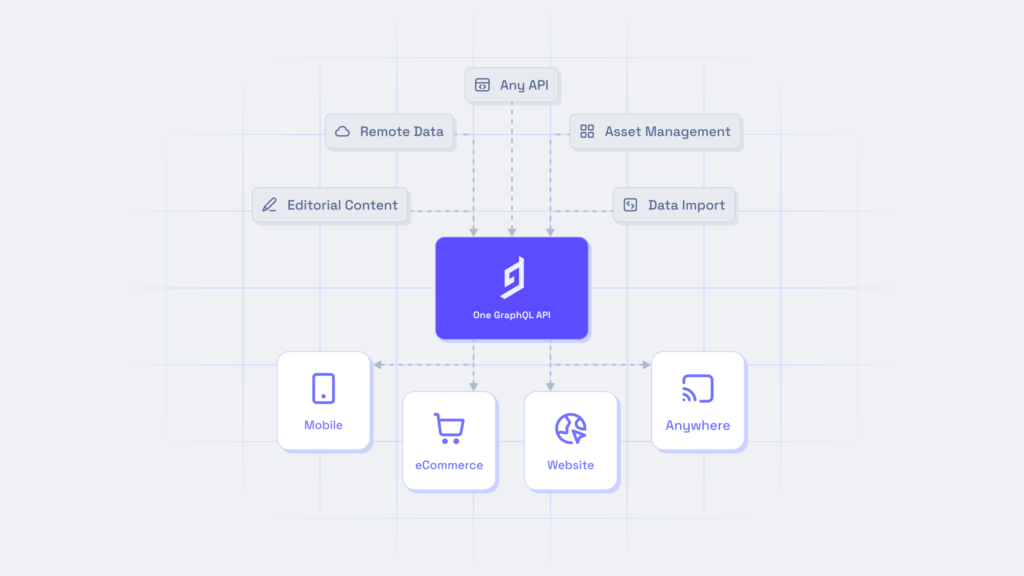 Consider an e-commerce use case where you might want to fetch product data from your commerce system (e.g., Shopify), digital assets from your DAM (e.g., Cloudinary), and rich content stored in Hygraph. You can now fetch all this data from Hygraph's content API in one query.
The key benefits of the new top-level remote fields capability include:
Simplified tech stack: All frontend applications query data from one universal Hygraph API.
Ease of management: All backend APIs are managed in one place.
Simplified authentication and authorization: One API simplifies the authentication and authorizing front-end applications.
Quicker application integration: Low-code tools eliminate the need to write and maintain middleware code to stitch multiple systems together.
Improved content integrity: Eliminate duplicates and ensure that changes are consistently reflected across all front-end applications using the data.
Enhanced performance: Querying content from a single API and Hygraph's advanced caching capabilities allow for high-performance content distribution.
"Organizations are currently unable to unlock full value from their content, as custom software and integration challenges slow the creation of new digital services at scale," added Lukaszczyk. "Top-level remote fields capabilities represent a powerful next step for enterprises to dramatically streamline and modernize content connections and drive the next generation of customer experiences."
For more information on top-level remote fields, visit Hygraph's website.
About Hygraph
Hygraph (formerly GraphCMS) is the enterprise-grade federated content platform that enables content and engineering teams to rapidly build and deliver tomorrow's connected digital experiences at scale. As the next generation of CMS, Hygraph powers a many-to-many relationship between different content sources and devices. Hygraph's modern API approach allows organizations to innovate faster and at lower cost, whether building content-rich applications or managing large product catalogs or internal knowledge management systems. Hygraph is headquartered in Berlin, Germany, and works with 400+ customers globally, including Dr. Oetker, Shure, Samsung, and Philips.