Despite engaging in some pseudo-journalism within the CMS industry, I don't consider myself to be a journalist in the traditional sense. Although from the outside looking in, you probably can't tell the different. Or, you know, you probably just don't really care.
My point however, is that journalists who report on the movements of large companies and organizations seem to be receiving less material to work with, forcing them to exert more effort. As a result, a recent study has found that 68% of journalists are unhappy and overworked.
Here's an infographic with all the details.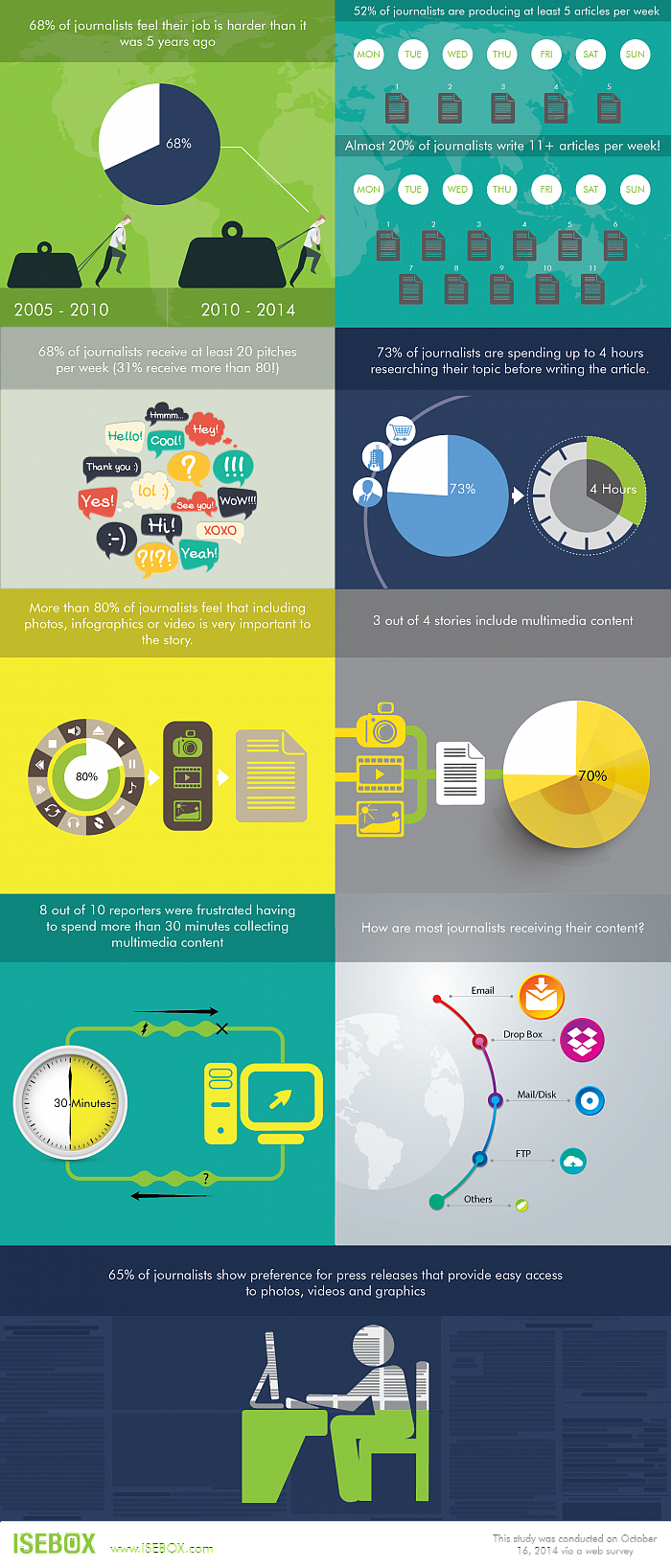 Now, although I wouldn't class my own experiences in the exactly the same ways, I definitely see where that 68% is coming from. For sure, the above infographic doesn't perfectly reflect the reality of journalism within the world of CMS, but it does hold some weight.
However, instead of latching on to this journalism sob-story, I'd prefer to take this conversation in a more relevant direction.
So, with the eyes of CMS vendors across the world being my target, allow me to explain.
Why CMS Vendors Should Do More To Help Journalists
My role here at CMS Critic has now spanned a period of almost two years, and the quality of material given to me by some vendors (and I reiterate some, not all) has been consistently lacklustre.
Of course, I'm not talking about the quality of the actual products. I'm talking about the way in which many vendors choose to promote and portray their most recent updates to their customers as well as their go-to journalists. Here is what I humbly suggest that those vendors stop doing.
Stop the boring bullet-point lists with no additional next, stop making key announcements via a casual forum post, and stop sending out boring press releases with obscenely long quotes and "About" sections.
Instead, I would kindly urge vendors to focus more on spreading the news via company blogs, video content (which demonstrate new features), short interviews, and so forth. It's about time such announcements became engaging.
Am I saying this simply to make my own life easier? No.
My role here extends to reviewing products, judging products, and covering conferences, while CMS Critic also provides consultancy services. Because of this, I feel it necessary that I do all of that extra research mentioned in the infographic, no matter how dazzling or daunting each news update is. Whatever the case, my personal workload is unaffected.
Rather, it is in the best interests of the vendor to spend more time on the presentation of their news announcements.
It will make journalists more eager to cover the story, and customers far likely to pay attention. Not to mention, the overall brand will benefit from some more stellar marketing and outreach strategies. A win, win, win.
Those are my two cents anyway. If you need me, I'll be crying into my overworked keyboard.