Anyone who runs a website knows the importance of search engine optimization (SEO). In fact, most site owners spend quite a large portion of their time and budget on SEO. While there is no doubt that SEO is important, there is another type of search that really shouldn't be neglected. That is on-page search. Just about all sites today will have an on-site search function that allows users to quickly search for something that they know is on the page, but they aren't sure where (and any sites that don't have this functionality should really implement it right away).
On-page search is a key tool that allows visitors to remain on the site longer, which can build brand awareness, drive more sales, get more sign-ups, and even help to improve search rankings on Google. It also leads to a greater overall visitor experience since they won't get frustrated looking for something they need. There are additional proven benefits of high-quality search functions, including these:
About 50% of eCommerce Visitors Say they Prefer Using On-Page Search to Find Products
Total Order Value Rises when Visitors Use On-Page Search
Visitors who Leave a Site to Search for Information they Need Often Never Return
Customers Convert 4 Times More Often when they Use Native Search Functions
There is really no doubt that having an on-page search function is critical for the success of any website. Finding and installing a simple on-page search function is an important first step, but there are additional things that webmasters can do to improve the effectiveness of this tool.
Make it Easy to Find
When choosing the location on your page where the search bar should appear, you will have several basic options. The first option is to put it in the upper right corner, which has become the standard for websites today. This is familiar for visitors, so they aren't likely to have to spend much time looking for it. The other option is to make it a much larger and more conspicuous search bar that is more toward the middle of the page. This will really help it to stand out and encourage it to be used by visitors. The second option is more popular on eCommerce sites such as Amazon.
With either option, you want to make sure the search function is extremely easy to see. It should not be in the upper right, but buried in a menu, for example. If you don't have a search box that is always available, it should be quickly accessible by clicking on a magnifying glass such as you will find here on CMSCritic:

Implement Auto-Complete Functionality
Auto-complete is great feature for traditional search, and it can be just as effective on your page. As visitors are typing in their search query, this function will actively attempt to figure out what it is they are going to search for. Since normal websites don't have the millions of results that you'll find on Google, auto-complete can often recommend exactly what people are searching for after just a few letters.
Another great perk of the auto-complete feature is that it can help to put additional ideas into the minds of visitors. They may see something in the search recommendations that they weren't looking for previously, but now their interest has been peaked. These types of experiences are great for visitors, and will keep them on your site even longer. You can see an example of the auto-complete feature from CMS Critic here: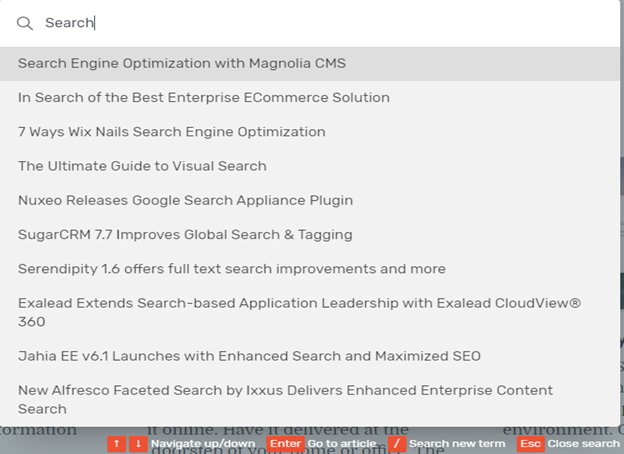 Bring Customers to the Page They Want
Traditional search engines (and most on-page search engines) bring people to a results page after each search. With Google, this page will have millions of results to choose from. For on-page search options, there will be far fewer. When a customer searches for something that will return just one result (such as a model number, part number, or article title) have the search function bring them directly to that page rather than a results page. This will eliminate one click for the visitor, which slightly improves their experience. It is this type of small, but often noticeable, customer experience improvements that can really help to build brand loyalty.
Finding the Right On-Page Search
It is clear that a good on-page search tool will bring any site a lot of great benefits. Whether you are running a blog, a news site, an eCommerce platform, or any other type of website, you should consider adding this feature. Finding the right on-page search tool for your site will take some research and will be based largely on what type of CMS you are using. Once installed and configured, however, you'll enjoy the benefits for years to come.