Kentico 8.1 is due to be released on August 22nd 2014. But as of right now, Kentico users can get their hands on a beta version.
The popular ASP.NET enterprise Web Content Management System and Customer Experience Management solution got a major update when version 8.0 was released. Now, Kentico 8.1 s about to add to what's already quite new and exciting.
When I covered Kentico's announcement of the release date of version 8.1, I made mention of some of the new planned features. Now though, let's take a closer look at what the Kentico 8.1 is set to bring.
Dashboard & Marketing Suite Enhancements
Below is a GIF of Kentico's newly tweaked dashboard, a feature users can make use of with the Kentico 8.1 beta. Simply click on the image below to view.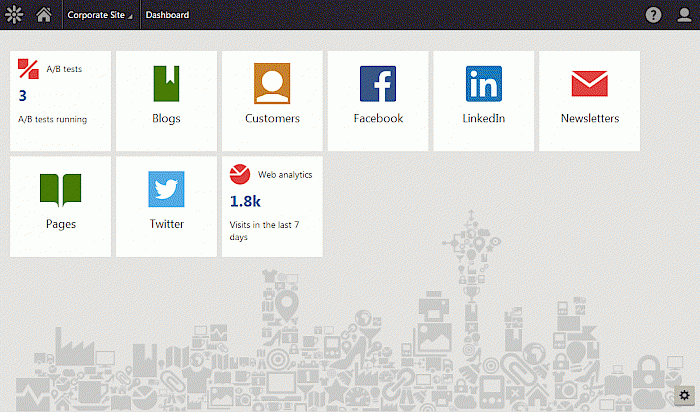 Here's the list Kentico released, outlining what the Kentico 8.1 beta contains:
Buy X, Get Y discounts:  This update allows Kentico store managers to configure their cross-selling promotions in a more sophisticated way, e.g. Buy any 3 clothes, get the cheapest for free
Dashboard improvements: This update allows Kentico users to easily personalize the dashboard with frequently used applications. Furthermore, some dashboard tiles display real-time data, e.g. Number of running order discounts.
LinkedIn integration: This update allows marketers to manage the company profile directly from Kentico including the ability to use automated workflow for content publishing on LinkedIn
SharePoint integration improvements: This update brings support for the latest SharePoint versions including SharePoint Online and other improvements. e.g. the ability to set up the multiple SharePoint connections for the same Kentico site
Online marketing performance improvements: The Kentico team have lowered the performance footprint of Kentico Online marketing modules such as Contact groups and Scoring. This means that your web site will respond more quickly and will be able to handle more traffic during peaks.
You can download the Kentico 8.1 beta right here.
Also, be sure to explore more of Kentico via our CMS Directory.