If Vojtech Boril has a crystal ball in his possession, it's time to come clean.
Maybe it was sheer luck that his company, Kontent.ai, would embrace the "AI" domain in 2022. Or was their official spinoff from Kentico some mystical prognostication of things to come?
I wasn't sure, but Vojtech settled the question for me.
"Bringing AI into the CMS world has been part of our vision for a long time," he said. "Our company name – which we chose a year ago – is good proof that this launch is not just a quick reaction to the new ChatGPT trends."
Tarot cards and tea leaves aside, this is an exciting time for Vojtech and Kontent.ai. Since introducing OpenAI's large language model late last year, many content management vendors have entered the AI race. In several cases, they leverage ChatGPT as a basic plugin or integration.
But last week, Kontent.ai announced the early availability of the first native AI capabilities to a headless CMS.
Native, you say? How so? I had a thousand questions – none of which ChatGPT could answer.
Thankfully, during a recent webinar, Kontent.ai offered an informative first look at these AI features. This filled in many blanks, but I still connected with Vojtech to ask why he thinks these new capabilities are game-changers. As the Vice President of Growth & Marketing, he combines content and platform POVs into one brain. He's also an avid runner with some intimidating pace times – so he's accustomed to staying ahead of the pack. 
A first look at native AI capabilities
One would assume that a content management vendor would produce quality content to promote its products and services. That's not always the case, but Kontent.ai has consistently delivered the goods. Last week's webinar on its native AI was no exception and provided a solid overview of the new features.
The session – hosted by Tomas Hruby, Lead Product Manager, and Jordan Torpy, Product Marketing Manager – opened on the new "Gold Rush" into the AI market, and how ChatGPT has ignited every CMS vendor to jump on the bandwagon. Both commented on seeing many different approaches across the digital experience market, which has undoubtedly informed their innovation.
According to Tomas, ChatGPT seems easy to repurpose, but in reality isn't that simple. Large language models become challenging to master for prompt creation and obtaining accurate results. He called these skills more of an "art," contrary to the promise of automation.
In the webinar, the duo focused on three key challenges with current AI solutions: understanding context, composing AI, and integration. Jordan provided an example of how large language models struggle to incorporate brand guidelines, tone of voice, and other factors exclusive to a given company. This training is time-consuming and difficult to orchestrate for content creation.
One of the big concerns for enterprises is around the unknowns of integration. For example, does the customer or vendor maintain the AI capabilities? Is it a plugin built by an open source community? They also discussed the increased API surface area that may be vulnerable to attacks – and that many enterprises are reluctant to share proprietary content with public models.
In each case, it's clear there are gaps with current AI solutions – and Kontent.ai's native capabilities promise to bridge those gaps to usability.
The vision for AI in a headless CMS
Given the challenges that AI presents when integrating into a CMS, what was the vision guiding Kontent.ai's native capabilities? Tomas and Jordan boiled it down to a couple of key pillars during the webinar.
First, Kontent.ai is a fully integrated experience designed for what they call "fluent content creation." As a native set of platform features, the AI respects internal formatting across your work, making it all more conformant. Content creators will also find the AI tools highly intuitive from a UI perspective, and available where they would expect them to be.
The second pillar is delivering accurate suggestions. This is a big one, as most large language models provide questionable results. Much of this concerns prompt design, or the ability to feed the AI with the proper context. With Kontent.ai, the native capabilities are built with context in mind, so it respects your company's brand guidelines or tone of voice, and doesn't "hallucinate" as it often does with open learning models.
Kontent.ai also provides what Tomas calls a "hidden sophistication" driven by complex pipelines designed to streamline tasks like converting notes into formatted content.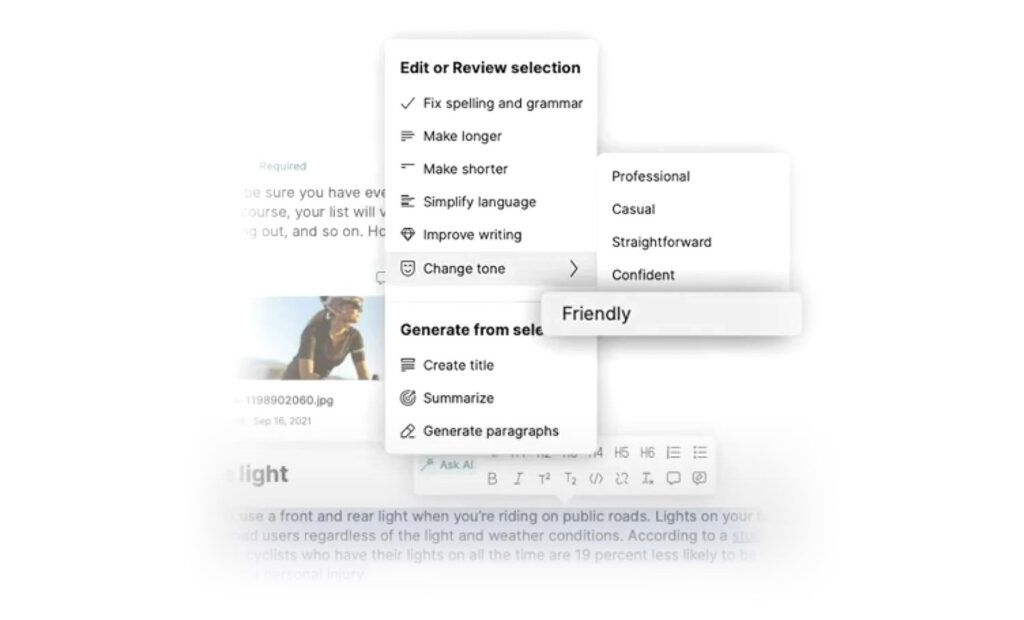 What really sets native AI apart?
First and foremost: Kontent.ai's native capabilities are not a plugin. This is a marked difference from other platform strategies that leverage basic connectors to ChatGPT. Tomas states this distinction will allow users to work more efficiently and effectively as part of a CMS toolkit.
Another big difference is that the solution is fully GDPR compliant. This is achieved in large part by the Azure backbone. Kontent.ai has a strong Microsoft relationship and is leveraging its AI services stack via ChatGPT 4 and a new service called Semantic Kernel – an open source SDK for building custom AI apps and orchestrating complex pipelines.
Finally, Kontent.ai delivers peace of mind around privacy and control. Enterprise users can be assured that their sensitive content and data is secure and not publicly available to any OpenAI learning pipelines. The native AI capabilities are aware of content and context only within your system, and it's not even used to train future LLM iterations.
I asked Vojtech to give me the big picture around these key differentiators through the content creator's lens. What really stands out?
"A key difference is that our AI capabilities are native to our platform and provide a fully integrated experience for content creators," he said. "We're not adding a prompt window to our CMS. Instead, we're adding new capabilities that perfectly fit with the tasks a content creator does on a daily basis."
He cited an example: "We have a skill called 'Improve writing.' To use it, you select some text you want to improve to better suit your tone of voice, style guide, or other similar criteria. Then, you choose a piece of content already in your Kontent.ai project that meets your standards. Kontent.ai will then adjust your original text to match the style and tone of your chosen text."
During the webinar, there was a great demo of this feature. The use case featured a single paragraph with a noticeably sarcastic tone of voice compared to the rest of the article. The native AI was asked to improve the writing by injecting prompts for a more professional tonality, as required by brand guidelines. It did – in minutes. The entire process was convenient, accurate, and a huge time saver.
As Vojtech further noted, what's great is that content creators don't need to fiddle around with making the right prompt, or string several different prompts together. Everything they need is in Kontent.ai, and it's all a natural extension of the work they already did in the platform.
What's the price tag for native AI?
Currently, Kontent's new AI capabilities are fully functional, but only available to early adopters via a special access program – and seats are limited. The company is interested in collaborating with enterprise customers, so they're inviting companies to provide their use cases.
The solution isn't quite out of the box (yet). According to the webinar, most users can be up and running in roughly two weeks. The services should be generally available later this year.
Regarding cost, that's still unknown – but the company seems to be focused on aligning it with real utility and value. As Vojtech pointed out, "We know everyone can go and use ChatGPT for free, so we didn't just add a prompt window to Kontent.ai. Instead, we created tailor-made capabilities that solve real problems content creators face."
The Kontent.ai team is working on pricing models, which will hopefully be available before the service is in GA. If you're interested in early access, visit the Kontent.ai website for more details.
What other AI features can we expect?
There were some interesting questions about Kontent's AI roadmap during the webinar. The hosts discussed the current advantages of reducing time and research. But they also described how AI might be capable of assisting with tedious, large-scale CMS tasks such as mass migrations.
One area where ChatGPT and other large language models are still struggling is translation. With accuracy being such a critical requirement, it's still reliant on other workflows to deliver quality results. Still, this seems to be an area ripe with opportunity.
I asked Vojtech if other capabilities might be more near-term on the roadmap, and what the process looks like for onboarding new AI features.
"We've been working on [the capabilities that are part of this launch] for the past couple of months, but simultaneously we're working on many other prototypes," he said. "Anything that reaches our development team through prioritization typically goes through a thorough research phase. We even have a dedicated UX research team, which is not always the norm in companies of our size."
I also wanted to know how customers have responded in the rollout's early phases.
"We are absolutely thrilled with how the AI launch has been received," he said. "We have some great initial feedback from existing customers, prospects, and major analysts. I've also had the chance to talk to some of our existing enterprise clients in person already, and there are specifically two main areas they appreciate the most. One, that our AI capabilities are fully native to the product, which currently makes us very unique in the CMS market. And two, the security aspect of being GDPR-compliant and knowing their content is not populated into global GPT environments."
He also said that the webinar has resulted in registrations going through the roof – a clear sign that interest is swelling into action.
Consulting the crystal ball about the future of AI
As informative as the webinar was, I wanted to know how important the AI investment was to Kontent.ai. We might still be early in the hype cycle, but what does the future look like?
"This AI launch is only the beginning of our AI product focus," Vojtech said. "As I mentioned, our rebranding to Kontent.ai a year ago was not just a coincidence, and we are serious about pioneering fully native AI capabilities as part of the CMS user experience."
Vojtech also shared that the company is working on further improvements to contextualizing AI-generated content. They're also exploring how to improve navigating, creating, reviewing, and categorizing content.
"I believe AI has the potential to revolutionize content operations by streamlining processes, automating tasks, and enabling users to do more and faster," he explained. "However, 'more and faster' should not be the only goal. Ultimately, it's rather about creating more contextualized, meaningful, and relatable content than just producing more. That's exactly how we envision our customers to benefit from our AI. We're not trying to replace their content contributors. Instead, we're on a mission to help them be more productive and be able to focus on the work they love while utilizing AI to do repetitive tasks for them.
Wrapping things up, I got a bit existential about AI's impact on people. As Vojtech pointed out, only the future will show whether it's good for humanity. In the meantime, he said, it's important to think critically about the ethical implications as AI becomes a normal part of life. This includes data privacy, security, and other factors that must be carefully addressed.
"I am an optimist," he added, "and I believe that humanity can strike a balance in the development of AI – harnessing its benefits while ensuring it does not pose a threat to our well-being." 
I hope that optimism is coming from the same crystal ball.