---
IF YOU'VE NEVER experienced slam poetry, you're missing out.
I'm by no means a rabid fan, but I've been to several "slamfests" over the years. My first foray was in the early 2000s at an event sponsored by a terrestrial radio station – remember those? – as part of a Jack Kerouac Writer-in-Residence program. 
Kerouac would have appreciated the cerebral beatnik sensibilities of slam. It's an amalgam, a hybrid of original poetry, improv theater, and (this is important) emphatic audience participation. 
Hybrid. That might be the perfect word to describe Jenda Perla. For years, he's been an emcee in the slam poetry community in Brno, a small but burgeoning tech hub in the Czech Republic. More than a hobby, it's an artistic passion – one that provides balance to his responsibilities as a digital professional. 
In this sense, he's a hybrid of art and business, all rolled up in a sharply dressed package (more on that later). 
Talk with Jenda for just a few minutes, and you'll experience a slam poet style of leadership that makes him a creative force at Kentico, a digital experience platform (DXP). In his role as VP of Marketing, he brings a fiery wit as a communicator and a restless desire to connect with people beyond the zeros and ones. 
I recently spoke with Jenda about Kentico's inspiring performance over the last 19 years, and how it's still managing to evolve in a constantly shifting market. In many ways, the company is staying true to its roots, even as it positions itself as a composable hybrid headless DXP. 
While the challenges are becoming multi-dimensional in unexpected ways (ChatGPT, write me a haiku about AI), there's a unique key to Kentico's success: unlocking the value of agency intimacy. We explored how this fervent commitment to relationships is helping to shape the future – and how Kentico is mastering it in the most poetic way. 
From Kentico customer to DXP leader
When Jenda joined me from his office in Brno, he showed up like he always does – with style.  
This isn't out of character, mind you. Every time I've met with him in person or on Zoom, I've wondered if he has a professional tailor off-camera or back in his room. His attire is impeccable, even when attempting casual. 
"You can quote me on this, but I'm actually the second-best dressed in all of Kentico management," he says, laughing at the compliment. "Our UX Leader, Martin Florian, is even better. I just don't want to disappoint him."
While not everyone is a snazzy dresser, this personal quality says a lot about Jenda's hybrid traits, reflecting his focus on both business and brand. It's all about projecting a message to the market, and suffice it to say, he has the ensemble buttoned up. 
But that's long been the case for this creative explorer. With a background in journalism and marketing, Jenda spent the early part of his career in roles that focused on content, from editing to social media. This prepared him to be a well-rounded digital marketing lead at Y Soft, a cloud-first print management and office solution provider – where Kentico was the CMS.
"When I was at Y Soft, we had our website in 11 languages, including Japanese and Hebrew," he said. "That was the first time I was really exposed to the industry, and we were a big customer [for Kentico]."
"Community has always been a big part of us. We've always focused on building and supporting developers, partners, potential employees, all right here in Brno – and giving back to the local ecosystem."
While Y Soft and Kentico were global players in their respective industries, their relationship was underpinned by a deeper connection: they were "hometown" success stories. Both were founded in Brno and both managed to grow a worldwide presence, boasting multiple global offices – and establishing a particularly strong foothold in the US market.
"Brno is kind of an innovation and technology hub," Jenda said. "And when you have two startups that are successful in a small city of half a million residents, people talk. I was able to connect with not just the sales and marketing people at Kentico, but the product team as well." 
That openness is part of what drew him to an opportunity at the DXP, and ultimately into a top management role. 
In many ways, Brno is this beautiful secret. Elusive, yet undeniable. I asked Jenda if the local community is also a secret key to the company's success, and how this might be shaping its future strategy.
"Community has always been a big part of us," he replied. "We've always focused on building and supporting developers, partners, potential employees, all right here in Brno – and giving back to the local ecosystem."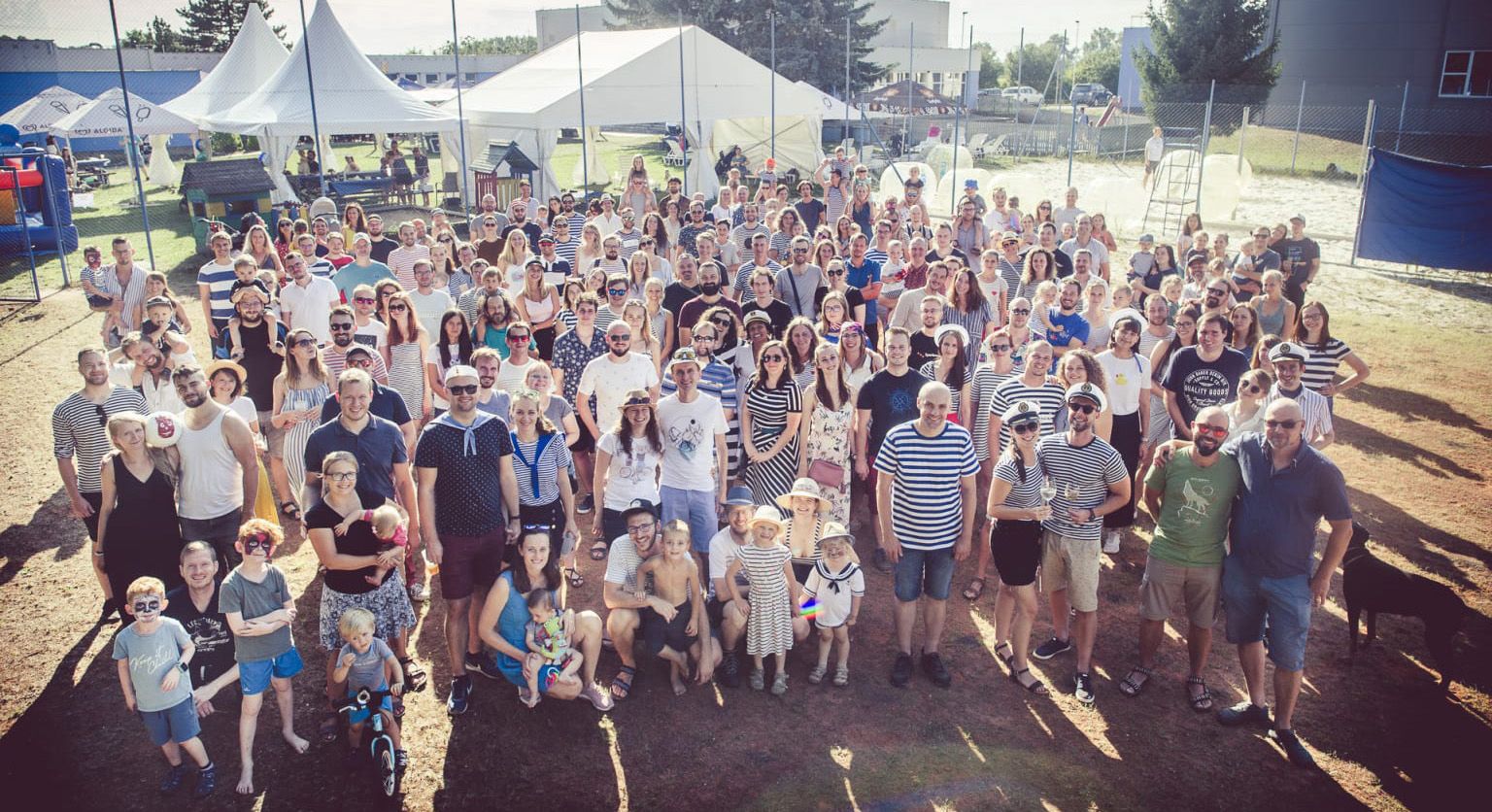 That jives with Kentico's corporate culture, which promotes itself as being partner, child, and even animal-friendly. Along with being at the epicenter of Brno's tech success, Kentico takes a deep interest in employee well-being, even offering online psychotherapy as a benefit.
Sounds more like a family than just a company. 
Driving growth with agency intimacy 
All CMS and DXP platforms offer innate features that meet a range of needs. While these might satisfy baseline requirements, customization always rears its head, as was the case with Y Soft's 11 languages on Kentico. 
For Y Soft, it was the hyper-complex localization packages for Hebrew and Japanese. This is where the value of the relationship – or, more specifically, the partnership – really proved its worth. 
"Kentico's out-of-the-box features were good for most languages, but our agency needed to build additional customization on top of that," Jenda explained. "Kentico enables its partners to make customizations with ease. We had a great relationship, so we were able to leverage Kentico to achieve our goal of reaching the markets that were important to us."
Of course, value means different things to different customers, and companies tend to concentrate on delivering value in certain areas that align with their goals. This is crystallized in the Value Discipline Model, developed in the 1990s by Michael Treacy and Fred Wiersema. The model suggests that an organization should focus on one of three core areas as part of its overall strategy: operational excellence, product leadership, or customer intimacy.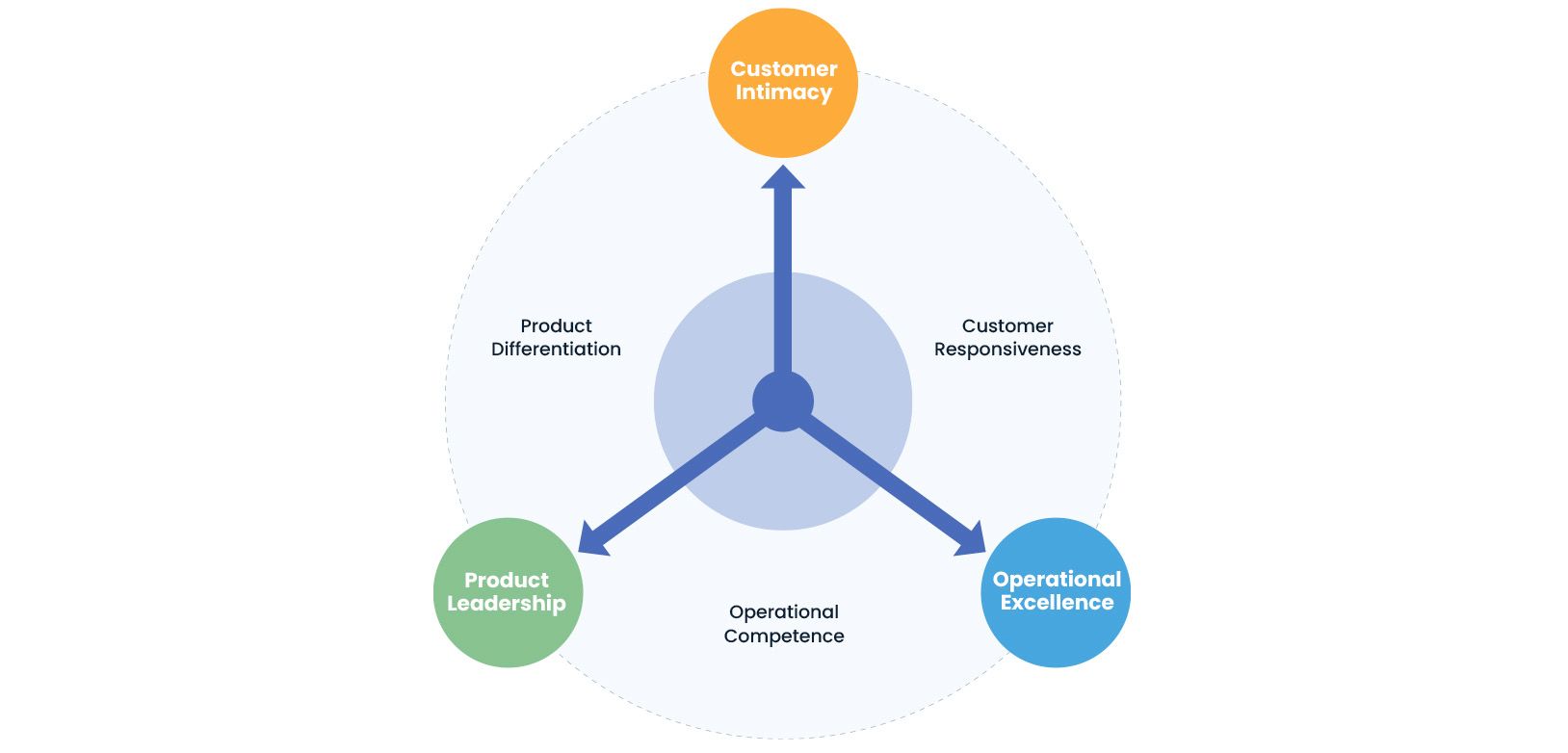 Jenda framed Kentico's heritage as deeply rooted around customer intimacy. But here's the key distinction: the customer is the channel. From his perspective, it's the partnerships – or what he calls agency intimacy – that have really ignited the DXP's growth. 
"We're purposely building a great relationship with our partners, and that's the strategy," he reinforced. "We have it in our DNA, and we love it. And that's where we're going."
This is best exemplified by the investment in live events like Kentico Connection, which will be held in late October through early November in multiple locations, including North America, Europe, and APAC. 
"While Connection is open to customers, it's really focused on partners," said Jenda. "We want to create in-person meetings that enable them to talk to other members of Kentico – not just our sales team, but our product team. It's also an opportunity for partners to connect with each other, which is always interesting. In some regions, our partners are planning their own meetups and sharing their knowledge about challenges they are experiencing."
In open source, there are many groups and meetups. But as Jenda described, this feels markedly different. And by his own account, it's been viral, developing in a completely organic way and providing heightened intimacy within the partner community. 
Despite Connection's impact, it's just one channel for strengthening partnerships. According to Jenda, Kentico's agency intimacy goes above and beyond, building trusted relationships on the management level – not just in sales. Partners also influence Kentico's product roadmap, so they have a hand in shaping what's next. 
There's something poetic about that kind of partnership. 
DXP, headless CMS, hybrid headless… what's in a name? 
This past January at the Boye & Company CMS Kickoff, I spoke frankly with Jenda about the topic of headless, which continues to be a lightning rod. One question that was permeating the room at that time: Is headless a CMS, or a feature of CMS?
At the same event, Dominik Pinter, Kentico's fearless leader, gave a presentation that probed that very question through the lens of the customer. As he noted, Kentico had been delivering "headless" features for over a decade via its API, giving most of its customers exactly what they needed.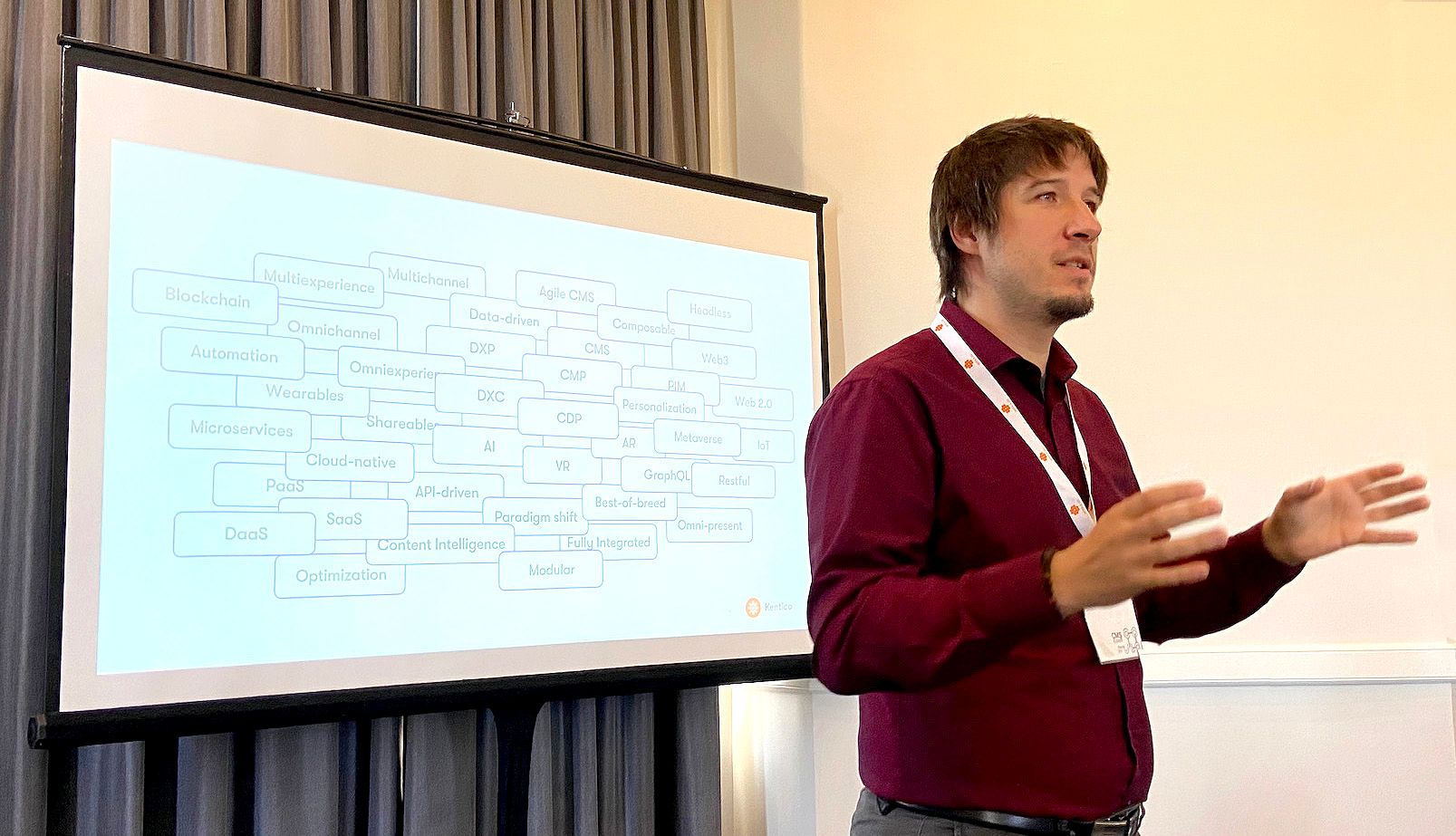 I asked Jenda what has changed since January as headless CMSes continue to proliferate with the rising interest in composable stacks and MACH architectures. 
"When you look closely at the messaging of headless CMS players, some are starting to use the phrase 'web is the primary channel,'" he explained. "Headless started with the idea of getting to as many channels as possible. This makes sense for digitally native companies, but for the upper mid-market or lower enterprise with intermediate digital maturity, websites are still the most important channel."
To Jenda's point, omnichannel might be ideal for a digitally native e-tailer that requires headless commerce to flourish. But Kentico is clear on who it serves, and how it can help companies solve their content and digital marketing challenges. 
"I think there's a space for the headless approach," Jenda punctuated. "It makes sense in some places. But even as product marketers on the vendor side, we are so far ahead of the majority of the market. It's still websites first."
Embracing the "composable" prose
At the beginning of 2022, Kentico was introducing the concept of a Unified DXP to the market. It was a noble attempt to clarify confusion around both integrated and composable solutions. Despite the effort, the drift to composable was probably inevitable. 
It's not just Kentico. Other DXPs are adding the term "composable" to their marketing, but what does it mean? How does it square with the proliferation of composable stacks and MACH architectures? 
This was explored in an article by Deane Barker of Optimizely about the "mythical monolith." Sure, he unpacks the overt demonization of integrated platforms by those aligned with a best-of-breed, build-your-own-stack mentality. But he also highlights how traditional DXPs are, in fact, composable – enabling customers to buy what they need, connect what they want, and build their own solutions. 
Now, as Kentico reinforces its mantle of being a composable hybrid headless DXP, I asked Jenda how they're curating the "c" word to build differentiation. From his perspective, it comes down to one word: trust.
"With Kentico, you have composability, but it's developed by a single vendor in a unified way," he said. "You can use some of the parts, turn off others, plug in replacements, and compose your own DXP on top of it."
"I have huge admiration for digitally native companies that can build best-of-breed stacks on their own. But at Kentico, we say it's not for everyone. If you're a manufacturer or a bank, this is probably not the best approach for you. You might get some interesting ideas, but it can kill your company."
Jenda also pointed to other advantages that integrated platforms offer in the trust column. For starters, Kentico's DXP products are designed to work together, leaving zero questions about scalability or interoperability. Further, MACH architectures and composable stacks require the management of multiple vendors and contracts, which isn't an ideal fit for smaller outfits.  
"Single vendor composable DXPs deliver efficiency," Jenda pointed out. "With mid-market teams of 20 people, that's going to be critical. And if you don't have the right teams for a multi-year journey with MACH, you're not really taking the easier route. For many enterprises, they want accountability. They want a single source, and they want that agency intimacy."
As organizations wrestle with the choice to buy an integrated solution from a single vendor or build a composable stack, trust will be the critical factor. As Jenda said, when you procure from Kentico, you're really buying safety – the kind that's reinforced by analysts. All of this rolls up into the focus on agency intimacy, and listening to what their customers actually need. 
"If you choose an integrated DXP off the Gartner list, you won't get fired," he said emphatically. 
Maybe CYA isn't poetic, but it's certainly poignant. To gain a bit more insight into Jenda's position – and the three different types of composable DXPs – you can check out this article. 
Leveraging AI in a meaningful way 
At a recent CMS Experts meeting in San Francisco, I presented a few use cases for DXPs and headless platforms that are leveraging ChatGPT. Most are still in GA, and variables like pricing are still coalescing. Even as vendors race to introduce their own features, tools like TinyMCE are democratizing access by adding generative AI to its WYSIWYG editor, which is used by dozens of CMSes. 
Every week, I talk to numerous CMS and DXP vendors, and I always ask about AI. They all have a strategy, but what's interesting is how many are taking a slower, more mindful path to implementation. For Kentico, the question of AI comes back to value and intimacy. As Jenda explained, it's understanding the crucial voice of the customer and partner, and letting it guide innovation.
"With AI, everyone is looking at the creation of content, but where do they make it?" he said. "People aren't always creating [content] in the CMS. They're in other tools using Grammarly's AI, which has been around for a while. Our strategy and vision is coming, but it will provide meaningful help to really improve efficiency."
What will that look like? As Jenda described, high-utility AI might check page stats and send critical notifications to help teams respond. From a workflow perspective, it could ease campaign execution by taking core content and automatically producing meta descriptions, social posts, and emails. 
"We're working on adding it, but we're not interested in being first in the horse race," he added. "We focus on real solutions for the upper mid-market. It's quite easy to create a new way to build on ChatGPT, and we don't see the advantage. Everyone else will be there very quickly."
What's ahead in 2024?
I asked Jenda what we can expect as Kentico looks down the road – perhaps, as Robert Frost observed so poetically, the road not taken. 
"At Connection, we'll see what's next with Xperience by Kentico," he said excitedly. "It's a completely rewritten platform, enabling multi-channel capabilities but also providing our integrated platform features."
As Jenda pointed out, 2024 is a significant milestone for Kentico. "We're all grown up," he said. "There are plenty of SaaS vendors in our market that are just three, four, or five years old. We've been able to transform ourselves and stay relevant."
On the intimacy side of the ledger, Jenda also reinforced the importance of Kentico's partner network for enabling efficiency and providing easier ways to utilize content across channels.
"This is how our customers leverage their digital ROI," he said. "Maybe it's not as sexy or cool as some plans from the startup world, but we're helping clients at that level of digital maturity to grow in the market – to level up – and utilize the benefits of digital trends."
Finding inspiration in people 
I referenced Jack Kerouac at the beginning of this article, but left something out. In the late 1950s, the prolific scribe lived in a cozy bungalow just a few miles from my house, where he famously penned The Dharma Bums. It might seem an irrelevant footnote, but it reminds me that creative people find inspiration in the most unexpected places.   
For Jenda, inspiration starts with family and human connections, which he thrives on. "I have one kid and a second coming in November, but I love people and networking," he said. "I always feel more energized after a meeting or speaking." 
It's also worth noting that Jenda is a former national referee for floorball – a niche sport that one might describe as a hybrid of field hockey and indoor soccer. It looks… aggressive. 
"It can be very stressful in this industry," he said. Probably why this kind of outlet works.  
I try my best to "read" the gifted people I talk to each week, and Jenda Perla is a rare volume among the set. He has the heart of a creative and the will of a creator, a hybrid set of qualities that make him uniquely equipped for the task at hand: 
Keeping Kentico's poetry in motion.