On July 21, the long awaited release of MODx Revolution was let loose on the public. For those who are unaware, Revolution is a ground up rebuild of the CMS based on the paradigms and principles of MODx but eliminating most of Evolution's limitations. Here is our MODx Review.
We were eager to test out this new system so we grabbed a copy and began the installation: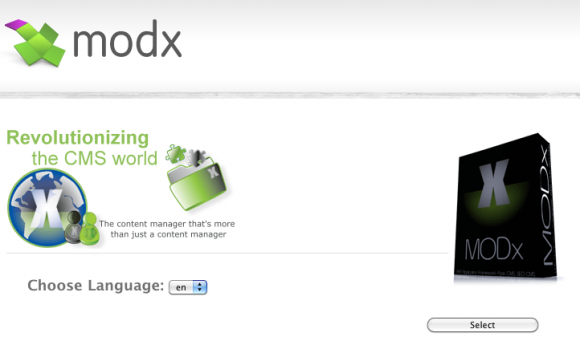 The process of installing MODx is quite quick and easy, with most of the work performed by the system and minimal interaction required by the user.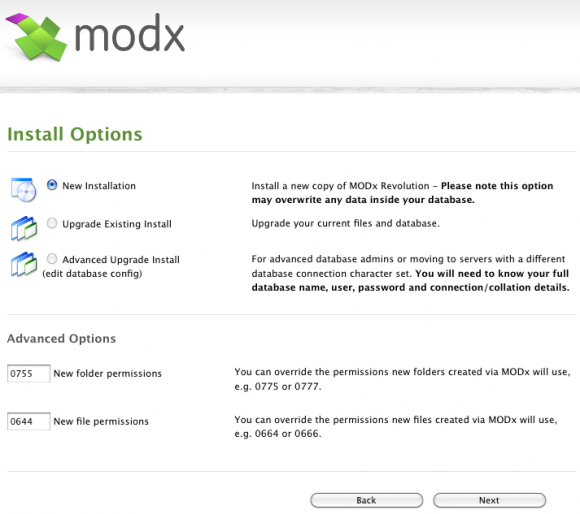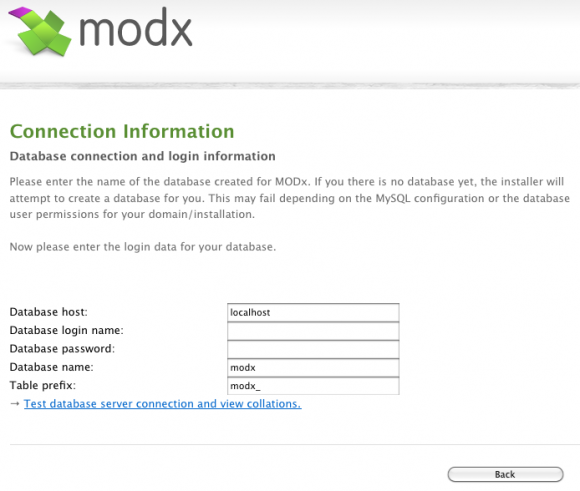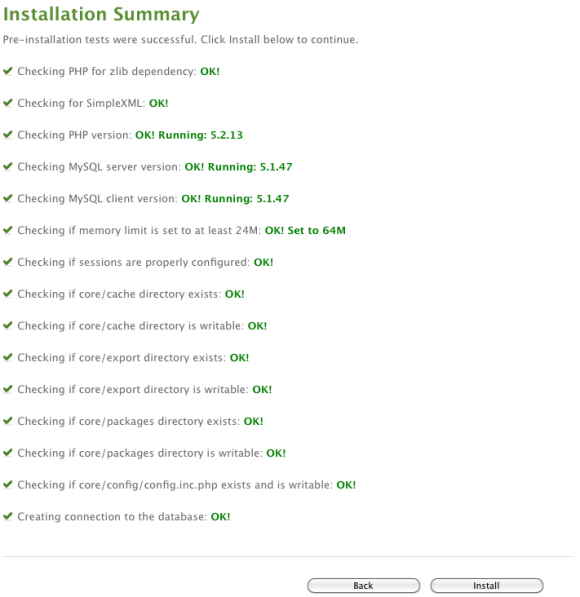 Once installation has been completed, you get to log in to the manager (the back-end of the CMS):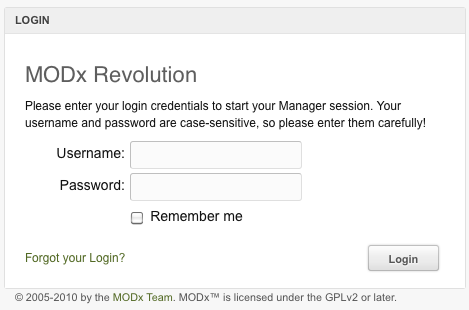 After logging in, you'll be greeted with a slick welcome screen that provides you with some suggestions on next steps to take.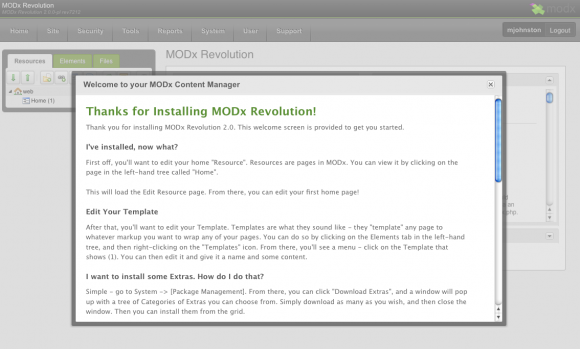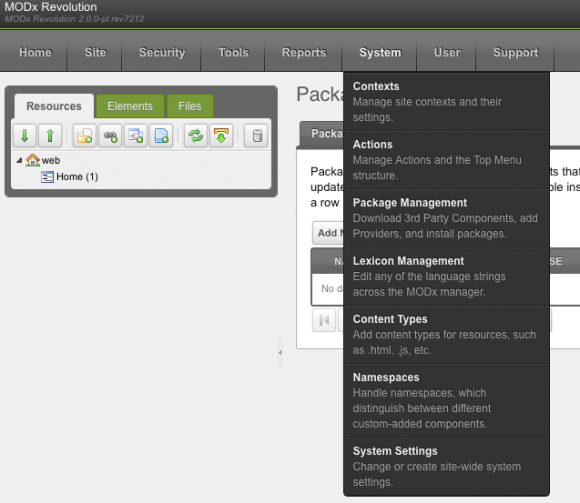 As you can see from the above screenshot, the manager now sports a slick and responsive new GUI with nice descriptive drop down menus and and excellent use of screen real estate. Just from our first few times messing around with the system and exploring, we found it to be extremely responsive and snappy. We have been told that there may be issues with Firebug and Firefox causing the manager back end to slow down but from our tests, we didn't experience any of these issues.
Right click menus are abound in this release and can be used almost everywhere within the manager back end: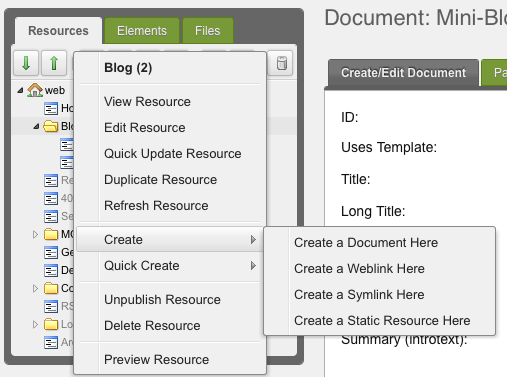 Before we start exploring some of the new features of the system, here's a quick breakdown of the key ones (pulled from the MODx release announcement):
MODx Revolution 2.0 can be used on much larger and expansive sites as it boasts  better site performance from an all new caching system with fine grained options to cache any Element (or not if you need it that way). In addition you can override the default caching and use large-scale caching methods like Memcached.
Extend or override any part of the MODx core including System Settings, Users, Language, Sessions and much more. This enables you to safely extend core features and integrate with other applications and maintain a clean upgrade path.
Developers can create redistributable add-ons, or an entire MODx Distributions using Transport Packages.
Assign different views of your site based on almost any criteria using Contexts.  Contexts provides a simple way to have native multi-sites, subdomains or even securely running the MODx core outside of webroot.
Developers now have access to better error tracking and debugging capabilities through Core Logging. It provides various error levels and output targets including ECHO, HTML, and FILE. You can also use it in add-ons for audit logs, error logs, debugging, or other logging needs.
Unified, simpler MODx Tags now support multi-line tag calls for better readability in development, calling of cached tags within other cached tags, and allows native and custom modifiers to be attached to any Element (Snippet, Chunk, TV, Etc.) similar to PHx did in Evolution but far more efficiently.
The Manager is MODx. The new Manager for MODx is built using the MODx API, ExtJS from Sencha, and Smarty templates, as a demonstration of the new core and API.
Web users and Manager users are now Users that can be grouped and assigned fine grained access and permissions. The User system can be extended to provide external authentication and handle additional user record information via the API. Completely new user system – all permissions are now handled via a robust, Attribute Based Access Control (ABAC) security model.
Property Sets allow you to change all your the properties for Snippet calls in various locations across your entire site from a single location in the manager. Create a Property Set, assign it, and then manage all the calls in one  location.
Properties are available to all Element types including Chunks, TVs, Templates and Plugins.
Manage and customize your MODx Lexicons — the language records for things like labels, event notices and more for local, industrial or regional terminology, all from within the Lexicon Manager.
Install Add-ons and custom Transport Packages from MODx using the Package Manager. Open the Package Manager and search for available addons or your own private addon repository.
Manage files on the filesystem (even outside of webroot) within the Manager using Static Resources.
Create exact clones of other resources in your site tree in as many places as you'd like with Symlink Resources.
Pretty expansive list isn't it?  Let's take a look through the system at some of these new features.. starting with the caching system. Caching capabilities are controlled by a number of settings found under System -> System Settings in the manager.
The Area: Caching settings can be found on the first page near the bottom and look like this: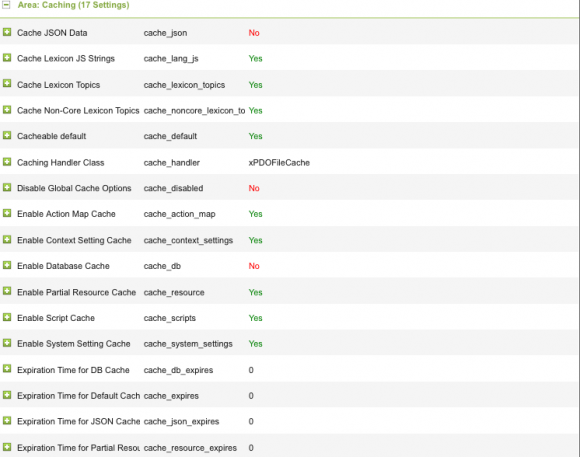 Clicking on the plus signs beside any of the settings will present a description of that settings functionality. As you can see, there are plenty of options that you can play with to improve performance of your CMS.
Clearing the cache is as simple as selecting Site-> Clear Cache from the manager menu.
The next area we're going to show you is the Contexts. Contexts allow MODx configuration settings to be overridden, extended, isolated, or shared across domains, sub-domains, sub-sites, multi-sites, cultural-specific sections, specific web applications, etc.
To access the contexts, navigate to System-> Contexts in the manager.

To modify a context, simply right-click on the one you wish to modify and select Update Context.

This will present you with the context editing screen where you can modify the settings: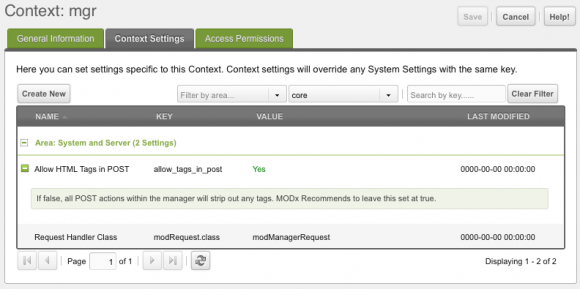 What I particularly found handy was the Help button in the top right that provides information and assistance for the various areas should you need it: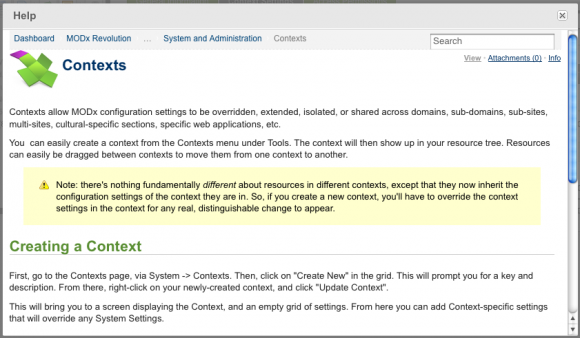 For a system with such power and expandability, it's good to see the developers didn't lose sight of the help functions and provides some great built in assistance. This is a great addition.
The last addition we are going to show you is the new package management that was built into the CMS.
You can access the package management component from the System->Package Management dropdown: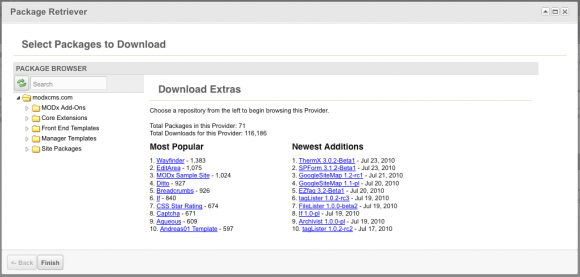 Navigating the package browser is very easy and consists of simple dropdowns. Say for instance you wish to install a sample site, you can do so with a couple of clicks and be ready to go. Simply use the dropdowns to find the appropriate package, click the Details button for more info and click Download to add the package to your installation: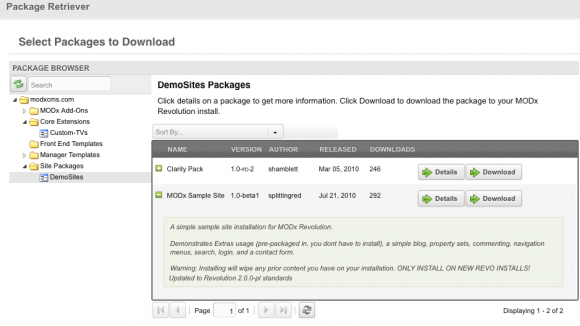 Once the package is downloaded, you are given the option to install.. which is as simple as clicking the button:

And that's all there is to it.
There are obviously many more additions we can fit into this review as this new release comes chock full of goodies as you can see from the bullet list above.. but from what we've managed to ascertain so far, this is one incredible release.
The MODx team should pat themselves on the back for creating what we think is one of the most functional and slick looking content management systems on the market today.
From their responsive back end to the myriad of right click context menus and help functions, they've outdone themselves with this release.
Everything feels fast, fun to use and powerful as you navigate through the system. It really is astonishing that a product of this caliber is free and for that, we have to say a big thanks to the MODx team for bolstering the open source community with yet another quality product. Great work guys!
We know we are just touching the brink of what comes with this new release, what are your most/least favorite new features and additions? Join in the discussion in our comments below!
Interested in getting your hands on this excellent release? You can do so at http://modxcms.com