The principle of "think global, act local" has been used in a wide variety of contexts, from tackling environmental issues to managing business strategies. At its core is a simple, perhaps even algorithmic idea: that solving big problems requires an understanding of the smaller components.
There's no question that we live in a global economy – one where international companies are thinking across time zones and driving supply chains that stretch across our planet. While digital transformation has made our world more accessible, websites have struggled to provide a truly localized language experience.
Translation: we want to think global, but often miss the local.
That's where Weglot comes in. The France-based translation solution is providing a dynamic alternative to the deprecated (but now resurrected) Google Translate, and elevating the role of localization. With over a hundred languages and a bevy of backend features, this easy-to-use service will have you saying "thank you" (or merci, gracias, dankie) in no time.
In this review, we'll explore Weglot, dive into its pros and cons, and touch on some of the CMS and eCommerce plugins available on the market. But let's start with some of the foundational concepts that impact website translation – and how Weglot is answering these challenges.
The Value of Website Translation
It goes without saying that English has become a global language for many applications, particularly in business and technology. But it's simply not enough to have your website content available in a single language. Again, this is part of the charter to "act local" even if you're connecting or selling on a global scale.
Take eCommerce as an example. If the details for a product are in a language you don't understand, are you more inclined to buy it… or seek out another source?
The fact is, if you can't communicate with your customers, you'll be losing out on sales. With so many diverse languages being spoken across the globe – or even across the street – it's clear that translation is no longer a luxury. It's a necessity.
Here are a few more reasons why you should add translation to your website:
Attract new customers: Simply put, a multilingual website can help you reach a broader audience. While most content online is written in English, only 25% of internet users are native English speakers. By adding more languages to your website, you'll reach a larger segment of customers both in new regions and within your own. As an example, Spanish is the second most spoken language in the U.S. – so by going multilingual, you could expand your reach both domestically and internationally.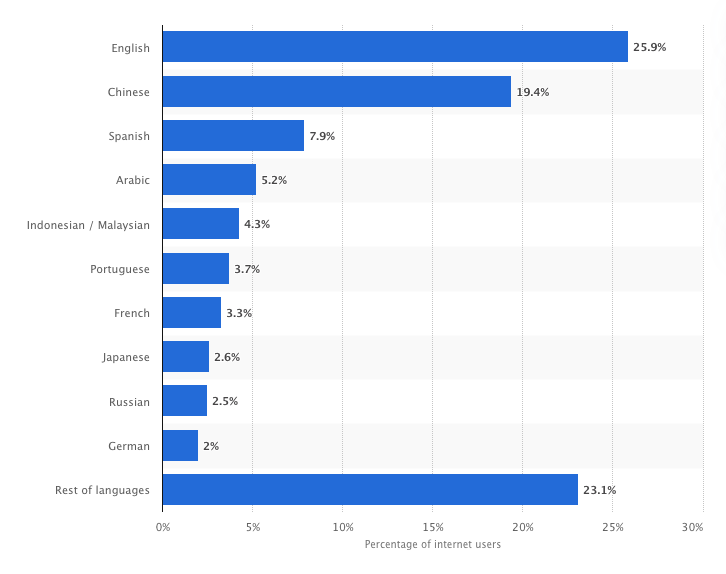 Source: Statista
Increase sales: As noted above, people are more likely to buy products when they're presented in their own language. When you provide a translation for your customers, you'll make it easier for them to search and find the products or content they're looking for. You'll also build trust and enhance loyalty.
Reduce bounce rates and increase conversions: According to CSA, 72.1% of users spend all their time on websites that are in their own language – and 60% of people never buy from English-only websites. Based on these stats alone, it's clear that your website visitors are less inclined to bounce – and more inclined to convert – if they have access to their own language.
Improve SEO: In almost every case, Search is what brings people to your website. With a multilingual SEO, your website will be indexable and optimized in multiple languages. And if your competitors aren't offering translated content, you have even more of an advantage from a search perspective.
What about Google Translate?
Historically, there have been two options for translating websites in multiple languages: build and maintain separate websites, or add a translation tool like Google Translate.
While the former solution provides significant manual control over the frontend experience, it also requires more management. This might be OK if your products are markedly different depending on the region or country – or if you're maintaining only two languages. But what about 50? And how do you track hundreds of changes across different dialects without losing control?
For this reason, many companies have relied on Google Translate to provide a quick, easy, and free solution for translating content at the browser layer. While Google Translate features a wide range of language options, there's no manual control over the translation itself. Further, the rendering on a webpage is clumsy at best, making the frontend expression less desirable.
To confuse the matter, Google deprecated their Translate service in early 2019, meaning it was no longer available for new applications. With no sunset date in sight, companies were scrambling to find an alternative solution. But according to Search Engine Journal, Google is resuming support as of May 2020 in an effort to support the global response to COVID-19.
The difference between translation and localization
While translation typically refers to the automated process of converting text on a website or webpage (like Google Translate), localization is the ability to adapt your website's content to a specific region through language, design, and even cultural elements.
Localization can go much further than altering the dynamic text on your website's frontend. In a truly localized application, the entire customer experience is geared to a user's regional and linguistic preferences. That might include landing pages, emails, logo graphics – multiple dimensions of their journey.
Obviously, automating all of these components requires varying degrees of human support. For that reason, translation serves as the bedrock, and companies can elect to further enhance their localization posture as desired. But the more localized you can get, the more relevant and compelling the experience.
What is Weglot?
Weglot is a platform-independent website translation tool that helps users and organizations transform their websites into multilingual experiences. Weglot finally delivers the best of both worlds, allowing you to have both manual and automatic states for your translations.
Easy to use and quick to install, Weglot is designed to work with almost any kind of content management system (CMS) or website. It's also unique in that it provides professional translation and multilingual SEO services as part of their offerings.
Features
Here are some of the top features you get with Weglot:
Quick installation: Weglot is compatible with all CMS and website technologies. All you need to do is install the plugin to your website and configure it all with no code.
100+ languages: Weglot features one of the most robust libraries of language translations.
Team collaboration: Invite your team members and collaborate on translations together inside Weglot.
Context Editor: When translating a page, you need to see where the content resides and what kind of content it is (e.g. title or text). Weglot's context editor allows you to translate inside an editor and see the website design and structure.
Automatic, manual, and human translation: In addition to rapid, automatic translation, you can edit translations manually. If you need help or additional bandwidth, you can order professional translation services and get the translated content in 48 hours.
Visitor auto-redirection: Weglot can detect a user's language and redirect them to feature content in their language – automatically.
Localized all along the way: Weglot can translate everything from your landing page to the e-mail confirmation in your customers' language, providing a deeper level of localization.
Dedicated customer service: Problems? Weglot offers world-class customer support via email.
Optimized SEO
As we mentioned before, SEO is crucial to driving visitors to your website. With Weglot, you can optimize your SEO across your translations and improve your search performance. Here's how:
Create a unique URL for each version of your page. For example, with a Spanish version of your pages, you will have an "/es/" subdirectory.
Adding hreflangs in your source code. These tags let Google know you have different versions of the same page and favor indexing of these pages.

Have your content translated into the source code and not just dynamically. Weglot translates the content on the server side so your content is translated in your source code – not at the browser layer.
Detect and translate SEO tags. For example, here are two websites in English and Kazakh:
How to add Weglot to your website or CMS
Integrating Weglot is very easy – and it doesn't even require touching any code. All you have to do is install the plugin and configure Weglot to start translating.
When you install the app, you'll get an API key from your Weglot account. Copy paste the API key in your CMS and you're good to go: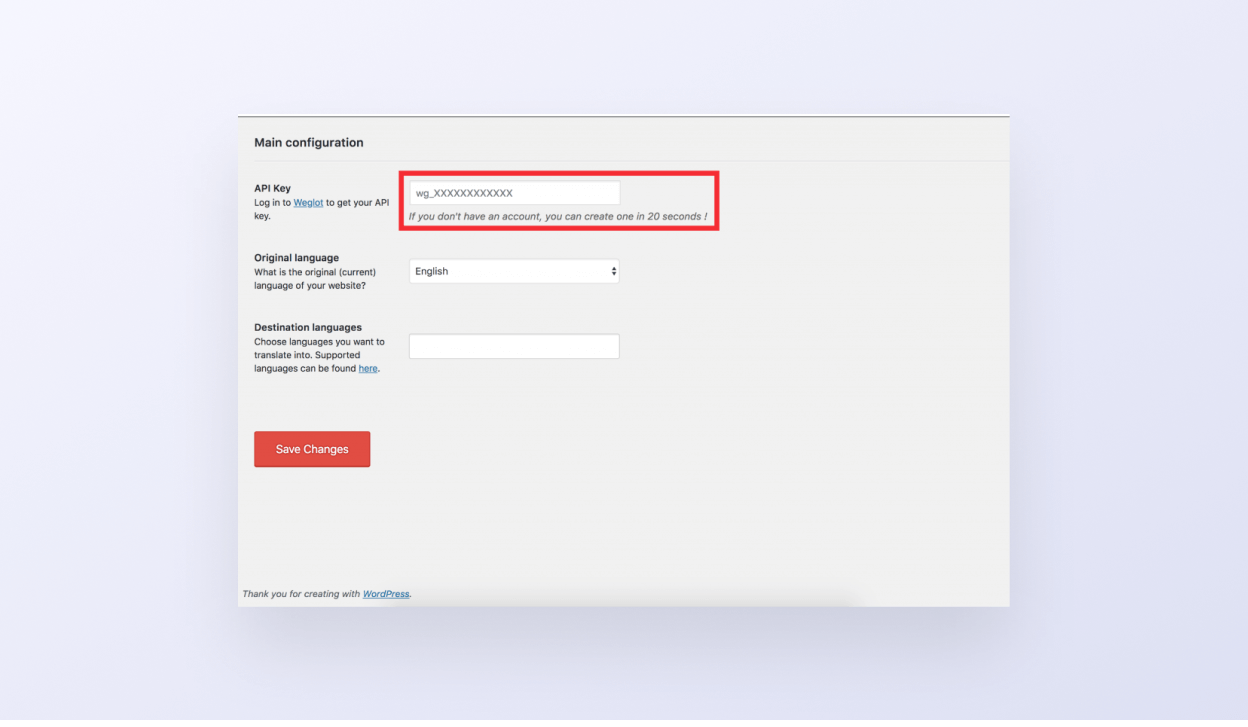 Pricing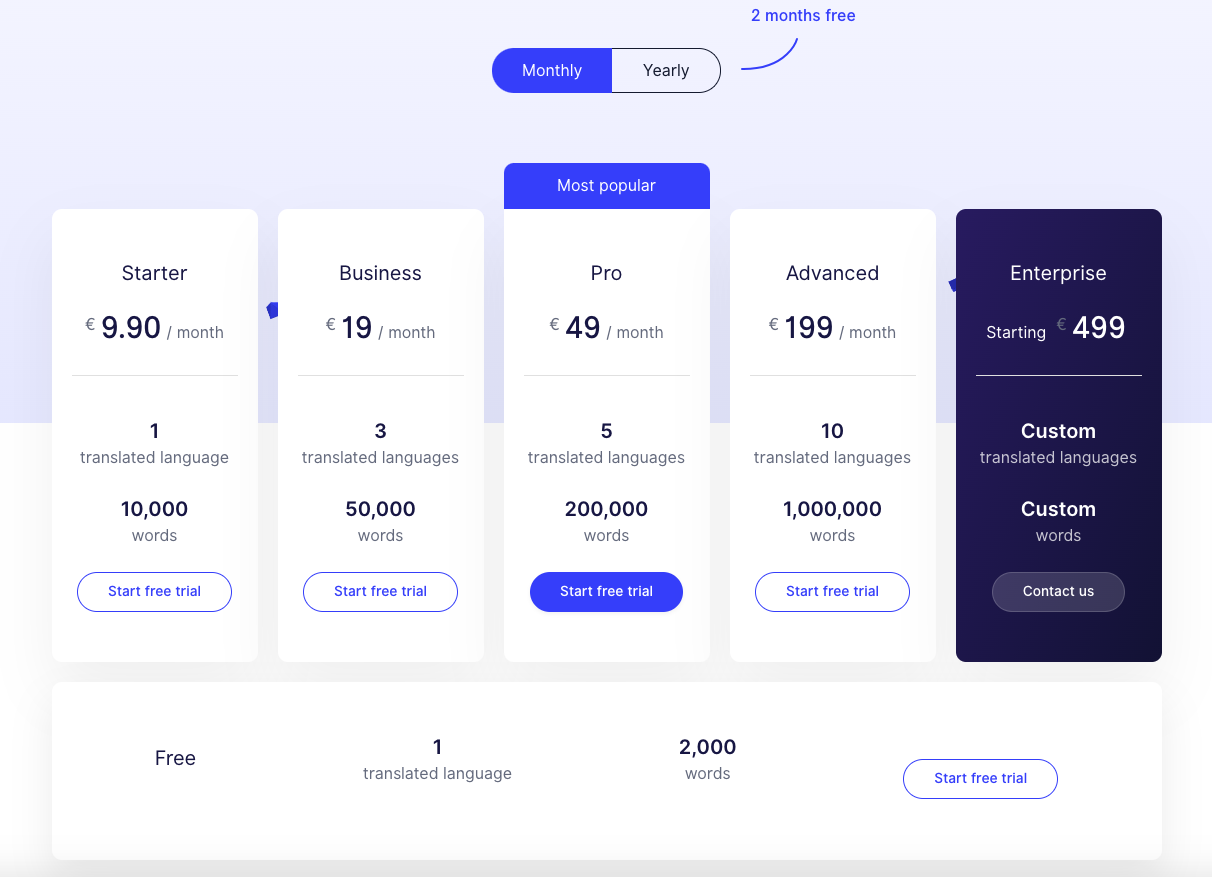 With Weglot, pricing is generally based on how many languages you want to offer, and the number of words you need translated. Pretty simple to understand, and very easy to upgrade in the future.
It's worth noting that Weglot offers a free plan that translates up to 2000 words for one language. Not bad if you have a very small site with a single additional language.
Weglot offers monthly and annual pricing plans. With the annual, you get an extra 2 months of free translation, which is a nice bonus. Each monthly plan offers a 10-day free trial, and there are 5 tiers:
Starter: € 9.90 / month for 1 translated language and up to 10,000 words
Business: € 19 / month for 3 translated languages and up to 50,000 words
Pro: € 49 / month for 5 translated languages and up to 200,000 words
Advanced: € 199 / month for 10 translated languages and up to 1,000,000 words
Enterprise: € 499 / month for unlimited translated languages. The word limit is not listed on the website but you can contact Weglot to learn more about your custom translation needs.
You can sign up for a trial for Weglot here.
Final Thoughts
There's no question that Weglot is one of the most practical, user-friendly translation solutions on the market today. It supports 100+ languages with automatic, manual, and professional translation capabilities. It's incredibly easy to install on both websites and in CMS, and it's currently available as a plugin for platforms such as WordPress, Shopify, and Wix.
Like any software, there's always room for improvement. Weglot's translations can sometimes be a bit fickle when it comes to dynamic content – specifically anything that loads via Javascript. iFrames can also be a little difficult to troubleshoot, and there seems to be a lag time of a day or two before you can manually override a translation. The good news is that their support is incredibly responsive.
When it comes to pricing, Weglot can get a little pricey for websites with lots of pages. For an enterprise, this is more than manageable. But for mid-tier sites going from free Google Translate, there could be some sticker shock.
That said, it might just be worth every penny. Or centavo.
About Weglot
Weglot is a SaaS tech start-up that helps businesses turn their websites multilingual. They offer a fast, simple and user-friendly way to translate and display your translations without bothering your developers.