Since its launch in 2006, Shopify has come to be one of the most respected ecommerce solutions on the web, supporting over 50,000 online stores to set up, sell and market their products.
Shopify enables you to build an ecommerce website in seconds, upload or import your products, market yourself and track your growth in a variety of ways. The store itself is hosted by Shopify, although you may use your own unique domain name if you so wish.
On June 4 th 2013, Shopify finally announced the arrival of Shopify 2, an updated, smoother version of its former self. The update came after a beta period lasting a few months, bringing with it a new admin interface, and an array of over 60 new features.
The Impact of Shopify 2
With the recent introduction of Shopify 2, the platform's admin panel has seen a complete revamp of its interface, along with the addition of a live theme preview editor. The update brings about a wide range of new, more intuitive administrative abilities and options.
Shopify's new host of features includes the ability for merchants to freely specify meta descriptions, offer partial refunds without having to use PayPal, as well as enjoy a newly improved search functionality to find order and customer information faster than ever before.
Arguably, the biggest Shopify enhancements is the live theme preview, which allows merchants to build and customize the look of their store in a live preview window before publishing any updates. Colors, fonts, spacing, images and so on can all be refined instantly, yet no changes will be made until the admin is happy with the store's new look.
Additional features include product bar codes, which allow for a seamless Google Shopping integration, along with easier page, product and blog editing.
Aside from aesthetic and functional updates, Shopify 2 also bring two new price plans along with it. A new Starter plan valued at $14 per month, plus an Enterprise plan for $1000 per month. These pricing additions will help Shopify to appeal to both less experienced merchants, as well as the merchant who knows exactly what he or she is doing – and then some.
Initial Thoughts
Shopify is all about appealing to the masses. Upon entering the website, you are professionally presented with the Shopify sign up form, accompanied by the introductory video, which exemplifies the accessible nature of the ecommerce CMS.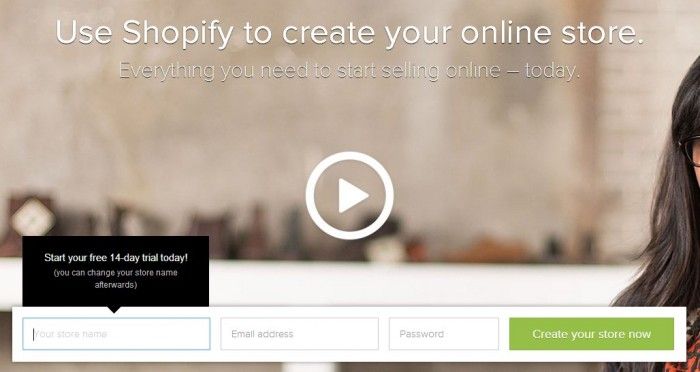 The sleek look and feel of the home page is carried on throughout the set up process and beyond. From the admin panel to the store themes, everything is tailored to suit both ecommerce novices and seasoned veterans.
All Shopify plans include secure, unlimited ecommerce hosting, all via their in-house servers. This eradicates the need for the user to hunt for a good hosting plan elsewhere, making it ideal for merchants looking to build their first online store.
Getting Started
Signing up to Shopify is a piece of cake. After naming your store and entering some personal information such as your full name and email address, Shopify will spend no more than a few seconds to create your online store.
Once the set up process is complete, Shopify will present you with your brand new, glossy admin panel. Rather usefully, it will also provide you with a short six step guide to get your store up and running as quickly as possible.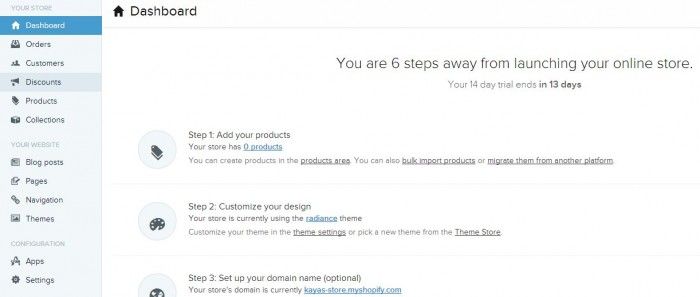 The six steps illuminate the path to a successful store launch for those who have no experience, and also makes life easier for those who understand all there is to know about launching websites and configuring content management systems.
Although the dashboard houses the six tutorial steps, it may have been beneficial for new, less experienced users to undergo an optional tour or interactive tutorial of the admin panel. Unfortunately, no such option exists, so once you leave the dashboard, you are very much alone.
Adding Products
To add products, you will need to navigate over to the "Products" button located on the left-hand side bar. Once there, you will be given the choice between manually adding new products, and importing products in bulk via CSV files, or through another platform.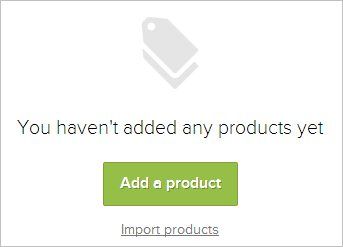 For those of you who are migrating from another ecommerce CMS, importing your products from your previous platform will save a huge amount of time. Currently, Shopify allows users to import products from Magento, Volusion, eBay and WordPress. To begin the importing process, you will need to click "Import Products".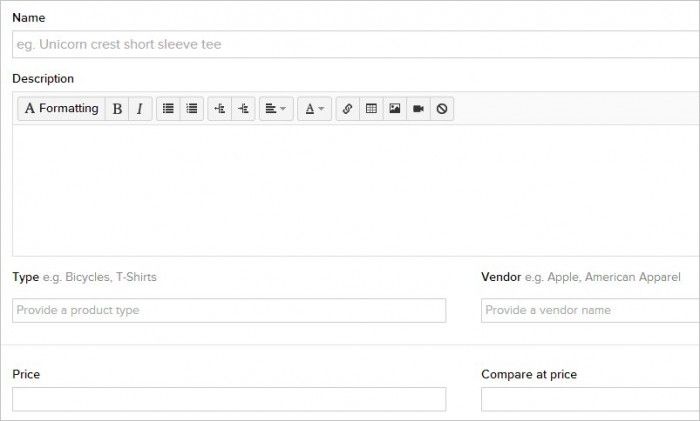 If you do not already run an online store on another platform, you can go ahead and add your products manually by clicking "Add Products". The process of adding products from scratch is easy to understand, with plenty of room to expand on the product's description, price, and so on. One of the newly introduced features of Shopify 2 also allows you to add a meta description for each new product, which helps with optimizing the product for the search engines.
Themes
Heading over to the "Themes" button on the left-hand side bar will allow you to tinker with the standard Shopify theme – named "Radiance", or to visit the Theme Store.

All of Shopify's themes can be refined via their own theme settings, or by directly editing the HTML, CSS and JS files.
Accessing and using the theme settings page is easily done. Colours, fonts, buttons and more can all be customised and previewed thanks to the newly introduced live theme preview feature.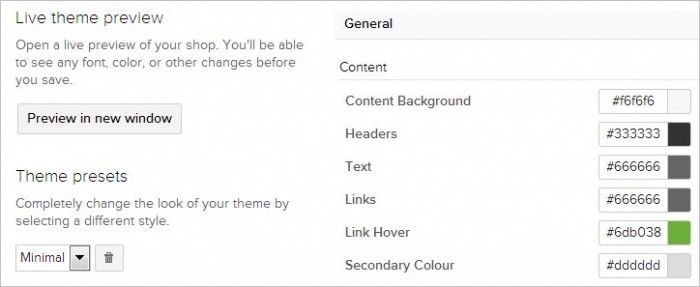 Shopify's Theme Store makes it easy to browse and select new themes for your website. The themes themselves appear elegant and professionally constructed, ensuring that whichever look you decide to go for, you won't be compromising on quality.
However, it must be said that the pricing of the themes is questionable. Although there are a range of free themes available, anybody wanting to opt for more complex, paid for option will find that the price jump is a steep one. Aside from the free options, the cheapest theme comes in at $80, reaching up to $180.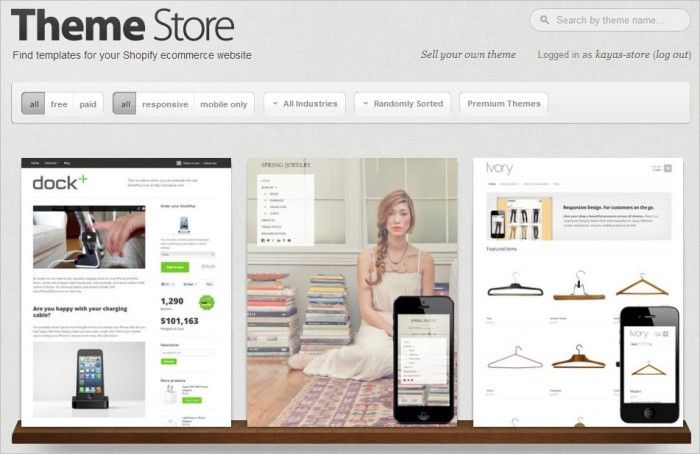 Such prices are certainly not unheard of when it comes to professionally designed ecommerce themes, but the gap between completely free and paid-for is quite a large one, which is slightly surprising.
In comparison, Magento's themes are available from $49, whilst Woo Commerce offer a small selection of free themes, with their paid-for themes being capped at a price of  just $70.
Domain names
Upon creating your store, you will be given a Shopify sub-domain, looking something similar to "my-store.myshopify.com".
However, you can choose to buy a new domain name through your Shopify admin panel, or link your Shopify account to a domain name which you may already own.
Shipping, Taxing and Payment options
 
Configuring your shipping, taxing and payment information is essential when opening an online store, and Shopify does a good job of simplifying the process.
By clicking on "Settings" on the left-hand side bar, followed by "Taxes", you will be presented with the option to set tax rates for your home country, as well as the rest of the world. Shopify will also offer to calculate the tax rate per sale using its own formula. Via this page, you can also choose to tax shipping charges, or add sub-region taxes.

Heading over to the "Shipping" page, which is now located on the left-hand side bar, you can set the shipping rates for different countries and regions, as well as for products which weigh above a certain amount.

When it comes to setting up your payment options, Shopify yet again does a great job of catering for the less experienced.
Payments can be taken through PayPal, as well as via a range of credit and debit cards, with each one being extremely straightforward to set up. Additionally, payment methods such as cash on delivery and bank transfer can be configured.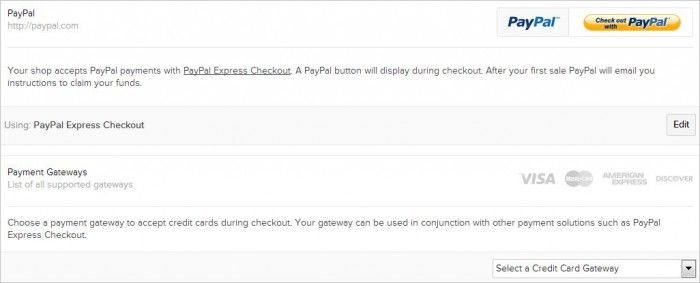 On the same page, you are given the option to write up your returns policy, terms and conditions, and other general notes which can be accessed by your customers just before checkout.
Pages
Being able to easily create and modify different web pages to round off your online store is vital. Pages such as the "About" and "Contact" page can make or break a sales conversion. Thankfully, Shopify once more rises to the challenge.

By clicking the "Pages" button on the left-side bar menu allows you to add new pages and edit existing ones with ease.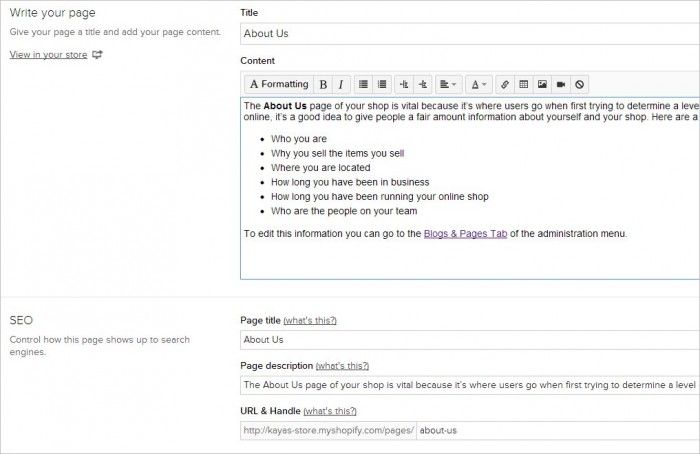 The text editor is well designed and easy to use, allowing you to insert images and exercise a range of different formatting styles. You can also configure SEO settings for each individual page.
When you have successfully uploaded of your products and configured your various store settings, you will be all set to begin your online selling venture.
All of the above steps are the essential for getting your ecommerce store up and running, but now is the time to launch, tweak and market your store to the masses – and Shopify provides everything you need to do a good job of it.
Apps & Extras
Once you have hurdled the basics and launched your store, you will notice that Shopify offers a fair amount of extra apps and widgets which can be found via their App Store , or by clicking the "Apps" button located on the left-hand side bar within your admin panel.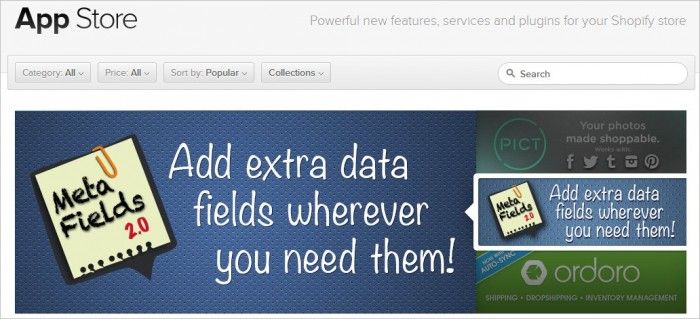 There is a healthy amount of free and paid-for apps available, coming in categories to do with sales, marketing, social media and more.
To make life even easier, Shopify doesn't need you to download or upload any files to install apps on your website. instead, you can add all apps directly from the app store almost instantly.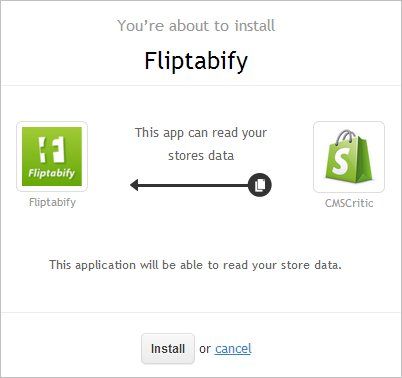 Marketing Your Store
Refining your marketing strategy is an important part of launching and sustaining your online store's presence. Shopify offers a few ways to engage with new customers, and lure old ones back to your checkout page.
Discounts
By heading over to the "Discounts" section located on the left-hand side bar of your admin panel, you will be able to configure a selection of discounts and special offers which you can make available to your customers for marketing purposes.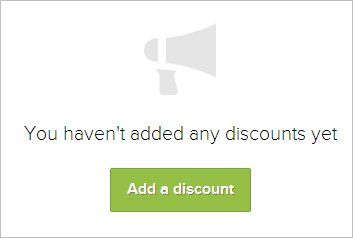 Using this feature, you can set date ranges, discount codes and a variety of discount types, all of which are useful when it comes to marketing and generally reaching out to both old and new customers, enticing them back on to your online store.

Blogging
Blogging is a great way of ranking in the search engines and attracting new customers. Shopify provides a blogging platform which is exceptionally easy to get started with, even for users who have never published a blog post before.
By clicking on the "Blog Posts" button on the left-hand side bar, you can immediately begin writing and publishing blog posts.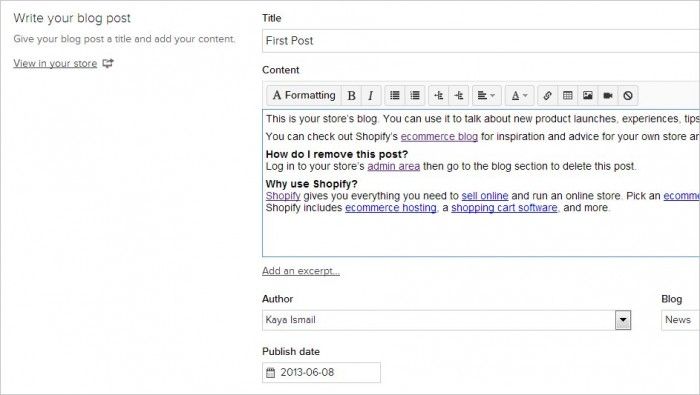 Much like pages, blog posts are simple to set up, write, modify and publish. SEO settings are also provided to ensure you get the most out of your blogging. Once again however, it would have been useful to point out the relevance of blogging to ecommerce. With no guidance, many merchants will fail to reach the potential of their new blogs, if they use it at all.
Tracking Orders and Customers
Shopify does well to provide customer and order records and to help you keep tabs on the growth of your online store, and to help you understand its shortcomings.
Both "Customers" and "Orders" buttons are again located on the left-hand side bar of your admin panel, allowing you to track all customer activity and information. The neatly presented metrics provided within these pages help merchants to track trends and gain insights from site traffic and sales.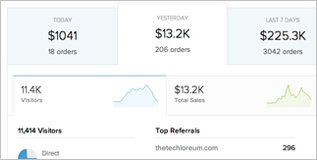 Additionally, another update introduced alongside Shopify 2 allows you to review information arround abandoned checkouts via the "Orders" page. This information tells you about the customers who have abandoned the sale at checkout, giving you the option to email them to offer more support or perhaps a better deal.
Generally, Shopify offers a great deal of marketing tools. Discount codes, Blogging, order metrics and even Shopify Apps – which can help with email marketing and social media, all combine to create a stellar marketing strategy.
Getting Help
When using any CMS, being able to seek help needs to be quick, easy and effective. Yet again, Shopify complies with the criteria.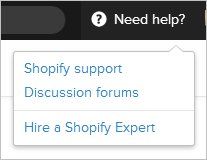 Via the admin panel, the "Need Help" button is clearly visible, and offers the three useful options of getting in contact with customer support, visiting the discussion fourms, or even hiring a Shopify expert.
Having said that, an FAQ section within the admin panel would have been a good idea, especially for those with no experience with setting up or using a CMS or online store.
Price Plans
Before Shopify 2, just three price plans were available to merchants. Such a limited pricing system, which originally started as high as $29 per month, priced out many merchants looking to get started in the world of ecommerce.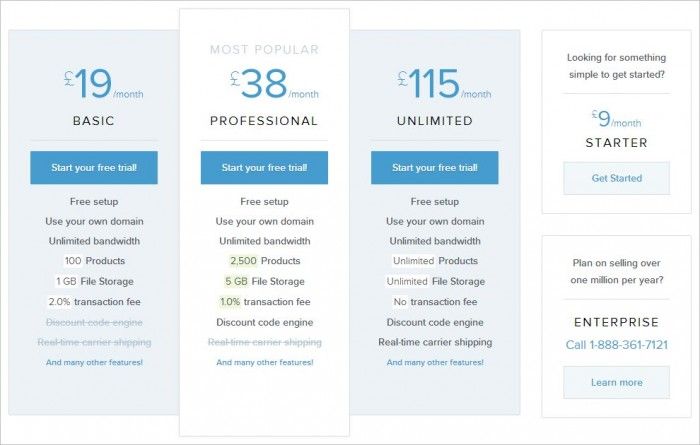 However, Shopify 2 has brought with it two new price plans, which consist of the "Starter" plan, valued at $14 per month, plus an "Enterprise" plan for $1000 per month. These new plans will certainly attract merchants looking to test the waters of ecommerce, whilst also catering for the executives and giants of the online world of commerce.
Despite the relatively reasonable monthly prices, Shopify imposes a 2% transaction fee on both the "Starter" and "Basic" plans, reducing it to 1% for the "Professional" plan, and removing it completely thereafter. On top of the monthly fees, plus the standard PayPal transaction fees, it is not unfair to conclude that using Shopify alongside Payal – which will surely be a popular combination, is almost financially unfeasible.
Also, in relation to the competition, Shopify's price plans are not the most favourable. Magento asks for similar monthly fees, starting from $15 per month, all the way up to $124 per month. However, the key difference is that Magento charges no transaction fees on any of its plans. Additionally, Woo Commerce is a free and open-source platform, charging no transaction fees.
The Verdict
Overall, Shopify does everything a good ecommerce CMS should do, and more. Undoubtedly, the release of Shopify 2 has propelled the platform to new heights, posing a serious threat to competitors such as Magento, WooCommerce and BigCommerce.
Getting your store online can be done in minutes, and all Shopify stores have the potential to look unique, with our without user knowledge of HTML or CSS. It does a brilliant job of appealing to both ecommerce novices and experts alike.
Pros
Shopify is extremely quick and easy to set up, creating your store within minutes.
The updates of Shopify 2 greatly expand the potential of Shopify, bringing new features and capabilities to merchans on a variety of levels.
Migrating your store from a host of other platforms, or uploading products from a CSV file is incredibly easy.
The wide range of themes on offer can be customized in terms of colour, font, images, and even more thanks to theme HTML, CSS & JS access.
customer and sales trends and insights can be gathered via the admin panel
The new admin panel is incredibly easy to use, understand and navigate, allowing you to upload products, make blog posts and create customer discounts in no time at all.
Enhanced abilities including partial-refunds, improved search filters and SEO friendly meta descriptions help round off Shopify's robust platform.
Customer support, discussion boards and even specially hired Shopify professionals are al on hand to provide assistance.
Google Shopping integration is easier than ever before, thanks to Shopify's introduction of product bar codes.
No third-party hosting required.
A 14-day free trial helps you get used to things before committing your payment details.
Cons
The two cheapest price plans each come with a 2% transaction fee, whilst the third offers a reduced 1% fee. These fees, alongside PayPal fees and Shopify's original monthly subscription, amount to quite a hefty sum, which will no doubt eat into any profits.
Shopify offers just 19 free themes, with the rest of the selection ranging in price from between $80 and $180.
An FAQ page within the admin panel, or an optional guided tutorial would greatly benefit merchants who are only just exploring the world of ecommerce.
Final Remarks
Shopify does a remarkable job of making life simple for the ecommerce new comers who need constant guidance and simplification, whilst offering more a range of more advanced options and features for seasoned ecommerce professionals.
Although many will find the ecommerce CMS to be pricey, others will argue that you get what you pay for. The release of Shopify 2 has made the platform easier to navigate and better to look at, whilst adding a huge array of extra features to an already robust set of functionalities.
Shopify's revamped interface is well polished and gives attention to detail in areas where many other ecommerce CMS fail to touch upon. Without doubt, Shopify is a platform worth serious consideration for anybody looking to build an online store.