A few weeks ago, over 2 billion WhatsApp users had a rude awakening.
The popular instant messaging service – which was acquired by Facebook in 2014 for a whopping $19 billion – pushed out a change to its privacy terms.
If you read the message on the app's home screen, it doesn't say much: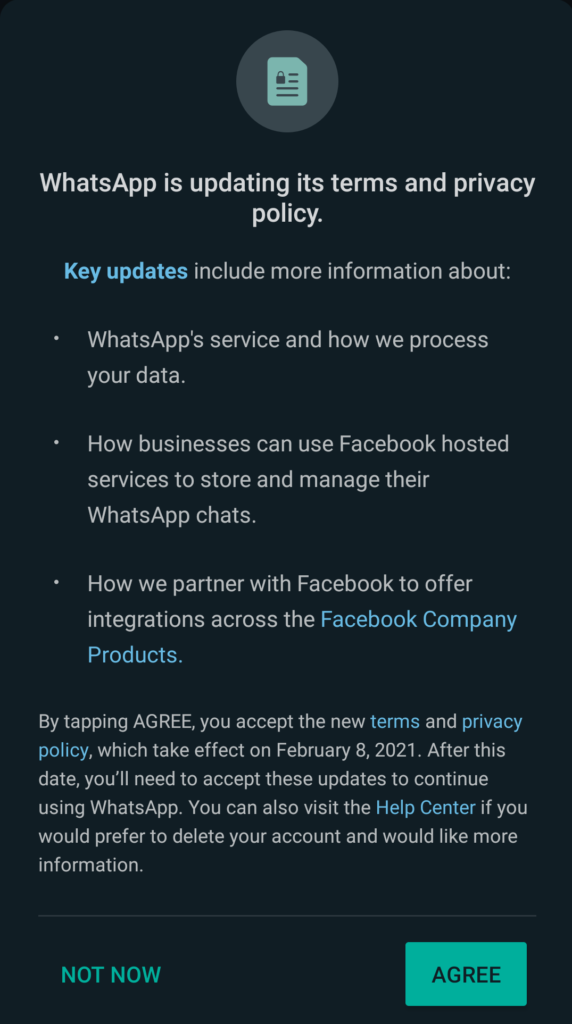 But dig a little deeper and you'll find a daunting 4000-word privacy policy that essentially gives WhatsApp the right to share user data with Facebook and Facebook-owned platforms like Instagram. This includes phone numbers, IP addresses, and other personal identifiers outlined within the terms.
The update was initially scheduled to go into effect on February 8th, after which users must agree to the new terms – or be cut off from the app. After receiving a preponderance of media coverage and consumer pushback, WhatsApp decided to delay the cutoff to May 15th.
"We're now moving back the date on which people will be asked to review and accept the terms," said WhatsApp on a blog post. "No one will have their account suspended or deleted on February 8th. We're also going to do a lot more to clear up the misinformation around how privacy and security works on WhatsApp. We'll then go to people gradually to review the policy at their own pace before new business options are available on May 15th."
To suggest that these changes are controversial would be an understatement. And yet, this is par for the course for Facebook, which has struggled to win back trust after its widely publicized scandal with Cambridge Analytica. Despite a tarnished reputation, it continues to be the largest social media platform in the world with over 2.5 billion monthly users. Still, the awareness around Facebook's mishandling of personal data has drawn the ire and scorn of many users.
From WhatsApp to… where?
When news spread about WhatsApp and their proposed policy changes, users started jumping ship in droves.
While the social messaging market is relatively mature, only a handful of platforms have elevated their brand awareness to the level of WhatsApp. More importantly, just a few have touted their emphasis on securing personal data while remaining open and accessible.
One popular destination for the WhatsApp exodus was Telegram – a cloud-based mobile and desktop messaging app with a focus on security and speed. Their CEO reported 25 million new users in three days, which was a groundswell of activations for the company. It's worth noting that Telegram has refused to hand over encryption keys in several countries to protect user data, demonstrating their commitment to data privacy.
While Telegram and other niche platforms like Discord and Tox were beneficiaries, the real gold rush came after tech mogul Elon Musk tweeted only two words:
"Use Signal."
By the end of the day, Signal – a free privacy-focused messaging and voice app – experienced a massive surge of more than 42 million new users.

A strong Signal for messaging
Once a lesser-known contender in the messaging market, Signal became the hottest app on the planet – and the preferred alternative to WhatsApp.
First tweeted about in 2015 by Edward Snowden, Signal is a secure platform with rich features like one-to-one messaging, groups, stickers, photos, file transfers, voice calls, and even video calls. Millions of people use Signal every day to instantaneously send and receive high-fidelity messages for a wide variety of personal and business needs – and as stated, it's free.
Like WhatsApp, communications on Signal are end-to-end encrypted – meaning only the people in a direct conversation can see the content of their messages. Like Telegram, Signal is so committed to securing user messages that some countries have banned it.
Tapping Twilio for phone numbers
While Signal offers an alternative to the WhatsApp privacy conundrum, users can further secure their transactions on any messaging platform with some simple strategies.
Like WhatsApp, registering for Signal requires a phone number. But it doesn't have to be your own phone number – it simply needs to be an active number for receiving a verification code via text message during the account registration process.
Twilio, a cloud-based communications platform, allows you to receive phone calls and SMS messages using their dynamic phone number service. In fact, Twilio powers the new-user verifications for Signal and manages new-user authentication and password resets for WhatsApp – making it an incredibly useful solution for messaging apps and services.
You can purchase a phone number from Twilio to use for Signal for as little as $1/month by creating a Twilio account here.
What's next for WhatsApp?
While Facebook still rules the social kingdom, it has clearly plateaued – and continues to bleed existing users. WhatsApp may struggle to find its footing in a fragmented landscape of multi-channel messaging options, especially as remote platforms like Voxer blur the lines between personal and business communications.
Still, it's too early to tell, and Facebook has billions of dollars – and billions of users – to support more innovation. In a post-Zuckerberg regime, it may very well adapt and evolve, and bring WhatsApp along for the ride.
Twilio has been on a roll lately with multiple acquisitions. While it may see lower user activity on WhatsApp, the spike in Signal downloads might offset that lost usage revenue. Regardless, they appear to have positioned themselves as an indispensable part of the social messaging landscape and the foundation for digital communications in 2021 and beyond.
About Signal
Privacy is possible. Signal Messenger makes it easy. At Signal, the goal is to develop open-source privacy technology that protects privacy rights, promotes free expression, and enables secure global communication. Signal believes that private messaging should be simple and ubiquitous, combining state-of-the-art security and end-to-end encryption with the features that users expect in a modern messaging application. Millions of people use Signal every day to speak freely, and a growing list of organizations have integrated the open-source Signal Protocol into messaging platforms that support billions of users.
About Twilio
Twilio is a cloud communication company that powers the future of business communications, enabling phones, VoIP, and messaging to be embedded into web, desktop, and mobile software. They take care of the messy telecom hardware and expose a globally available cloud API that developers can interact with to build intelligent & complex communications systems. As your app's usage scales up or down, Twilio automatically scales with you. You only pay for what you use - no contracts, no shenanigans.