The Intelliants development team, who are responsible for the highly successful Subrion CMS platform, have recently launched the latest version of their flagship product – Subrion CMS 3.1.1.
Not too long ago, we also covered the launch of Subrion CMS 3, the last major release for the platform. There were a long list of updates which accompanied Subrion CMS 3, but now, Subrion users can enjoy the benefits of even more improvements, thanks to version 3.1.1.
So, let's take a little look at the basics of Subrion's popular content management system, along with some of its recently introduced features.
An Overview of Subrion CMS
Subrion CMS is an open-source PHP content management system with comprehensive functionality, active development, and a reputation for reacting quickly to the wants and needs of their users.
One of the most useful features of Subrion's content management system is the responsive admin dashboard, which can be viewed via tablets and smartphones, allowing you can manage your content wherever you may be.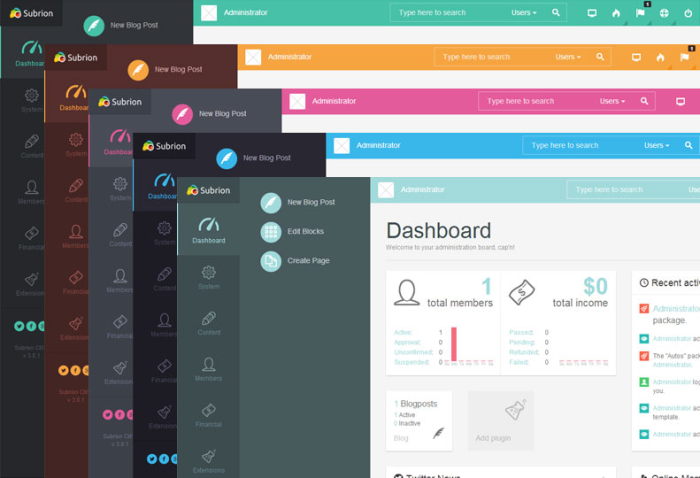 As well as being responsive, Subrion's admin panel is sleek, modern and uncomplicated, so you can publish, manage and modify your content quickly, and in style.
Yet, the true strength of Subrion lies within its detailed field management system, where you can easily manage any field for almost any item you may have – without leaving the admin panel.
Speaking of managing content, Subrion CMS makes that supremely simple. Pages, widgets, menus and more are all easy to create and place within your website, thanks to the drag-and-drop visual mode.
Subrion CMS doesn't hold back on functionality either. It successfully combines the functionality of articles script, auto classifieds script, realty classifieds script, web directory script, and yellow pages script all in one, manageable package.
Plus, with a healthy range of plugins and templates, Subrion CMS can also help your and your website exercise some flexibility.
Remote Template Installations, Colour Schemes & More
So, what's new with Subrion CMS 3.1.1?
First and foremost is the user-friendly remote template installation system. All users now have to do in order to install a new template, is navigate over to the "Extensions / Templates" tab within the admin panel, and choose from a host of free, professional templates for your website.
Subrion have a range of templates readily available, all of which can be inspected and tested via the Subrion Template Demo page– which is updated on a weekly basis.
Another notable update brought about by Subrion CMS 3.1.1, is the brand new admin dashboard colour scheme – Radiant Orchid.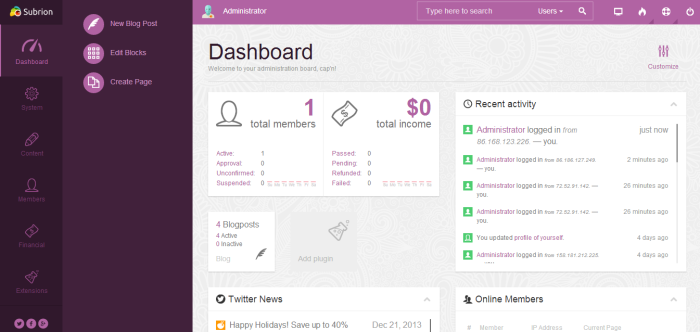 The new Radiant Orchid colour scheme joins a host of other colour schemes already available to Subrion users. It's the small personalization features like these which sets Subrion CMS apart from its competitors.
For a full list of updates and improvements brought about Subrion CMS 3.1.1, check out the official release notes.
If you want to know more about Subrion CMS, take a moment to visit their official website. Additionally, you can find out more about Subrion via our CMS Directory.