---
Snapshot
Uniform continues to lead innovation in the digital experience composition (DXC) space.  
The company's new Enterprise Visual Workspace gives brands and digital teams greater freedom and control to build and deploy omnichannel experiences and accelerate time to market.
The industry-first solution promises to help marketers create digital experiences by unifying data and content sources, from CMS to DAM to PIM, in a single "experience cloud."
Users will have access to easy-to-use generative AI and improved personalization to create contextual experiences and tailor them to specific audiences and segments.
---
IN MY RECENT CHAT with Darren Guarnaccia, we discussed many things – including coffee mugs. 
Short of comparing design options on Etsy for World's Most Composable Cup or Digital Espresso Composition, it served a purpose when describing his days at Red Dot circa 2003 – when things were markedly simpler.
"Back then, you could have printed our user manual on a coffee mug," he exclaimed. "And now, we're kind of back to the same place."
That place he's referring to is called complexity – an inevitable destination in the technology journey, where every passenger craves a cup of "easy."
While at Red Dot, Darren embraced a simple canon that still guides his thinking today: adoption equals success. Maybe not as catchy as World's Greatest Boss, but easier to consume than most product documentation. And it's a cozy fit on a coffee mug (I checked).
In this so-called composable era, Darren and his team at Uniform – a leader in the growing category of Digital Experience Composition Platforms (DXCP) – have a very clear plan for success: help brands and marketers create digital experiences faster and easier while giving developers the technology they need. 
Not an easy mandate when headless CMS and other layers of the composable stack have lined a "boulevard of broken promises" for digital teams. But under Darren's leadership, Uniform has provided a necessary salve to this pervasive lack of visualization, delivering marketer-focused tools with its innovative Canvas and Mesh features.
Now, they've taken things to the next level with a comprehensive offering called Enterprise Visual Workspace. As Darren described, it's a toolbox for marketers to assemble experiences in a sensible manner and do it all in a familiar, visual way. This includes simple actions like pointing, clicking, dragging-and-dropping – all functions that reduce friction for less technical users. At the same time, it doesn't hold IT teams back from the potential of composable.
"What we've been focusing on for the last like six months is it really correcting the trend," Darren said. "While this composable, headless technology stuff is a boon for developers and technical audiences, it's been kind of horrible for the businesses, right? I think that's the real point: no matter how cool the tech is, it doesn't work if the business can't use it."
That's something we can all drink to. So pour a little joe in your Marketers First coffee mug as we delve into Uniform's Visual Workspace. 
Enabling digital teams to customize every engagement
As the company's press release noted, Uniform's Enterprise Visual Workspace is an industry-first for digital marketers. It's what the company calls an "experience cloud" that empowers teams to customize engagements by unifying content, data, AI, and technology across the enterprise in one place.
Darren was quick to point out that while omnichannel continues to be a key goal of composable strategies, most efforts are still targeted at web and mobile. In these channels, marketers are accustomed to seeing their experiences unfold as part of the creative and experimentation phases – a vitally important function.
As new digital experiences drift towards headless, marketers are plagued by an inability to compose experiences visually, thus relying on developers to complete delivery. This stymies the overall speed to market, which can impact business growth.
---
"If you take a step back and think about why we're spending all this money on tech and all these things we've been doing, it's still to create digital experiences for customers."
---
"If you take a step back and think about why we're spending all this money on tech and all these things we've been doing, it's still to create digital experiences for customers," Darren reinforced. "In creating those experiences, you get three things to play with, right? You've got the content that makes up the experience. You've got the design and how it's going to look. And then there's a behavior behind it all. But these three things go into every digital experience, so we've continued to focus on those pillars."
And making those pillars work for marketers has driven the company's quest. Now, with the introduction of Visual Workspace, Uniform has effectively ended the era of mandatory code deployment and ushered in a new era of AI-assisted, no-code creation and management.
A unified workspace purpose-built for marketers
Uniform's Enterprise Visual Workspace has reimagined the experience production process, giving digital marketers the autonomy to create and push updates live without developer support. The toolbox is built intuitively for marketers and merchandisers, allowing them the freedom to create and experiment safely inside a visual interface and preview the experience in real time as they build. 
Developers can also use front-end frameworks of their choice to achieve greater productivity – as less custom code is required to power digital experiences (read more about that nasty "glue code monster" in our previous interview).
The new experience also unifies key attributes of a brand's design system – including its content and data, style guide, and marketing tools – inside a purpose-built workspace for creators. Users can more effectively stay on-brand with components and templates that are always up-to-date.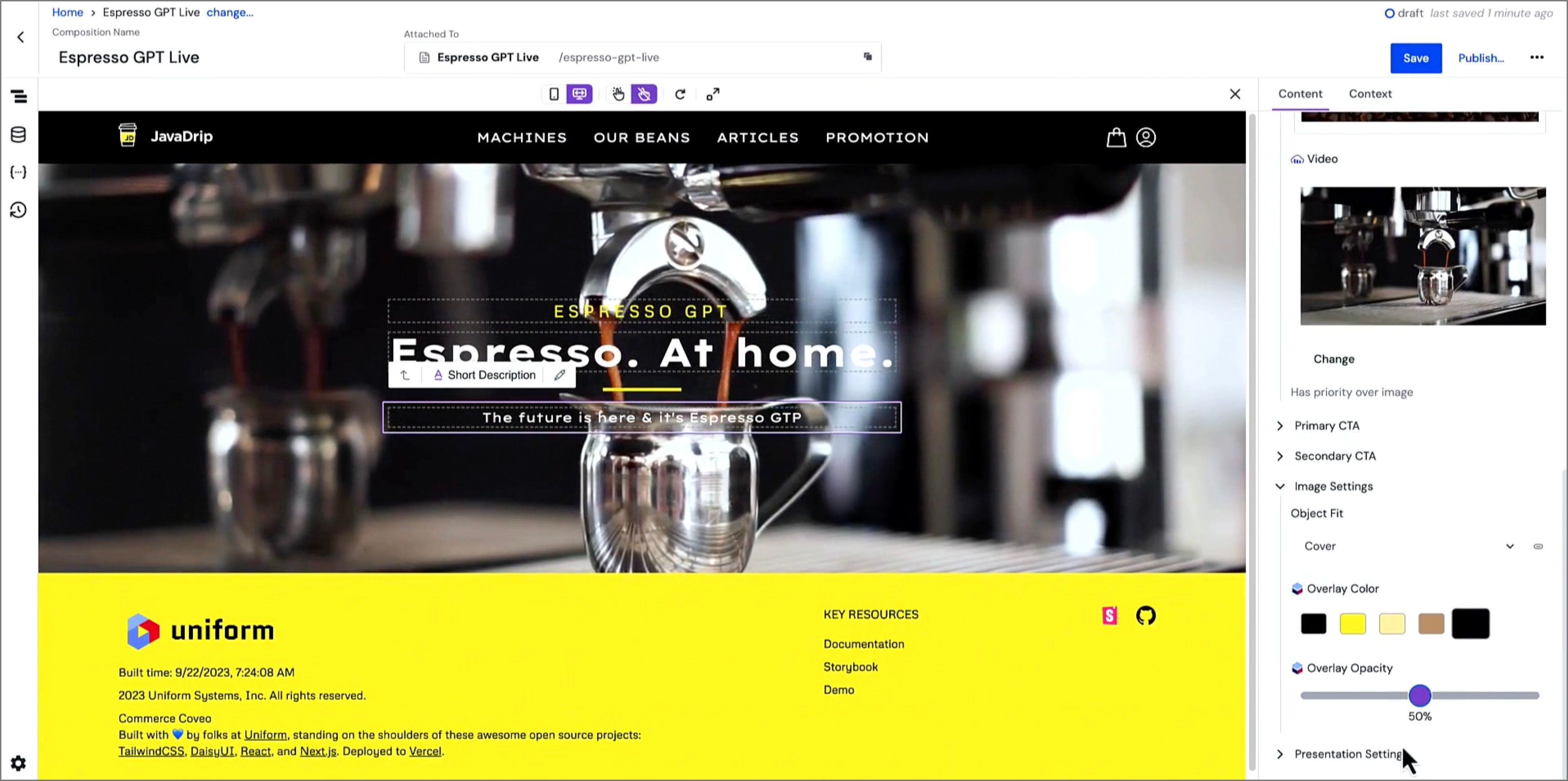 Adam Conn, VP of Enablement and one of Uniform's co-founders, provides an excellent overview in a short video on the company's website. What's quickly apparent in his demo is how familiar and comforting the UI is. Users can control dynamics on the page – like hero images – with relative ease, and quickly point content from a CMS or other source to specific targets on a web page. 
In just a few clicks, everything is assembled.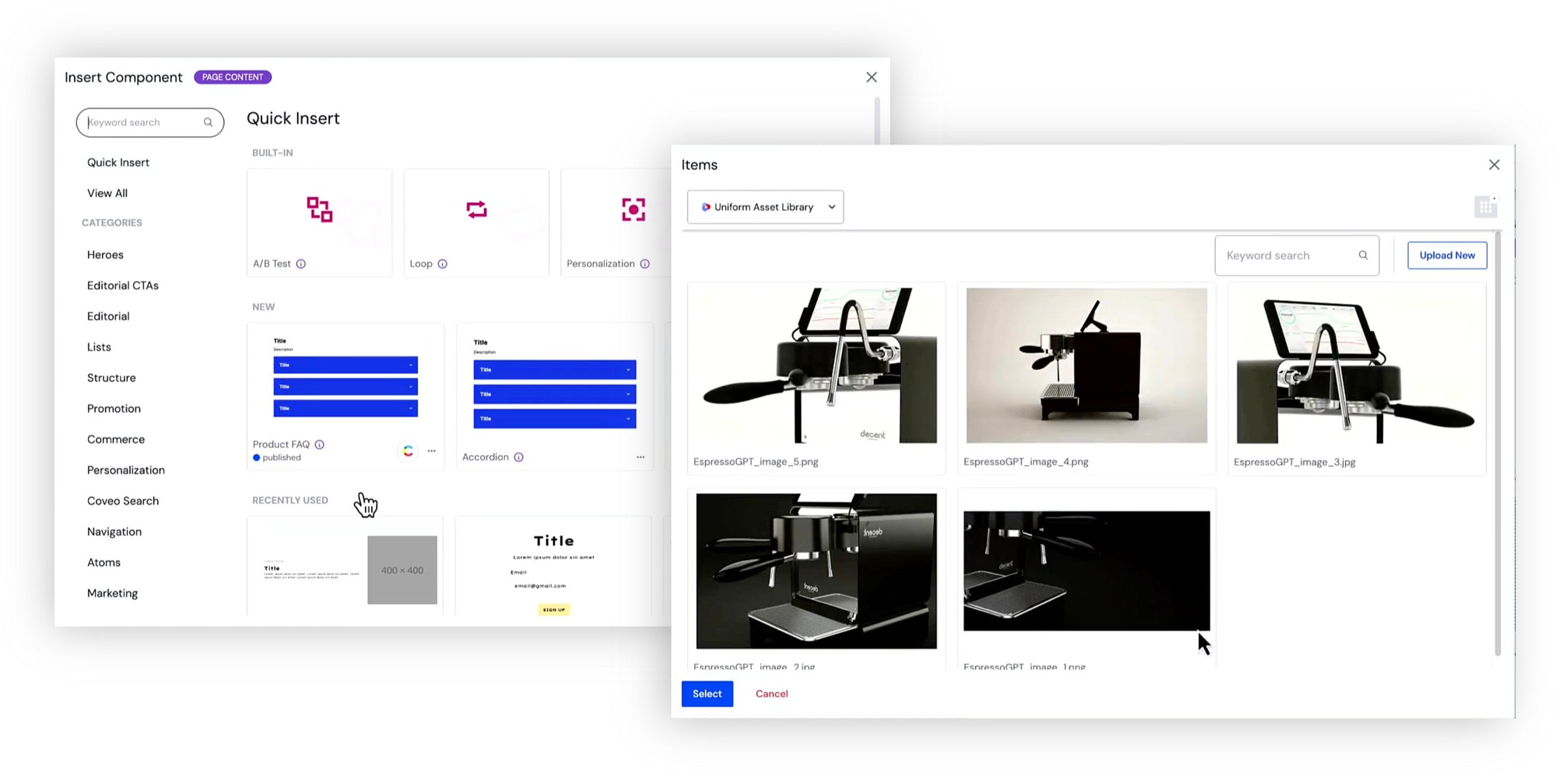 In an instant, you can insert components and A/B tests as part of a personalization experiment, and draw on assets from a PIM or a DAM library to populate an e-Commerce store with product imagery or merchandise details. The access to toolbars and fixtures within the Workspace is intuitive and well-placed within the workflow, putting it all within the grasp of the marketer as they build and deploy their experiences. 
"For total control of how their digital experiences will look and behave in the field, brands need a solution for their marketers that facilitates delivery through a visual interface," Darren stated. "Marketers are visual creators who work with their hands — Uniform's Visual Workspace provides a palette for creativity and experimentation, where essential tools and assets are waiting for them. And, they are empowered to publish live instead of waiting for multiple development sprints. Uniform's Visual Workspace is changing the future of marketing by giving enterprise digital marketers the instrument they've needed all along."
Beyond its marketer-first functionality, this new evolution of omnichannel experience management also provides digital teams unequivocal speed to market by reducing the friction from the digital experience production process. 
Easing content creation with Uniform Content
Uniform integrates with any content or data source, providing in-line access to an organization's full range of content – regardless of where it is stored. This helps overcome the challenges that marketers face when managing a broad ecosystem of data and assets.
"In every large enterprise I've ever worked with, there are four or five CMSes," Darren noted. "Along with that, they might have a DAM, plus their commerce, maybe a PIM or even an ERP, where more stuff is tucked away. So the first problem to solve is how do you give these people who are supposed to be constructing the experiences a unified way to get at all that stuff?"
Enter Uniform Content. As part of the Enterprise Visual Workspace, this innovation lets users create using content from across the enterprise by centralizing access to company-wide resources within CMSes, commerce platforms, CDPs, DAMs, and other systems. Uniform Content also allows users to quickly build personalized experiences without arduous copying and pasting – or worrying about where objects and assets reside. 
"Uniform Content is a kind of a unified content model," Darren explained. "It doesn't matter where it lives, we can represent it as one thing, so you don't have to shove everything in your CMS or create a bunch of pointers to try and make it all work with code. We can create a centralized view of all your content – so to the marketer, it just looks like one thing. They don't need to know where it lives, we just hide that complexity away."
Bringing composable thinking to generative AI and personalization 
It's impossible to ignore the pervasiveness of artificial intelligence in today's technology ecosystem. While almost every DX platform has rushed to add generative AI capabilities to their platforms, many have struggled to unlock real utility for their customers – yet.
With its new Enterprise Visual Workspace, Uniform has focused on unlocking value with its AI play, applying it at the right places within the experience. Users have access to generative capabilities that are built directly into the workflow – allowing them to generate, edit, and apply copy and images within the workspace. The new AI features are easy to use and can be leveraged to provide contextual experiences for a wide range of audiences.
According to Darren, Uniform has also taken a tacitly different approach with AI – rendering it more composable for its customers.
"What we've been doing is abstracting generative AI," he said. "Everyone wants to use it, but right now, it's a big copy-paste exercise, right? I'm still jumping back and forth between ChatGPT and other applications. Now, all of a sudden, there's a ton of these [tools]. So what we decided to do is bring composable to AI."
Darren referred to this as a sort of "AI Hub," where Uniform will provide multiple connectors to various generative AI services. This might also include a prompt management and governance framework where brands can control how they use it and guide marketers with their workflow.
Along with the introduction of AI, the Visual Workspace also promises enhanced personalization, allowing users to customize experiences based on audience segmentation and site behavior – so they can offer targeted products and services at unparalleled speed. 
Giving users a place to start
When I spoke to Darren about the goals of this new release, we discussed the persistent question that many organizations face when building a technology solution: where do I start? 
Traditionally, a stack has been assembled around the core of a CMS – meaning a business is straddled with picking a content management system first. But as Darren explained, Uniform is changing that dynamic and reorienting the process. 
"This was born out of projects with our customers," he shared. "As we were sitting down and talking to them, it turns out there are times when you might not know what [technologies] you're going to pick yet. But that's okay – you can stub things out with our platform, and when you have the technology, you just plug it in. That was really appealing to them."
---
"This was born out of projects with our customers. It turns out there are times when you might not know what [technologies] you're going to pick yet. But that's okay – you can stub things out with our platform, and when you have the technology, you just plug it in. That was really appealing to them."
---
Much like the company's Component Starter Kit, which was launched this past summer, Uniform has endeavored to simplify the experience and give users a clear place to start their journey.
"With our Component Starter Kit, it was the same idea," Darren punctuated. "It's an off-the-shelf set of visual components with a design system you can use, and we open-sourced it. The whole point was just to help them get started quickly. You can bring your own design system, so you don't have to use ours at all. But many of our customers were saying, 'I have something I want to get started with. Can I use something you've already got that I can adapt?' And then, of course, they'll build on top of it."
To quote Darren, the Enterprise Visual Workspace is a game changer for brands and marketers. With this model, users can focus on innovating and experimenting with digital experiences without completing their technology puzzle. That means marketers can realize their ideas faster and add technology as a subsequent step.  
"Now, you can actually be focused on constructing things and connecting your CMS later," Darren reiterated. "You can start prototyping and building your experiences, and then plugging in the various systems as you need to."
Cost and availability
Uniform's Enterprise Visual Workspace started shipping last week. The product has been in soft launch as the company executes its go-to-market strategy. 
As Darren explained, the solution is part of the Uniform ecosystem, and the pricing is based on the same mechanics as the existing Uniform framework, which is a mix of classes and connectors. 
"It's part of the platform because it's a part of the job, part of the work you have to do," he reinforced.
Per the company's website, users can select from a Foundations option, which includes a single project with four integrations, or Enterprise – which provides a more robust set of features. You can contact the company for a demo and pricing.
For a deeper dive into the product and its capabilities, visit Uniform's website.
Tapping the power of partnerships
As noted in the company's press release, agencies and integrators are becoming increasingly aware that a gap exists in the digital experience market. This has opened new avenues of opportunity for Uniform as it looks to the channel for adoption and growth.
I asked Darren how partnerships are playing into Uniform's strategy as the Visual Workspace hits the market.
"Partners are very important, and we're very much a partner-first organization," he replied. "I think we all come from a heritage where partners have been sort of our 'bread and butter.' On the implementation side of the world, they have a lot of sway and trust with clients – and they get to specify the ingredients in the soup. And quite honestly, they're also ahead of customers in understanding the gotchas with all this stuff." 
Because of this, he explained, partners are quick to recognize the value of Uniform, because they've "been there, done that" more times than any individual client.
That value was codified by Jerry Hill, CTO of authentic. (formerly Concord) – a technology consulting and digital transformation firm. As he pointed out, marketers and digital teams have been looking for ways to speed up delivery and remove technology limitations to get jobs done faster and better. In his eyes, Uniform is filling those gaps. 
Cutting through the noise in the composable market space
If Scott Brinker's 2023 Marketing Technology Landscape Supergraphic doesn't leave you breathless, nothing will. With 11,038 solutions spanning a wide range of digital experience categories, it's nearly impossible not to get lost. 
It's within the pillars of this hallowed diagram that Uniform is making its bold appeal to the market. As more enterprises pursue the benefits of composable and MACH architectures, picking the right technologies can feel intimidating. As previously noted, many people are left wondering where to start. Uniform is answering the call by helping brands and digital marketers move beyond just the technology considerations – and start building.  
At the same time, the competition within these segments has reached epic proportions. I asked Darren how he feels about Uniform's position as the noise level increases. As a thought-leading platform in the still-nascent DXC category, they have clear advantages and challenges. 
"I feel pretty good about the trifecta of what we do," he said. "I mean, for any one of the things we offer, there's lots of competition. There are folks out there doing just content and API aggregation, visual tooling, or personalization. But I don't think anyone has put all three of those together in a visually focused way that's aimed at the marketer audience."
As Darren reminded me, Uniform isn't just concerned with creating value across newer, best-of-breed technologies within a composable stack – it's also enhancing the value of existing enterprise systems, many of which are monolithic in nature. 
"We're even trying to help make those legacy technologies relevant," he said, describing a specific use case with one of their newer customers. "They have four years to go on their Sitecore license, so we're helping them move into the future."
Helping them move into the future. 
A mission worthy of a coffee mug that reads World's Greatest Boss.