Previously, we brought you a comprehensive review of the Webstarts CMS. Now, we're going to be delving far deeper into the Webstarts Shopping Cart, which is available to standard WebStarts users to add on to their existing websites, or for anybody else as a completely standalone ecommerce solution.
As the Internet continues to reach more and more people everyday, so do merchants begin to explore ways in which their business' can benefit. Many will have found what they were looking for in the WebStarts Shopping Cart, which is a free platform built to help streamline the process of building and marketing an online store.
WebStarts themselves have a history of providing a flexible, user-friendly website building solutions to well over 2.6 million users, of which many rely upon their powerful, yet simple shopping cart.
So, let's start exploring the features and functions of WebStarts' ecommerce solution.
Initial Thoughts
As soon as you land on the WebStarts Shopping Cart homepage, you know exactly what type of experience you're in for.
The homepage is sleek, simple and to the point. You're greeted by some of the platform's core features, alongside a bold sign up form, which lets you immediately get started with your online store.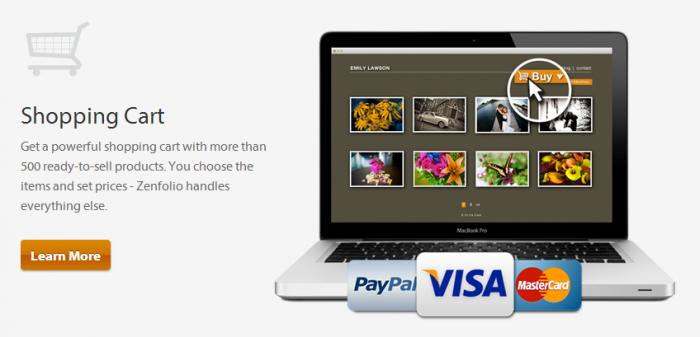 The sign up form is just three fields long, and you can even use Facebook to login if you wish.
A further look into the WebStarts Shopping Cart website will reveal that WebStarts are looking to communicate some real personality through their services, which is always a good sign.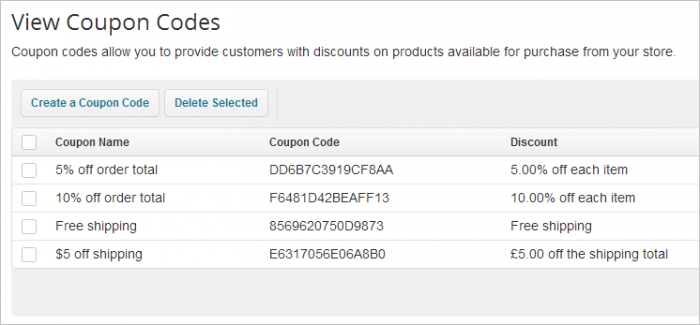 For example, a personal note from WebStarts founder Adam Barger can be found on the "About Us" page, detailing his own frustrations with the lack of flexible website builders on the digital market.
Adam Barger's solution was to create a platform for everyday people to, "create unique pages without knowing any code and without the harsh limitations of other website builders." 
Getting Started
After completing the initial sign up form, the WebStarts Shopping Cart will ask you to elaborate on your store slightly by providing a name, and an overview of what you plan to sell via your store.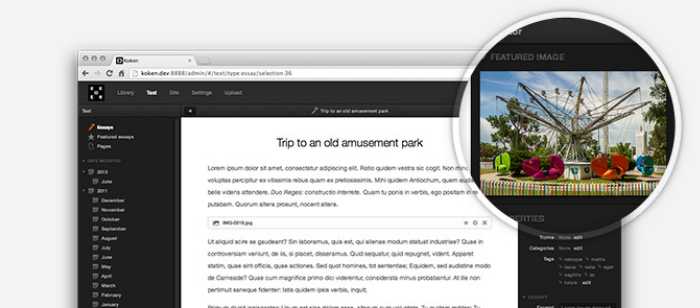 There is also a checkbox which asks whether you'd like to immediately accept Credit Card payments via WePay. This can of course be deactivated or changed at a later stage, but it's useful if you want to start selling as soon as possible.
To finish the setup process, you can either click "Finish" or "Add First Product".
Clicking "Finish" will take you directly to the WebStarts Shopping Cart admin dashboard, which thankfully maintains the simplistic design found on the WebStarts homepage.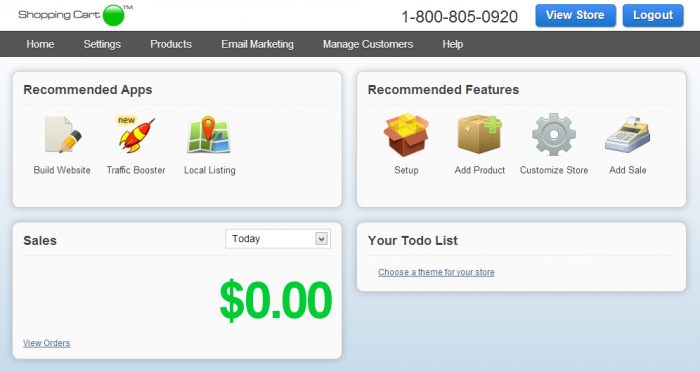 The admin panel gives you a nice overview of your store, displaying the total amount of revenue earned by date, along with a to-do list, outlining what your next steps should be to get your online store up and running. These modules are also accompanied by recommended apps and features, and a button to quickly view your store.
Although the dashboard is straight-forward and easy to use, it would have been great to see some more functionality. A walkthrough guide to setting up a successful store, video tutorials, or perhaps an option to add your own entries on the to-do list, would all have been welcome.
Adding Products
To get your online store looking the part, you'll need to start adding your products.
You can click "Add First Product" when completing your sign up, or simply head over to the "Products" tab on the admin panel. Either way, you'll be greeted with a small window, where you can input the name and price of your item.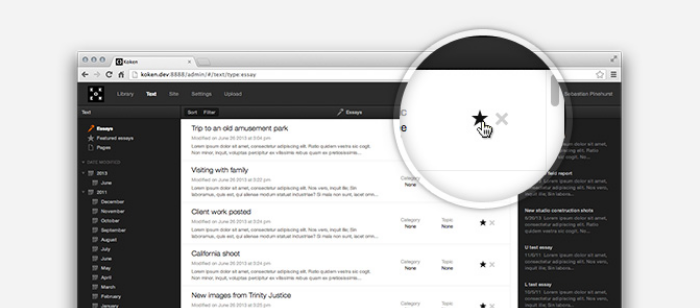 Once you hit "Create", you'll be taken to a page which allows you to input some more detailed information about your product.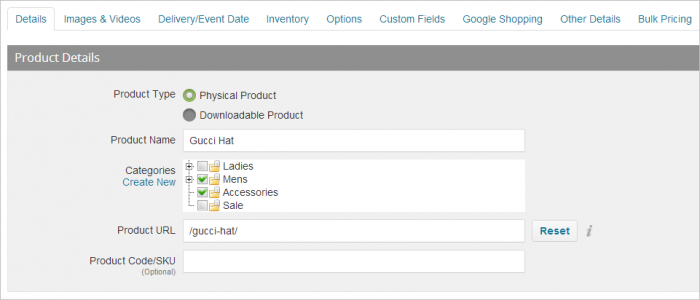 You can then write up your description and add your product to a category if necessary. A small menu on the left hand side also enables you to add more detail, by customizing taxing & shipping options, inventory options and by offering customers different options (like colour and size).
The final tab on the menu is the "Digital Delivery" tab, where you may specify how your customers can access their purchased product digitally, whether that be as a download, or text link.
Another useful feature found within the products section, is "Autoresponses".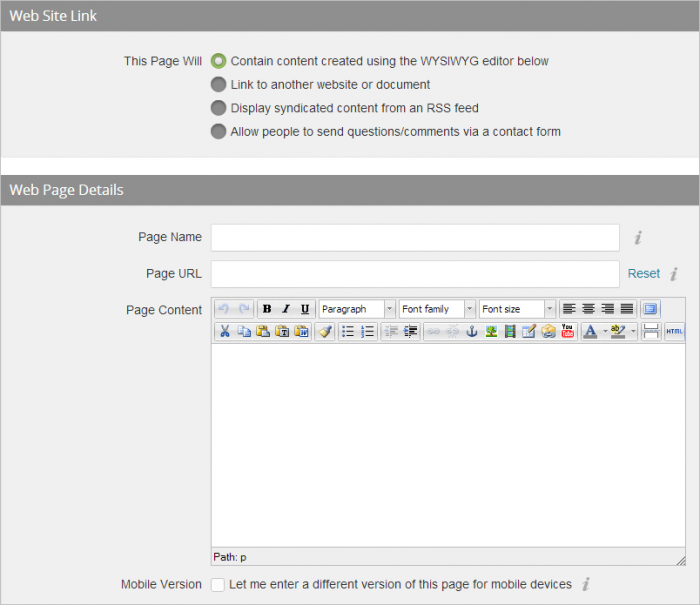 The Autoresponses feature allows you to set up an automatic email response for each of your products, which may contain additional offers, maintenance tips or even passwords if your products are digital.
Each product can have its own Autoresponse, which is great for personalising the experience of your customer's buying experience.
Finally, WebStarts Shopping Cart tops off their comprehensive product management approach by helping you to review your inventory quickly and easily.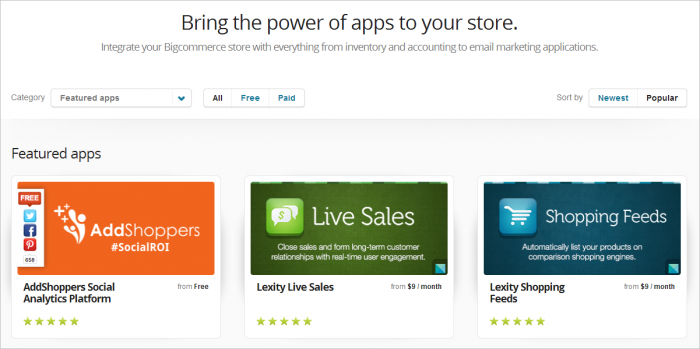 A quick click of the "Products" tab on the admin panel will present you with a neat list of your products, along with essential information, and the option to edit them individually.
Templates & Design
When it comes to design, WebStarts Shopping Cart splits the settings into three pages, "Catalog", "Homepage" and "Theme".
The "Catalog" page allows you to type out some introductory text for your store, and also enables you to upload your logo and custom header graphic if you choose to.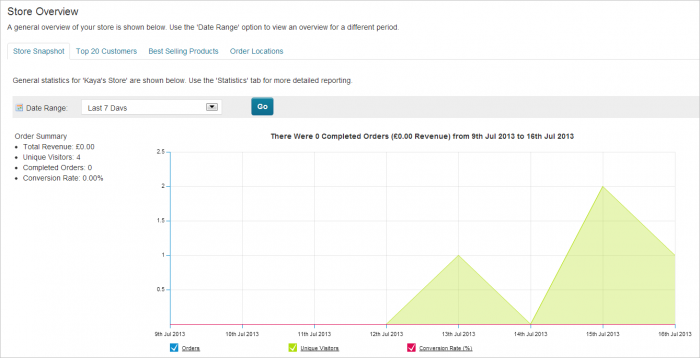 The "Homepage" page enables you to specify where your customer header graphic links to. This can be to either an uploaded product, or a specified URL.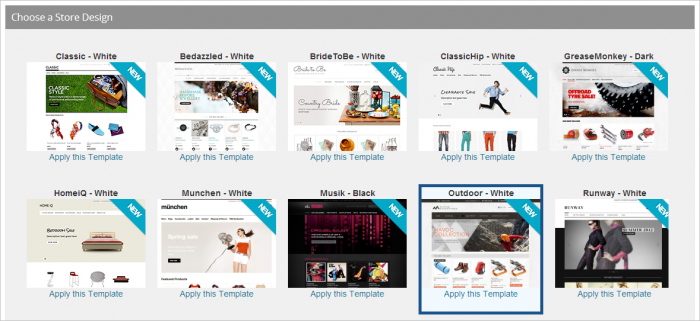 If you head over to the "Themes" page, you will find eight different templates to choose from, all of which have a customizable area for your company name, logo and a header graphic.

Eight completely free themes to go with a completely free shopping cart isn't bad, although it would have been great to see some customization options beyond logos and banners. Colour and background specifications for example, would have been nice to see.
Standard WebStarts users will know that, when it comes to building websites, WebStarts doesn't hold back on the customization features – as our review of Webstarts will testify. It's just a shame that those features were not carried over to the WebStarts Shopping Cart.
There is also no option to edit the HTML or CSS of any of the templates.
Nevertheless, all eight themes are clean and polished, and do a good job of presenting products professionally.
Domain Names
If you want your online store to come across as professional as possible, a personalised domain name is essential. Thankfully, the WebStarts Shopping Cart allows you to add your own domain name pretty easily.
To do so, you can hit the "Add Domain Name" button at the top of your admin panel.
You'll then be presented with a page for you to either add an existing domain name which you own, or begin your search for a brand new one.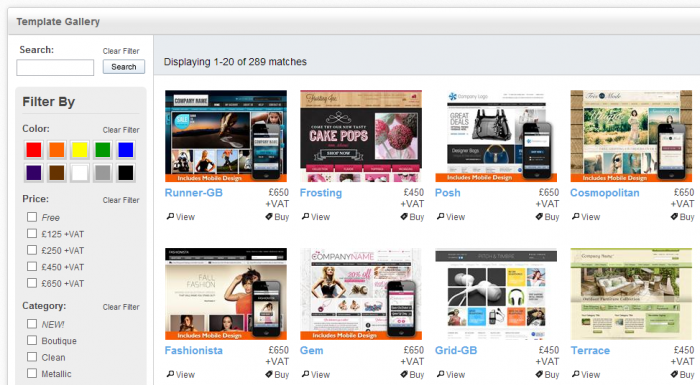 It's also worth mentioning that if you wish to use a sub-domain, then you can – for free. This means your online store URL could be "storename.webstartsshoppingcart.com". This feature is especially handy for those just looking to test out the platform's abilities before investing in a domain name.
Payment, Shipping & Taxing
When it comes to payment options, WebStarts Shopping Cart gives you plenty to choose from.
By heading over to "Company Settings" page within the admin panel, you can navigate to the "Cart and Payments" page. Here, you can select from a range of payment options, including WePay, Stripe and PayPal.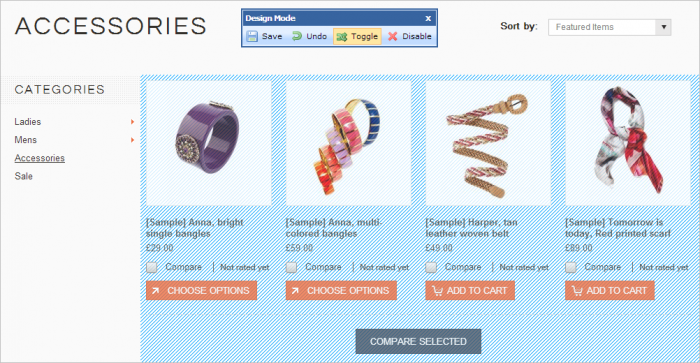 Credit card specifications can also be made, with the choice of accepting American Express and Discover cards if you so wish.
By clicking the "Shipping" link on the same page, you'll find that the platform offers a two shipping systems, one of which automatically calculates shipping costs via UPS (based on your location), whilst the other allows you to set custom shipping rules.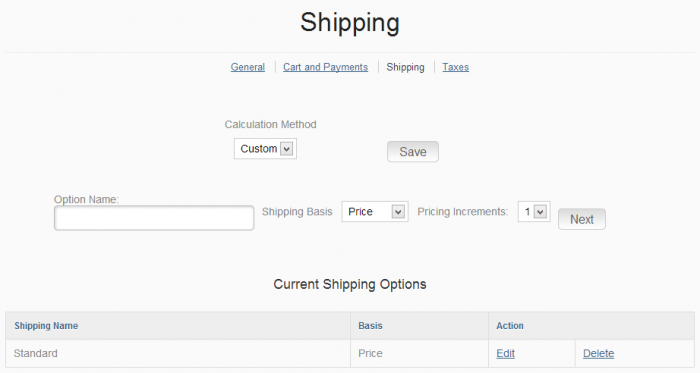 The custom rules option enables you to charge by price, weight or quantity. You may set an unlimited number of rules, leaving plenty of room for you to customize your shipping rates.
By clicking the "Taxes" link, will allow you to set some rather simple state and country taxes. Once again, you can create as many tax classes as you wish, which is great in terms of flexibility.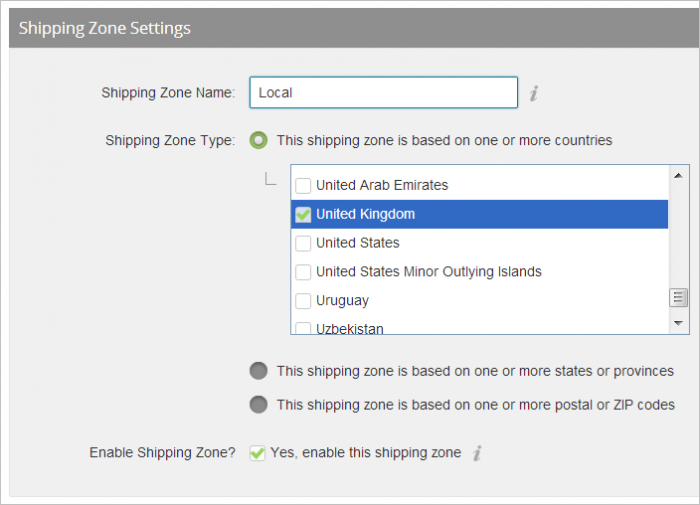 Apps & Extras
There are three recommended applications found on the dashboard of the WebStarts Shopping Cart, all of which are extremely easy to access. Two of these apps are purely for marketing purposes, and so I will touch on these slightly later in this review.
The app most worth talking about however, is the "Build Website" feature, which takes you to the standard WebStarts CMS homepage, where you can build a larger, more detailed website to go along with your store.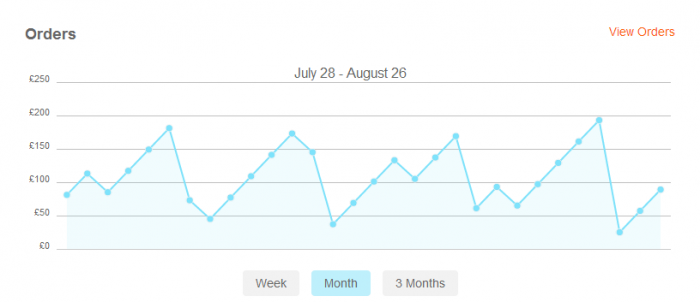 If you want your shopping cart to be part of a more extensive website, with pages, detailed text and so forth, then the standard WebStarts CMS is certainly worth considering.
This feature is of course the main content management system offered by WebStarts which we mentioned earlier, making it a perfect fit for their shopping cart platform. 
Despite the added functionality available via their standard content management system, it would be great if WebStarts could begin expanding this area of their shopping cart. Some light-weight applications which impact design or functionality, whether paid or free, would be most useful.
Marketing
The two other applications previously mentioned are not exactly apps, they are in fact marketing services offered by WebStarts.
Traffic Booster
The amount of traffic your website gets dictates it's success. For an online store, more traffic will mean more custom. WebStarts recognize this, and thus offer a "Traffic Booster" service, found via the admin panel.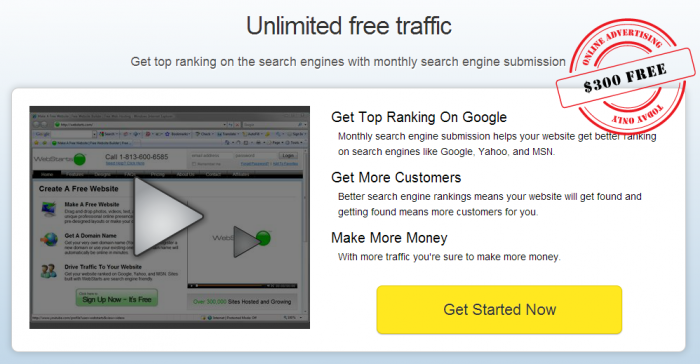 The Traffic Booster package submits your online store to Google, Yahoo & Bing on a monthly basis, with an aim to help your website rank higher in the search engines, and in turn, gain more traffic. The service starts from $3.11 per month.
Local Listing
Additionally, the WebStarts "Local Listing" service is also offered, which similarly submits your store to be found on search engines locally, and via maps. This is particularly ideal if you own a physical store.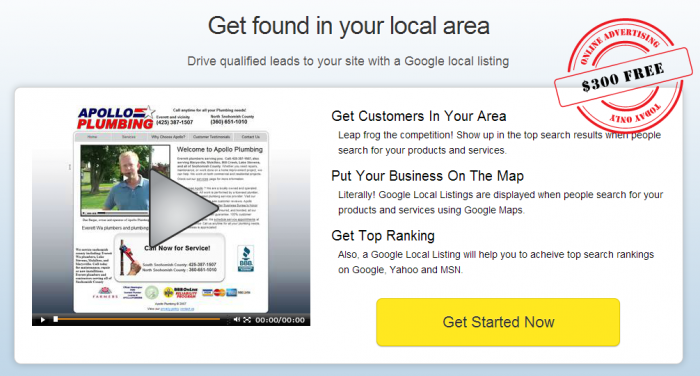 It is worth noting that, if you should want to use any one of the two marketing services offered by WebStarts Shopping Cart, you'll be awarded $300 worth of advertising credits, for use with Google, Amazon and others.
Email Marketing
Along with these two marketing services offered by WebStarts, you also have the option to do some of your own marketing, via email.
WebStarts email marketing suite is perhaps the most comprehensive feature of the entire platform. It has everything you need to launch a full scale marketing campaign targeting subscribers and customers via their email inbox.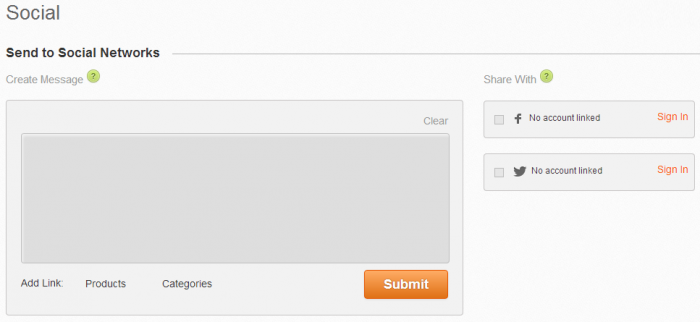 By clicking on the "Email Marketing" tab on the admin panel, you will be presented with an email composition screen, where you can write up the emails your customers and subscribes will receive.
The email marketing suite also allows you to create lists, so that you can categorize customers and subscribers in any way you wish.

You can even create your own sign up forms, where you may insert certain fields in order to find out more about your customers and subscribers.
The different form fields include essentials like name and email, along with address, phone numbers, and more.

The detailed email marketing feature is topped off with more autoresponder capabilities, allowing you to send automatic emails to new subscribers, as well as the option to manually add, edit and remove subscribers from your mailing list.
The ability to keep in touch with your customers is vital, and a built-in email marketing suite is absolutely perfect for marketing new products, sales, and pretty much anything else. It must be said that WebStarts Shopping Cart have executed this feature brilliantly,offering plenty of functionality, whilst keeping it easy to understand.
Getting Help
Being able to seek help whilst building websites is vital. Sometimes things go wrong, whilst other times you simply don't know what your next step should be. Thankfully, with WebStarts Shopping Cart, help is never too far away.
WebStarts Shopping Cart offers a dedicated "Help" section, which is also accessible from the admin dashboard.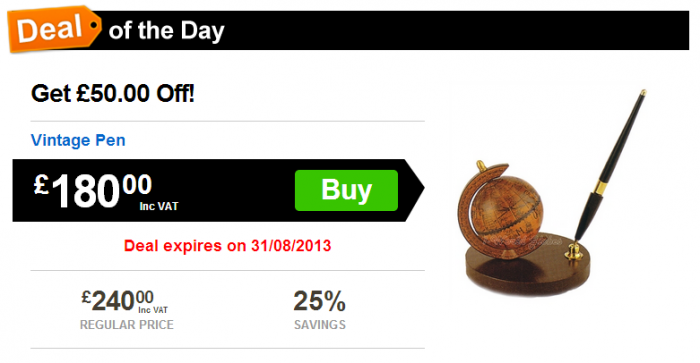 There are pre-answered frequently asked questions available to search through, where many of your problems will most likely be solved.
The questions are categorised into sections neatly on the sidebar, whilst a prominent search bar encourages you to enter keywords related to your question. The "Help" section is detailed and easy to navigate, whilst many questions are not just answered via step-by-step instructions, but also with video walkthroughs – which is great to see.
If the "Help" section fails to assist you, then the customer helpline shown on the admin panel can act as your last resort to seek the help you need. Although, the phone support helpline is available for Pro+ users only.
Price Plans
There are three price plans offered by the WebStarts Shopping Cart, one of which is completely free.

If you opt for the free version of the platform, you'll have to deal with some restrictions, including a limit of 20 sales per day, and no access to phone support. However, the Pro and Pro+ plans are extremely reasonable, starting from just $7.49 and $12.49 respectively.
Paying for the premium versions of WebStarts Shopping Cart enables you to send more emails, create subscriber forms, sell as much as you like, and more.
In comparison to other premium shopping carts, WebStarts is offering the lowest prices. Volusion, Shopify and BigCommerce start from $15.00, $16.15 and $24.95 respectively, whilst none of them offer free plans.
The Verdict
When I was first getting to grips with WebStarts Shopping Cart, I was apprehensive about the lack of design features and function extending applications on offer.
However, as I built my store, as seen below, I began to realise that the platform offers something which not many other platforms do – an uncomplicated ecommerce startup experience.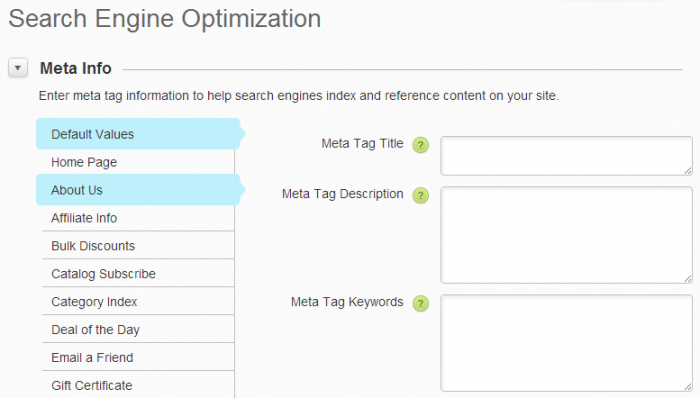 Many offline merchants look to the Internet in hope of more business, but are often intimidated by the complexity of some of the ecommerce platforms on the market. They fail to create a store out of confusion, or simply don't bother trying in the first place.
For such merchants, I see WebStarts Shopping Cart as the solution. The platform is straight-forward, easy to use and above all, it works well. WebStarts have replaced the complexity of starting a online store and replaced it with functional ease.
So, although there is indeed a lack of capability when compared to other premium platforms, it's extremely hard to fault WebStarts Shopping Cart, due to its free, accessible and simple nature.
Pros
Truly quick and easy to sign up and get started.
The simple admin panel is completely free of the intimidation factor which some ecommerce startups may face with other platforms.
Easy to upload products quickly, whilst the options to offer different types of the same product are all there. 
Shipping & taxing rules are easy to implement and modify.
The built-in email marketing suite, along with the sign up forms are both brilliantly incorporated. The features within them are also comprehensive, yet easy to manage. 
Works seamlessly with popular WebStarts standard CMS. 
Solid customer and order management options.
There's a totally free version.
Cons
There are only 8 store templates to choose from, with no way of customizing their design beyond logos and banners. 
Not many applications available to help extend functionality.
Admin dashboard lacking functionality and customizable features.
Final Remarks
Overall, WebStarts Shopping Cart does exactly what it says on the digital tin.
The biggest strength of the platform is by far its appeal to those who are new to ecommerce, and perhaps even new to the Internet. The WebStarts Shopping Cart website, sign up process and admin panel are all super easy to understand and use, whilst a help line and FAQ section can assist the user if anything should go wrong.
There is lots of flexibility to be found within the platform, especially when it comes to setting up product types, shipping rates and tax classes. The email marketing suite is also a brilliant tool.
Of course, in terms of feature richness, WebStarts Shopping Cart doesn't compare to the giants of ecommerce, such as Shopify, BigCommerce & Volusion. However, that's perfectly fine, since those very platforms cannot compare with the reasonable prices nor the pure simplicity offered by the WebStarts Shopping Cart.
For merchants looking to build their first online store, or perhaps website owners looking to add functionality to an existing website, WebStarts Shopping Cart is ideal. It's modern, light-weight and does a very good job of marketing products, without the need for much set up time or maintenance.
To conclude, if you're looking for a simplistic, yet functional route into the world of ecommerce, the prospect of WebStarts Shopping Cart is definitely one worth exploring.
Interested? Try WebStarts Shopping Cart for free today.