Having to call your web design company or developer every time you need to make a simple change on your website should be a thing of the past. Companies can no longer afford to rely on such an inefficient process for every tiny content update, as users and customers expect information to be up-to-date at all times.
Thankfully most Content Management Systems (CMSs) today allow you to make content edits and updates yourself. However, not every CMS is ideally suited to efficient, non-technical updates, nor is every one easy to manage when you're working with multiple content editors.
In this article we give you a rundown of the benefits of instant content updates, as well as the key things you should look out for when researching a CMS platform, from the standpoint of content updates.
Why instant updates
When a CMS enables you to make instant content updates, this usually means that you can log into your CMS platform, find the relevant page where you would like to make an update, and easily make it without need for support.
Content changes can vary a lot, from a quick address update after an office move, to publishing a new article. Sometimes a content update involves creating new pages or adding new modules to a page, although this kind of functionality really depends on the type of CMS you choose.
Being able to log in and change content yourself means that you can ensure your website is always up-to-date. For example, if you have an event coming up and you only just realized one of the event details on your website is incorrect, you can easily go in and make a last-minute edit. Having to wait on a developer, on the other hand, would be useless in this scenario.
Regularly updating your website is also important for another reason: Search Engine Optimization (SEO). This is because regular and relevant content will allow your site to be noticed by search engine crawlers, which will award it a higher ranking and enable your target audience to easily find your content. Sites that are static, no matter how much old content they hold, will struggle to remain relevant to search engine crawlers. Being able to regularly update content yourself is, therefore, a key way to increase your inbound leads.
Companies can also benefit from instant updates materially, by generating additional revenue and saving costs. For example, instant updates enable you to take advantage of new, time-sensitive opportunities, such as relevant special offers or promotions. On the other hand, updating your site content yourself is also a much more cost-effective way of keeping your website up-to-date, as developers and web agencies often charge fees for every content update they carry out.
All-in-all, empowering your team to keep your website updated themselves is the way of the future, and companies who are still relying on third parties to update content are really missing out on all the benefits outlined above.
However, not all CMS platforms are equal and not all will allow you to efficiently manage your content to the same degree. If you're looking for a CMS that allows you to deliver your own content updates, here are a few things you should be looking out for.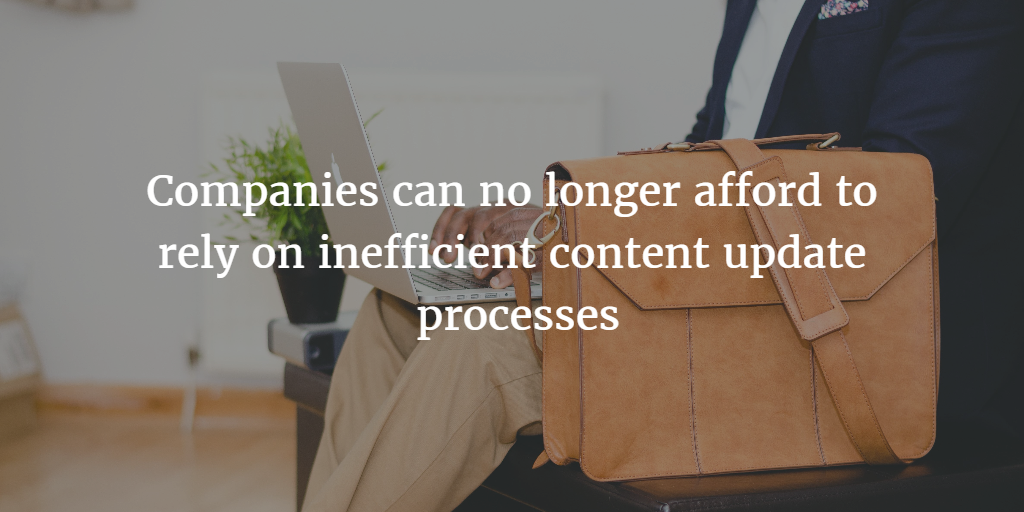 1. Multiple content editors
Is your site content going to be managed by one or multiple editors? Either way, looking for a platform that enables access to multiple editors will be the safest choice, particularly if your company is growing.
This means finding a platform that can be extended to multiple users, each receiving an individual login that they can use to access the platform. Ideally, the platform should allow you to track changes by editor and history, so you are always aware who is updating what and when.
The best CMSs also allow you to provide different levels of access and permissions, from contributor to admin. This reduces the risk of mistakes or intentional attacks on your site, as you can make sure that users accessing the backend are only able to modify whatever is relevant to them.
Finally, the ideal CMS should provide you with tools to allow your teams to work together. Things such as being able to preview content together, to assign tasks, to group content changes and report on these changes will make collaboration among your team easier and lead to less errors and better content updates.
2. No technical knowledge needed
Although most CMS platforms allow you to access the backend to edit content, not all of them are non-technical. This means that non-developers and non-technical users can't easily update content without the aid of a developer.
Ideally any non-technical user should be able to log in, find the relevant page and easily input or modify the text. Or if they're publishing a new blog post, they should intuitively be able to set up a new article, modify the settings, input all text and images using a text editor, add metadata and publish.
Unfortunately not all CMSs are non-technical and intuitive enough to allow any user to edit content, which can lead to time-consuming and inefficient content management processes. Some CMS platforms are in fact focused on developers, which is a great option if these are the people who will be making changes to the website, but not so great if they're not.
Another aspect that, ideally, a CMS should allow editors to manage is page layouts. Of course, any major design changes that require coding will have to be done by a developer, but at the very least non-technical users should be able to add new page elements or reorder existing ones. Many CMSs also provide page templates, so that non-technical users can build brand new pages and easily add the appropriate modules.
This means that simple pages can be built very fast and still look good, without the need for a developer to come in and work on every single new page.
3. Cloud-based
The CMS of the future is cloud-based. By being hosted in the cloud, a cloud CMS allows you to log into the platform and update your website simply by using your regular web browser. This means that you can quickly make content updates no matter where you are, without the need to physically be in the office. All you need is an internet connection!
Ultimately, this allows you to make time-sensitive updates, or to make quick changes outside of office hours. This also means being able to update content on mobile, which of course requires a content management interface that is mobile-friendly; another thing to keep in mind when choosing a CMS.
4. 24/7 Support
Finally, it is very important that your CMS provides technical support, preferably 24/7. This way, if your content editors are experiencing a difficulty updating or publishing content, the support team can promptly fix it for you and prevent you from missing out on key revenue or traffic.
Working exclusively with a developer, on the other hand, means that you are again constrained by their schedule and availability, so that the necessary updates can't be made instantly. It's all about enabling your users and customers to access and use your site at anytime, and proprietary platforms offering good support are best suited to ensure this.