When compared to mammoth rivals like Facebook, Instagram, and Tik Tok, Pinterest can feel... well, less interesting. 
OK, so maybe it's not as visible as its social brethren, and the stats codify this. According to a recent article, the image-sharing app – popular for posting recipes, home decor, and more – ranks fourteenth on a list of the world's most used social media platforms.
Fourteenth. That seems like quite a few rungs down the social ladder. But shockingly, Pinterest's 431 million active global users still puts it ahead of Twitter.
Take that, Elon Musk.
Along with posting "pins" of paint chips and curtain fabrics, shopping is one of the top activities for Pinterest users, and the platform's expansive community has emerged as a channel for e-Commerce. Given the number of users browsing boards and perusing products and services, it makes sense that sellers might be interested in connecting their storefronts to Pinterest to peddle their wares. 
Now, WooCommerce is giving its merchants a way to turn their product catalogs into shoppable "pins" on Pinterest, making it easier to build audiences and drive more sales. Whatever a seller might be offering – from fashion to apparel to appliances – this new feature will allow each product listing to become a shoppable pin on the platform, just like this: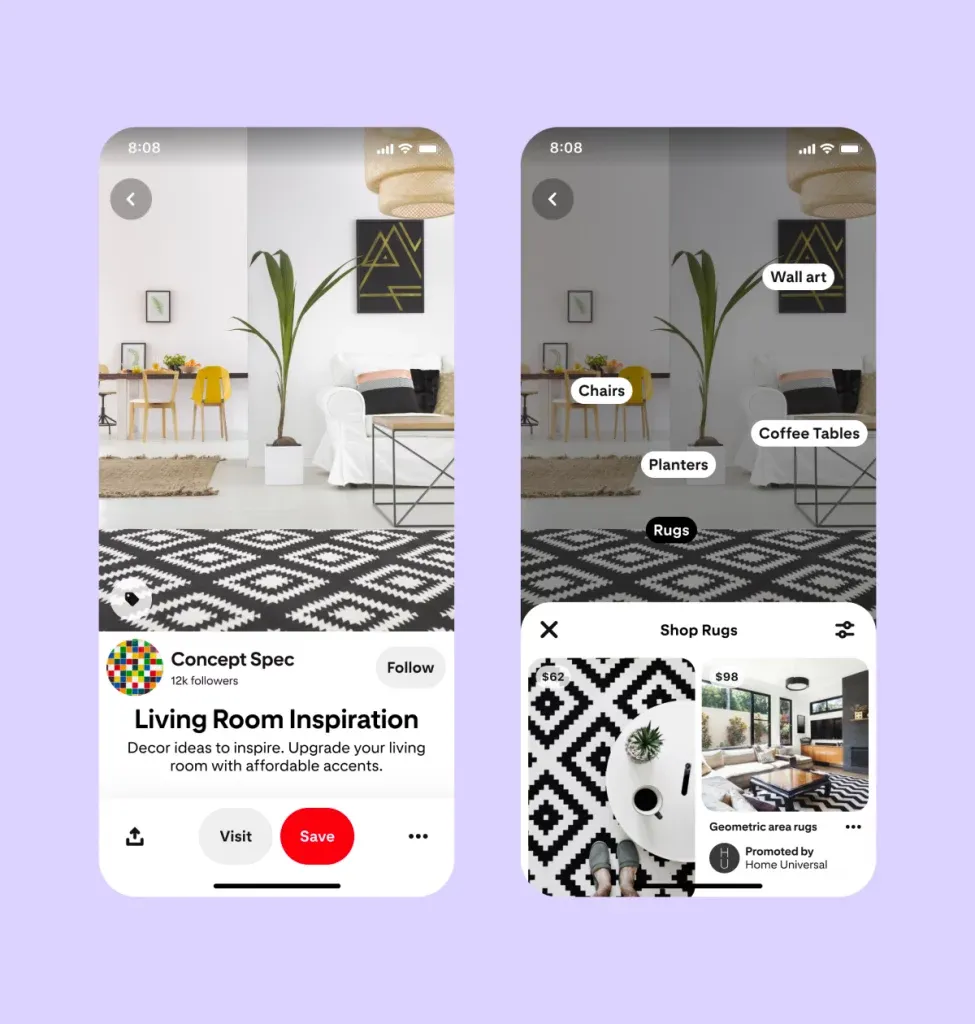 The companies recently announced a strategic partnership that's designed to simplify the connection via a new integration, which will be available to WooCommerce merchants in the Products section of the company's website. 
"By partnering together, we provide the best integrated Pinterest shopping experience possible for WooCommerce merchants to be on the cutting edge of social commerce," said Aleksandra Bettin, VP of Business Development at WooCommerce. "WooCommerce is highly invested in our merchants' success. Merchants need the right options to reach the right audiences – this integration with Pinterest helps them do that."
Using Pinterest to drive more traffic to WooCommerce stores
The category of social commerce is booming, and brands are looking for new ways to reach their audiences. While all social media platforms can help amplify traffic (both paid and organic), Pinterest has introduced some innovative features to help augment SEO. This includes a new visual search tool that makes finding customers on the platform even easier. Likewise, using pins, boards, and collections on Pinterest can drive organic traffic to a WooCommerce site. This combination gives merchants more power when it comes to expanding their reach. 
According to Pinterest's statistics, a whopping 97% of the top searches on Pinterest are unbranded. That means Pinterest shoppers haven't made up their minds about specific products or brands – and they're open to learning and exploring. This is an opportunity that both WooCommerce and Pinterest have keyed in on, and are now simplifying the connection points to convert a shopper's interest into a real brand purchase. 
How to use the WooCommerce Pinterest extension 
Adding the Pinterest integration to a WooCommerce store is very simple. It starts by installing the Pinterest for WooCommerce extension, which will upload an entire WooCommerce product catalog to Pinterest. From there, shoppable pins will appear in people's feeds as they search and browse. The extension also logs when customers interact with products on Pinterest so users can track their best-selling or most saved items. 
While some WooCommerce merchants might have already manually uploaded their catalogs to Pinterest, the company recommends switching to the new extension instead. It's the easiest and most efficient way to keep your products current on Pinterest since it automatically updates details like pricing and product availability. 
The Pinterest for WooCommerce integration is currently available in Australia, Austria, Belgium, Brazil, Canada, Cyprus, Czechia, Denmark, Finland, France, Germany, Greece, Hungary, Ireland, Italy, Luxembourg, Malta, Mexico, Netherlands, New Zealand, Norway, Poland, Portugal, Romania, Slovakia, Spain, Sweden, Switzerland, the United Kingdom, and the United States. Argentina, Chile, Colombia, and Japan will gain access later this year. 
About WooCommerce
WooCommerce is the leading open-source e-commerce platform, powering 28% of the top million online stores (BuiltWith). Built on WordPress, it empowers anyone, anywhere, to sell anything with truly unlimited extensibility, flexibility, and control over how they build and evolve their business. Founded in 2011 and acquired by Automattic in 2015, WooCommerce is a fully distributed company with employees based around the world.
About Pinterest
People around the world come to Pinterest for inspiration. It's a visual inspiration platform where people find inspiring creators, shop new products, and seek out ideas to take offline. People have saved more than 330 billion Pins across a range of interests, from creating a home office, cooking a new recipe to finding your next vacation spot. Headquartered in San Francisco, Pinterest launched in 2010 and has more than 400 million monthly active users. Available on iOS and Android and at pinterest.com.