"Composable" is becoming the operative word across the DXP marketplace. And rightly so: a composable platform has huge benefits, enabling users to build dynamic web and app experiences more efficiently by reusing content and other components that can be personalized at scale.
Composable systems also allow for more iterative testing across multiple variants, enabling marketers to optimize performance and gather critical insights faster than ever. We've seen a number of platforms embrace this "composable revolution" over the last few years, and it seems to be paying off.
Now, Acquia – a leading DXP – on Gartner's Magic quadrant – has announced major updates to its Acquia Open Digital Experience Platform (DXP) that aim to accelerate the development and optimization of composable digital experiences. According to the company, these innovative new features will weave together the workflows of once-siloed digital marketing and development teams in a single platform, making composable strategies more extensible. 
Expanding the composable value with Acquia Open DXP
The Acquia Open DXP is an umbrella brand that comprises both the Acquia Marketing Cloud and Acquia Drupal Cloud, integrating their combined capabilities – including AgilOne, Mautic, and Cohesion – with its existing core.
This pairing was designed to bring marketers and developers together in a comprehensive, easy-to-use platform powered by machine learning features in both Drupal Cloud and Marketing Cloud – making it faster and easier to launch new websites, applications, and marketing campaigns with modular components.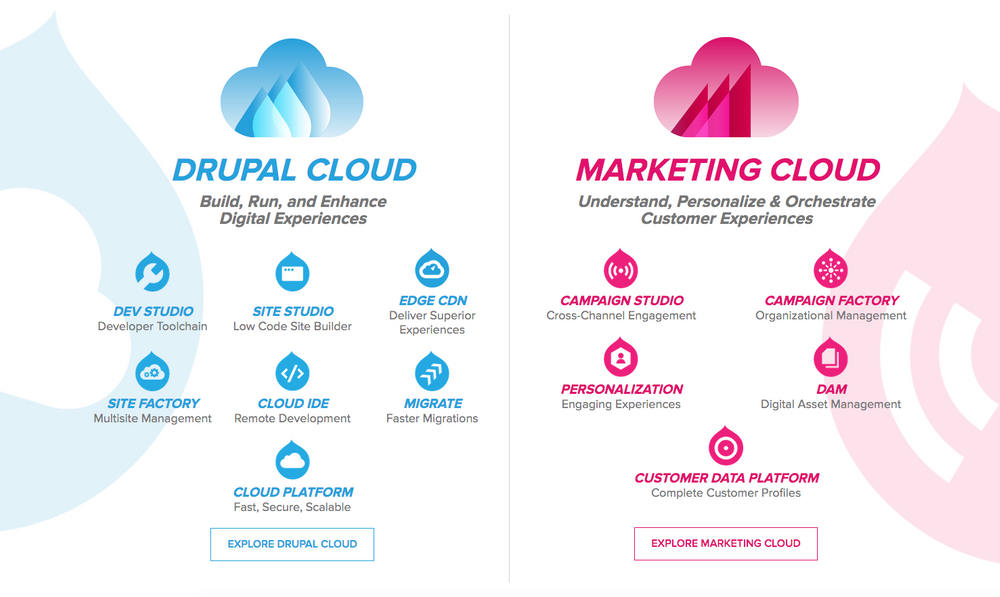 Acquia started making its move to composable enterprise back in July by introducing composable features in its last version of its DXP.
"The movement toward the composable enterprise is growing as organizations look to gain agility with plug-and-play services, and velocity with simpler application development and delivery," said Dries Buytaert, creator of Drupal and co-founder and CTO of Acquia. "Executing on this strategy requires a new technical architecture and way for teams to work. Acquia is connecting and automating organizational workflows, spanning content and data, to speed development of digital experiences at scale." 
What is a composable enterprise?
The concept of a "composable enterprise" is becoming more popular as digital transformation enters its next wave. And it makes sense: leading up to Covid, digital stacks were already becoming decoupled and less monolithic, all driven by the rise of the open API. Much of this investment in a composable enterprise is driven by the rise in composable commerce and its impact on the application landscape. 
Gartner defines a composable enterprise as:
An organization that delivers business outcomes and adapts to the pace of business change. It does this through the assembly and combination of packaged business capabilities (PBCs). PBCs are application building blocks that have been purchased or developed.
Gartner also predicts that by 2023, organizations that embrace composability will outpace the competition by 80% in implementing new product features. This underscores the rapid adoption we're seeing across the market for more composable architectures and frameworks – something the MACH Alliance has been focusing on from an industry perspective. MACH is an acronym for Microservices, API-first, Cloud-native SaaS, and Headless, which crystallizes the core tenants of the modern composable enterprise. 
What else is new in the Aquia DXP Cloud?
Drupal Cloud upgrades accelerate digital experience development 
Updates to the Drupal Cloud developer experience streamline and connect workflows to empower fusion teams with no-code/low-code solutions that span DevOps, WebOps, ContentOps, and ExperienceOps. All new products and features are available on Acquia Cloud Next, the newest version of Acquia's cloud platform. Key innovations include:
Acquia Code Studio: A new, 100% cloud-based development environment that integrates with GitLab and Acquia Cloud IDE. Developers can now log into Acquia Cloud Platform, spin up an IDE and then click to connect to GitLab (the platform of choice for application development) using frameworks such as React, Angular, or Vue. With Acquia Code Studio, developers have all the tools they need to plan, build, review, test, and deploy any Drupal application—all from a familiar GitLab environment.
Acquia Cloud Actions: 

A new, collaborative release management system that automates the process of deploying and managing code to the Acquia Cloud environment. Once development teams write code, Acquia Cloud Actions manages the build, test, and deploy phases to get code into production. By eliminating manual processes, Acquia Cloud Actions fuels faster digital innovation at scale.
Acquia Digital Commerce Integrations: Powered by the no-code Acquia Site Studio, pre-built integration components make it easy for anyone to assemble digital commerce experiences leveraging Acquia's DAM and PIM. Support for GraphQL and Node.js allows developers to easily extend and enhance Acquia's pre-built integrations with any MACH-compliant commerce vendor and cut the time required to deliver experiences to as little as 90 days.
Marketing Cloud enhancements increase efficiencies and insights across hybrid teams 
Acquia is announcing key innovations to its Acquia Marketing Cloud, including several features focused on composable machine learning, analytics, privacy, and multi-tenant distributed marketing to empower teams across CampaignOps and MLOps. 
Acquia Customer Data Platform (CDP) now has several new capabilities that drive citizen data science and analytical insights across the organization. Building on Acquia CDP's world-class data modeling and analytics platform, Acquia now provides more intelligence, ROI insights, and ML-driven efficiencies across more teams and in more ways than any other customer data platform on the market. New features in this release include:
Multi-touch attribution:

As the first attribution solution built on top of a CDP, this new capability allows marketers to visualize campaign performance through a range of attribution windows and timeframes to understand the true ROI of marketing investments.
ML Studio: 

A first-of-its-kind, low-code/no-code machine learning workbench that enables data scientists to build custom ML models on top of unified data, all within Acquia CDP.
ML Launchpad: 

As part of Acquia CDP analytics, Launchpad surfaces ML-driven insights into a visual and highly intuitive dashboard for non-technical marketers, so they can see at-a-glance key insights such as audience propensities, recommended actions to take, and more. 
Acquia is also introducing new capabilities in Acquia Campaign Studio and Acquia Personalization, including: 
Multi-Tenant distributed marketing automation:

This first-of-its-kind capability enables brands using Campaign Studio to scale centralized campaigns across multiple brands, geographies, and teams while adhering to compliance and governance requirements. 
Visual email and landing page builder:

An extension of WYSIWYG capabilities in Acquia Campaign Studio, this drag-and-drop interface makes it easier than ever to build emails and landing pages for campaigns.
Enhanced A/B testing

: Acquia Personalization now has more powerful A/B testing capabilities, including automated self-optimization, which auto-promotes winning variants without requiring any time or effort from marketing teams – and increased website conversion and revenue. 
Growing validation with analysts
Acquia has been named a Leader on the Gartner Magic Quadrant for Digital Experience Platforms (DXPs) for two consecutive years. Additionally, International Data Corporation (IDC) has recognized the usability, extensibility, and enterprise-grade capabilities of the Acquia platform and recently named Acquia a Leader in the inaugural IDC MarketScape for Worldwide Content Management Systems for Persuasive Digital Experiences 2021 Vendor Assessment.
About Acquia
Acquia empowers the world's most ambitious brands to create digital customer experiences that matter. With open source Drupal at its core, the Acquia Digital Experience Platform (DXP) enables marketers, developers, and IT operations teams at thousands of global organizations to rapidly compose and deploy digital products and services that engage customers, enhance conversions and help businesses stand out. Learn more at https://www.acquia.com.