As religious organisations and churches have grown and evolved, the processes involved in running them have become even more complex. Managing a church now requires a much more comprehensive approach than simply relying upon a church leader to run everything. And this is where Faithlife Sites comes in. Faithlife Sites wants to take all of the work involved in running a church and make it easier. Let's see how they do it with a Faithlife Sites Review.
Using a church CMS, users can create and customize their church websites using a variety of automated tools designed to take the background work out of running a church so that ministers can focus on their community priorities.
Let's look at how and if Faithlife Sites CMS has accomplished this goal.
Getting Started
Many website builders and content management systems make the initial integration part of their service quite difficult to get on board with, but with Faithlife Sites the initial pathway is pretty straightforward. Upon signing up (for free) you're asked for the usual basic details of name, email and phone number before continuing on to the main dashboard.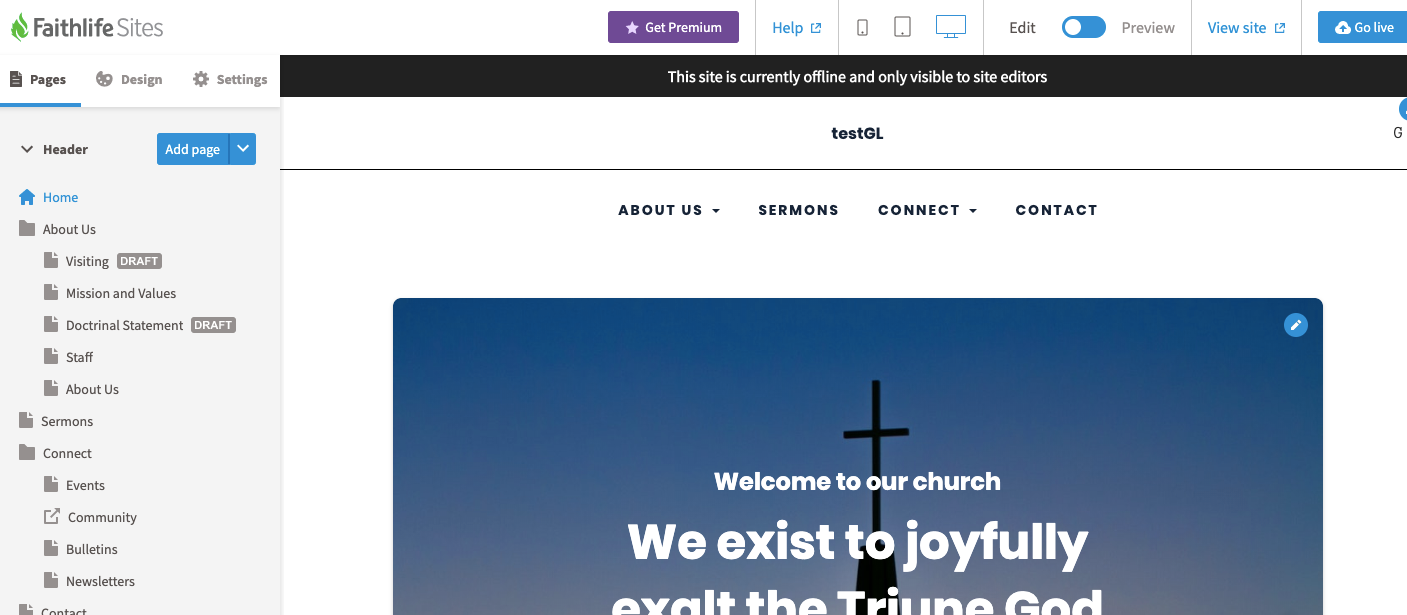 It's from the dashboard that the real power of Faithlife Sites as a hub for any and all church needs is revealed. It's seriously impressive. After you claim your church group, you're taken to My Faithlife, which is where you can manage all aspects of a church community in one place. The transition from signup to dashboard, to actually getting started with the site design, is intuitive and well laid out.
Design
The website design is clean and easy to navigate. Nothing important is hidden away and there is a clear demarcation between My Faithlife, which is more of an end user part of the site, and the website/community manager sections.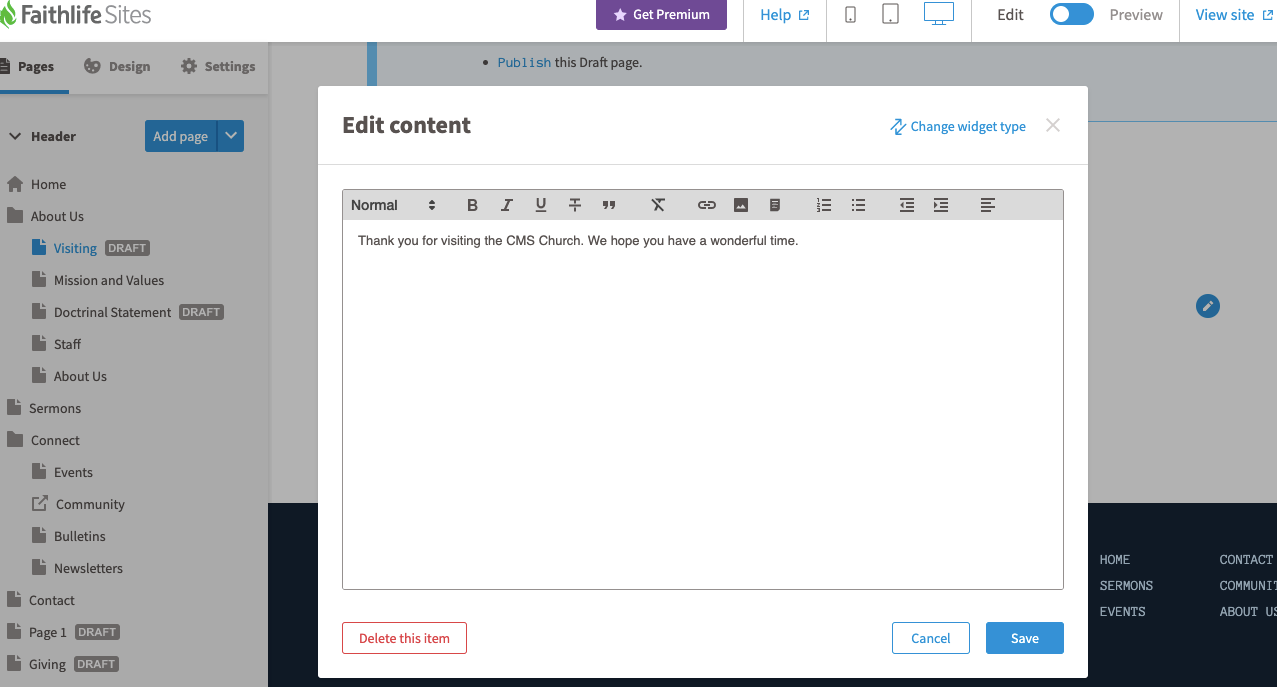 The themes available for the site CMS are limited and there are only six in total, but they are perfectly suited for the needs of this target audience. There is also a selection of stock images that are free to use in the website builder itself.
Usability and Support
The support on Faithlife Sites is outstanding. They have an extensive help section which covers almost every part of the site and they are contactable via phone, email, and web chat via their help portal. There are also dozens of informative videos to talk through almost any query you could have.
The usability of the site is a key part of the appeal of this CMS and you can tell that they've invested a lot of time researching their target demographic. Nothing in the site – from the initial sign-up and community management section, to the website builder – seems out of reach to even the most technophobic end user. The design of the site helps enormously, as it is clean, well-labelled and intuitive to the point of basic. This is a good thing, though, and I found myself getting up to speed with their system very quickly.
Key Features
The excellent website builder is the key selling point here. Some content management systems make website building and structuring seem like a labyrinthian process, but Faithlife Sites makes it incredibly easy. All of the pages are laid out on the side of the window in simple layers. Want to edit the home page? Just click on the home tab. Want to edit sermons or your about page? Just click on that page and then click on the piece you want to edit.
The process of building a site using this CMS is incredibly simple and could be quickly picked up by almost anyone, in my opinion. The design aspects of the pages are limited but easily customisable in an intuitive way. You can also view your prospective site as it appears on a desktop screen, mobile, and pad. This is a small thing but it adds a lot of value.
The community management software in Faithlife Sites is also incredibly powerful. With a minimal amount of work, you can start building an online church community that has a forum, combined calendar, group chat, and bulletin boards in easy reach that are easily controlled by a team of admins.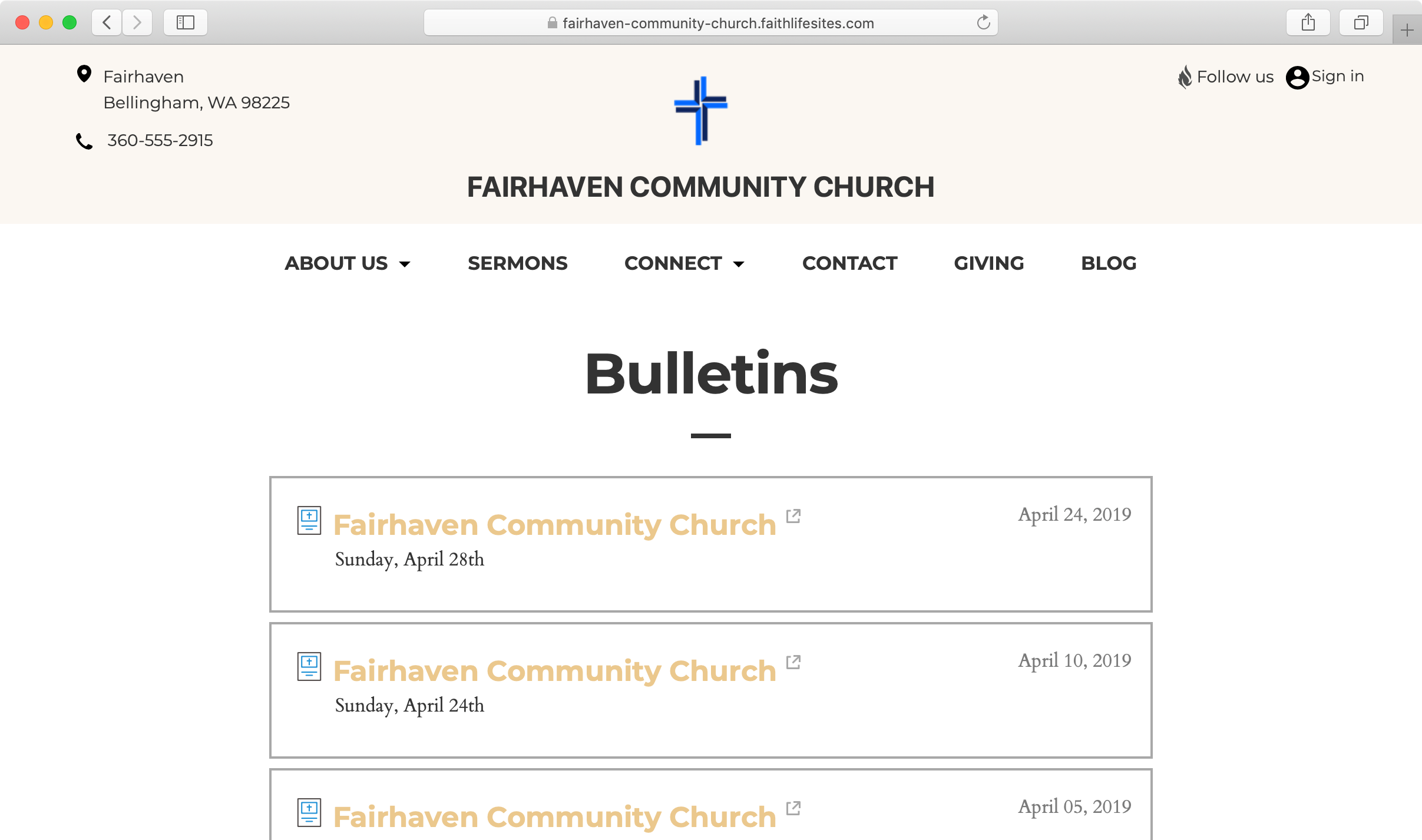 There is also an excellent structure in place for taking and processing online donations that will be extremely useful to any church group. This is easily navigated and seems reliable.
Pricing
Faithlife Sites pricing is scaled depending on the size of your congregation. You can set up a basic site free of charge and premium packages start from $16.67 a month (when paid annually).
All packages allow users to collaborate online with unlimited team accounts, run different presentations in multiple rooms concurrently, build presentations from any computer, anywhere, get over 5,000 free church graphics, and interact with the congregation by sending alerts directly to their phones, among other features.
Higher value packages include free stock imagery, pro Media library, over 16,000 motions, stills, and mini-movies from Graceway, Church Motion Graphics, Dan Stevers, FreeBridge, Igniter, and Playback.
This is a competitive pricing structure that incentivizes users to get a custom domain for their church rather than sticking with the basic free package that uses a subdomain structure.
Pros
Incredibly easy to use
Vast support system to help almost anyone to complete their website
Free multimedia for a professional look
Competitively priced
Powerful community management dashboard that's easy to navigate
Cons
Getting access to the initial page can be a little confusing as you have to find your church group on a map or via search.
Final Verdict 4/5
Faithlife Sites is an excellent CMS that is incredibly easy to use and I highly recommend it for any church group that wants to go online. It's such a powerful and simple CMS that there may even be a market for it outside of the church sphere, if they ever choose to go in that direction.