Is web design dead?
Countless articles, videos, and subreddits have pondered this question over the last few years, and for good reason. With the growth of canned templates, off-the-shelf themes, and pre-packaged options, web design can feel less… designed.
Despite this state of sameness, the web is still the central communications platform. At last check, 71% of businesses have a website, and there are 1.13 billion sites swarming the Internet. How can a brand stand out?
The answer is simple: they invest in beautiful, high-quality, custom digital experiences, the kinds that inspire visitors to engage, convert, and buy. And while a stunning UX can turn heads, the best sites put content first and utilize modern tech in profound ways.  
Kentico, a leading composable hybrid headless digital experience platform (DXP), has long been a champion of custom website design, highlighting the spirit of innovation through its exclusive "Site of Year" competition. The annual contest recognizes the most ambitious sites built with Kentico – and the 2022 winners were, in a word, breathtaking.
"The [Site of the Year] winners are clients and partners who succeed in delivering exceptional user experiences," said Dominik Pinter, Kentico CEO. "Their websites or apps show excellence in creativity, innovation, content modeling, and the use of technology. The creators of the websites are experts in innovative thinking – creative people with a strong vision."
According to Pinter, the winners and finalists went beyond attractive content and interactive features, leveraging Kentico's full potential to improve productivity for marketers while providing a solution to future-proof their growth.  
While 2022 is in the rearview, many of the sites produced on Kentico continue to shine. We wanted to take a fresh look at the winners, dive deep into a few standouts, and share how these projects continue to challenge the status quo.
Celebrating innovation across industries
The "Site of the Year" competition solicits entries from any global partner or customer that built a website or app using Kentico Xperience 13 or the new Xperience by Kentico – and launched it in 2022.
The competition covered ten industry categories: Entertainment and Hospitality, B2B, Commerce, Consumer Goods, Education and Careers, Healthcare, Financial Services, Government and Municipal, Industrial Manufacturing, and NGO and Associations.
Submissions were evaluated by a hand-picked committee of experts, who judged each entry on a range of criteria. All winners were then entered into a Community Choice competition, which was open to public voting.
While each category showcased its top pick, Kentico also included other finalists – which, in all cases, offered exceptional experiences. You can peruse every project in more detail by downloading this dynamite ebook.
It was a tough call with so many great use cases, but these three really exemplify the quality and innovation in this year's crop.
Pro Football Hall of Fame
As the Entertainment and Hospitality Industry winner and Community Choice Award recipient, the Pro Football Hall of Fame scores on every play.
Like a wide receiver scrambling downfield, this website is blazing fast. The mobile experience is elegant, app-like, and features intuitive navigation. From a visual perspective, the whole experience unfolds with gorgeous, energetic photography, reflecting the dynamic history and culture of American football.
For an organization that's been around for over 100 years, making a bold digital statement reflects modern relevance. Americaneagle.com – the agency behind the site – did its homework to ensure a seamless, cohesive brand experience that celebrates the past while looking ahead. 
What we really love about the Pro Football Hall of Fame site are the interactive details. Visitors can search its rich database of athletes based on a series of filters, and each player's page features a slick design that combines career performance stats with powerful imagery.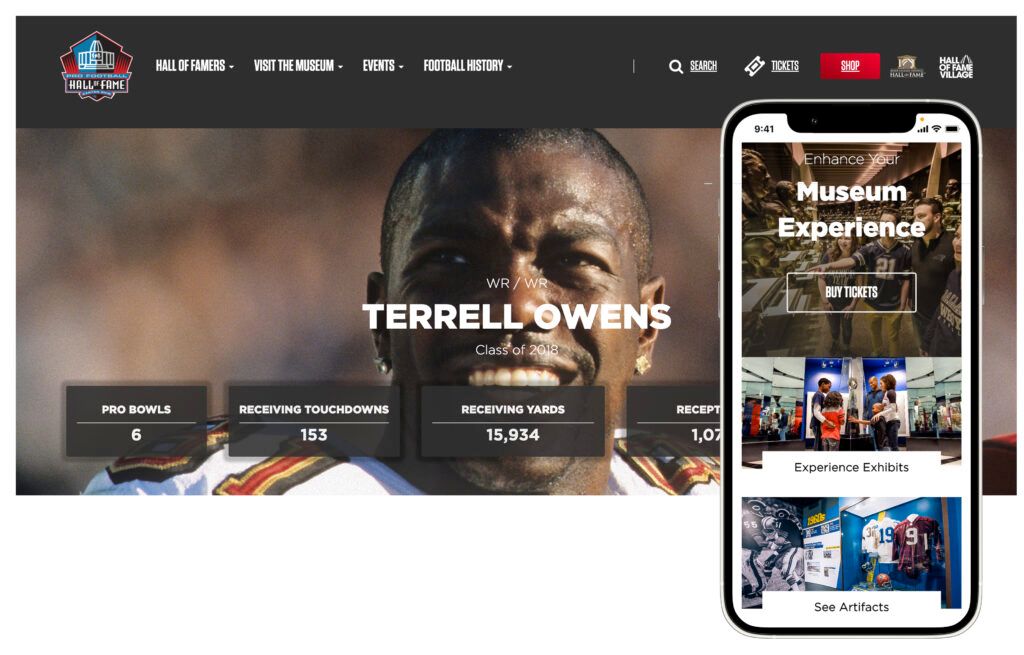 In addition to an online store featuring an array of merchandise, fans can score tickets to the museum experience and plan their trip to the storied venue in Canton, Ohio. These enhancements have increased online transactions and foot traffic, making it a site that blends the past and the future – and one that earns its place in the digital experience hall of fame.  
Potten & Pannen
For Czech-based Potten & Pannen, the ingredients for a successful digital strategy called for more than the typical accoutrements. As an importer, distributor, and retailer of kitchen equipment, it needed a website that reflected its reputation for luxury and sophistication while scaling to meet the demands of online retail.
Everything about the new Potten & Pannen site exudes elegance, from the wide-format hero images to the light and airy template. The product photos are bright and beautiful, and the text and graphics bring a distinctly European sensibility to the general gestalt. Superb.
One thing that really stands out from a UX perspective is the mobile experience. Elements are well-placed within the frame and highly clickable – and the use of white space helps the overall legibility on longer-form product pages, where images and details can get lengthy. The result: a more pleasing shopping experience and more conversions at the right points.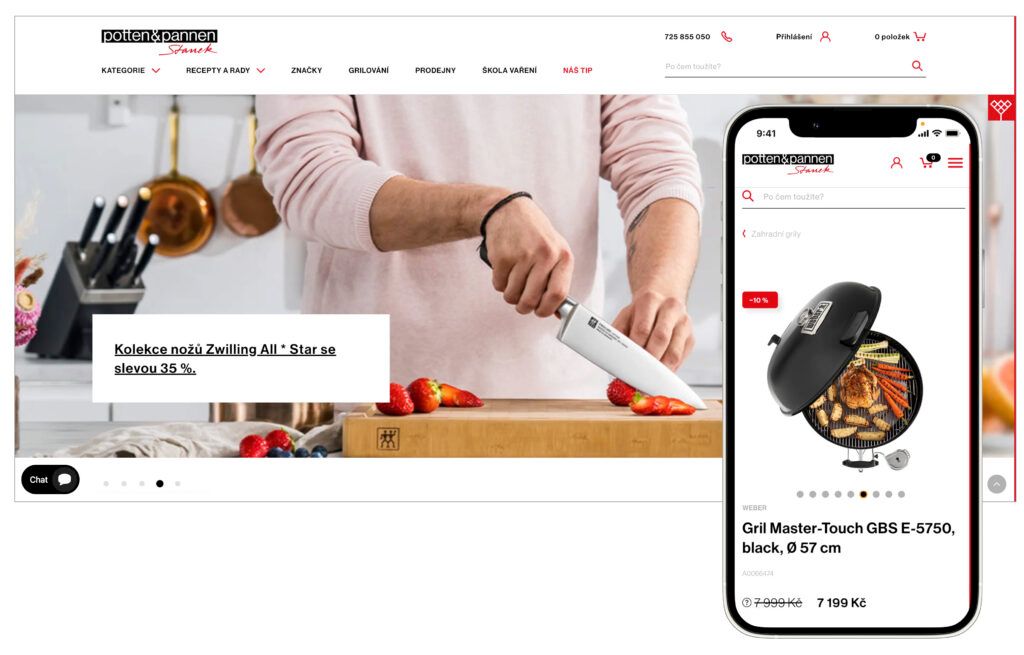 The secret ingredient for Potten & Pannen is baked behind the scenes, where the Cloud adds pizzaz. The company launched four e-Commerce websites to meet growing demand, and an auto-scaling strategy allows for dynamic resource allocation during peak periods.
Bluesoft, the Kentico partner that brought the project to life, didn't stop with scalability. The solution also tapped the power of artificial intelligence by leveraging Kentico's integration with Recombee – an AI-powered recommender. This allowed the brand to serve more relevant recommendations for products.
With such rich innovation from frontend to backend, Potten & Pannen brought real sizzle to the commerce category – and a great menu addition to the "Site of the Year."
Suffolk Credit Union
Rounding out our picks in the financial services category is Suffolk Credit Union, built by Zag Interactive. It's hard to ignore the innate challenges that any fintech application faces around security and trust, so we were immediately drawn to the use case.
What struck us about this project was the uniquely inviting design. The thoughtful approach to journey mapping in key customer areas like auto loans and mortgages makes the experience easy to navigate while supporting users at every step.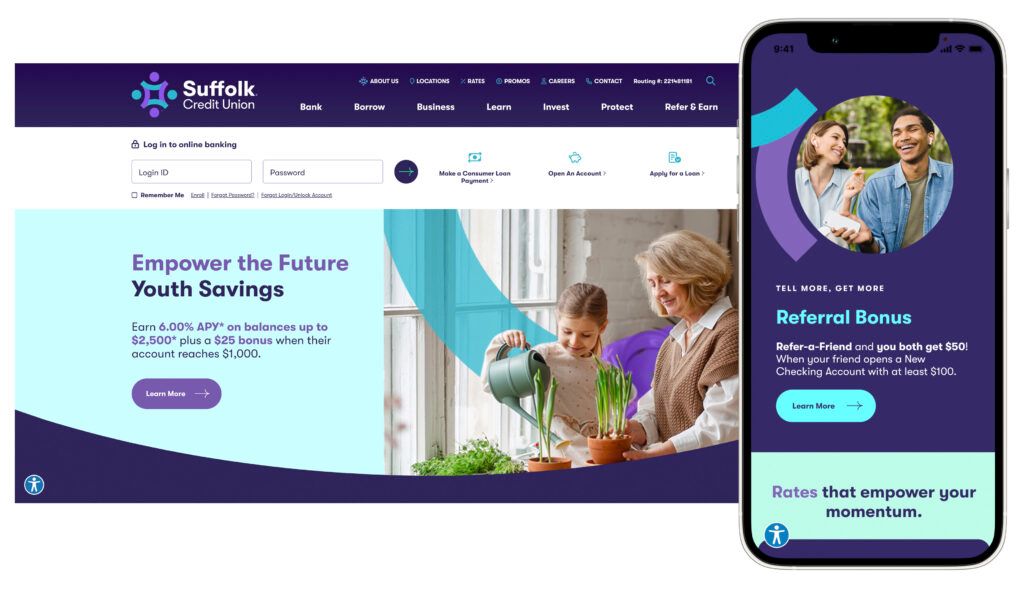 The large, legible text and high-contrast color scheme help this site stand out, but the visual choices also reflect a commitment to accessibility. Using brand elements from the logo icon (we especially like the "hello" emblem in the footer) makes the experience more cohesive.
This site "feels" impressive on all screens, but the magic doesn't end there. Zag also focused on delivering trusted security to support Suffolk's online banking – one of its most vital services. Along with improved SEO and other integrations, technology helped enhance the experience.
Many financial websites rely on predictable stock images and tired templates to build their digital brand. But Suffolk has bucked the trend with an inspired design you can bank on.
Good design is never a commodity
After reviewing the 2022 "Site of the Year" winners, it's abundantly clear that unique, high-quality web design continues to thrive. To bring custom ideas to life, web agencies and brands leverage Kentico's complete range of DXP capabilities – from its customizable CMS to its breadth of marketing capabilities and integrations.
Boasting a network of 1,000 digital agencies globally, Kentico's partners are a critical factor in the success of these projects. Their expertise delivers beautiful UX with secure and scalable performance while utilizing Kentico's industry-leading features. Partners also receive technical support, training, and certifications that help ensure quality implementations.
As an annual event, we can anticipate the 2023 call for entries before the end of this year. And if the use cases are anything like 2022, we're preparing to be blown away.