Sitejet is a comprehensive website builder that combines web design, content management, and project management into one complete platform. The brains behind the operation are a group of friends from Germany who initially developed the product as an in-house tool to support their own web design agency before deciding to launch it to the public in 2018.
In this review, we will give you an overview of how Sitejet actually works so you can decide if it's the right fit for you.
Getting Started
Setting up your Sitejet account is a simple process of filling in a few fields with your name, email, and company details. It's as easy as that. You'll start off with a 14 day free trial which gives you full access to "try before you buy".
Usability
As soon as you log into Sitejet you'll notice that it appears much more advanced than the standard website builder. This indicative of its primary market of designers and agencies.
There are an extensive range of customization options available which could be overwhelming for newbies and the WYSIWYG editor uses some technical terms that may initially confuse the less experienced user. However this shouldn't be an issue for the professional market that Sitejet is targeting.
For the web design pros who aren't interested in the drag-and-drop feature, manual coding is also available with HTML, CSS, or Javascript coding options.
It's also worth noting that new users are presented with a checklist guide to help navigate the website creation process step-by-step, so the learning curve is manageable regardless of your level of experience.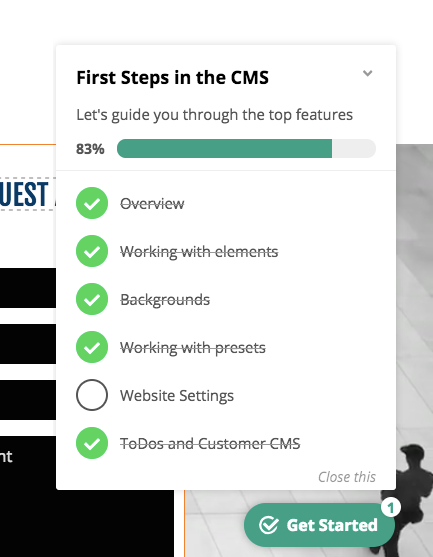 Editing the website is pretty intuitive once you get started and everything is very cleanly laid out. When you've chosen your template (see next section below), its added to a list in your dashboard where you select the "edit" button to view your site. At this point you can add/replace images and/or text blocks, move elements, change backgrounds, and more, in just one click.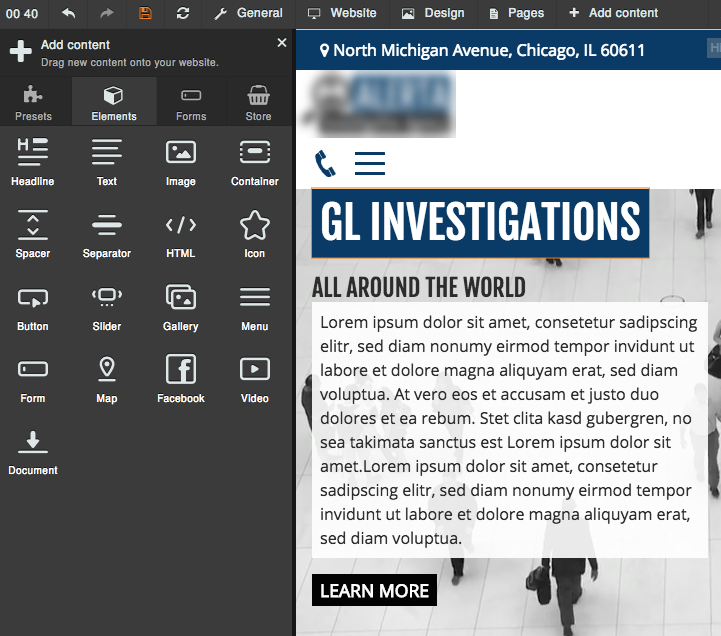 I did notice one particular issue with usability which was the menu font size. The font is very small and might be difficult to read for some users.
Templates
To begin building your site, you can select a template out of the selection available or choose a blank template to work from. I've heard people say that the range of templates isn't great, but I thought there was a good selection of high quality options. Personally, I'd rather be given the option of 70+ top-notch templates than have to navigate through 1000s of often dubious options on WordPress.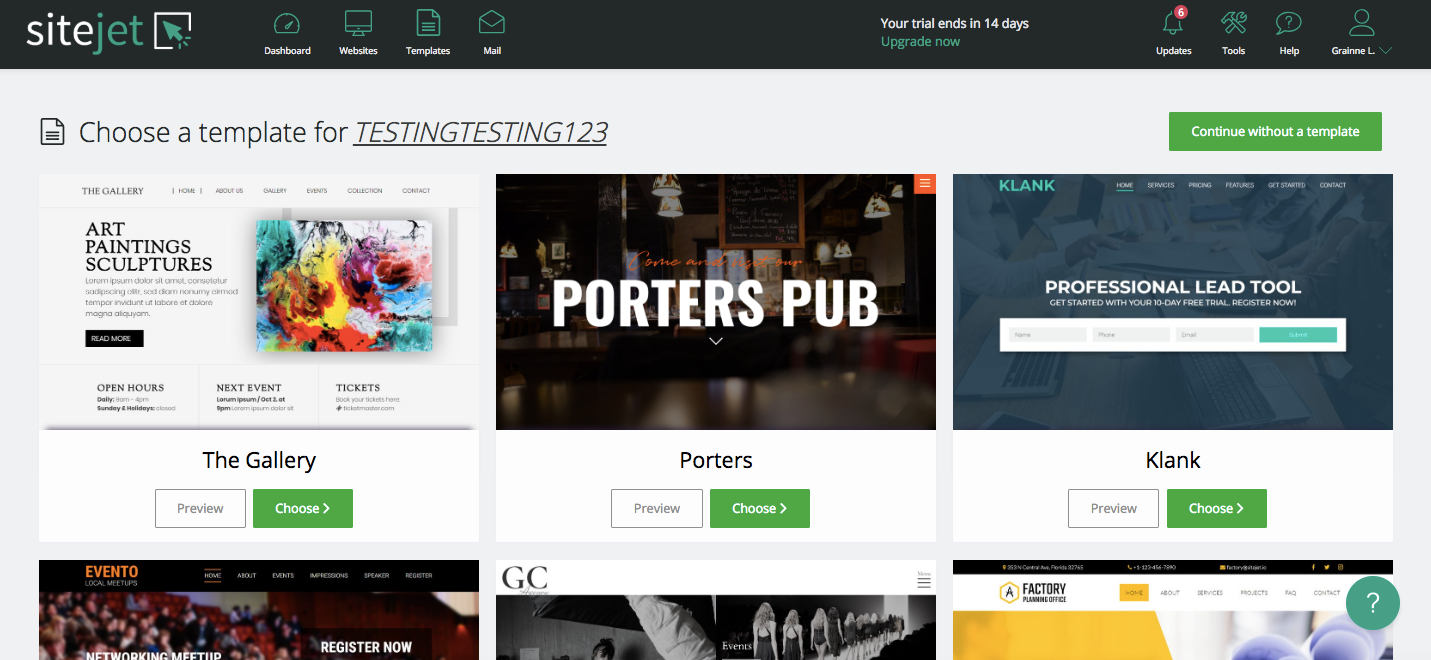 If you're not happy with the selection available or need help with building your own custom site, you can work with one of the Sitejet design team by contacting them directly.
Dashboard
The Sitejet dashboard will take you from start to finish on each of your website design projects. This is an impressive system that facilitates collaboration, project management, and site maintenance all in the same place.
You can work with multiple websites at once, manage the status of each project, create a to-do list that checks off each stage of development, and monitor the progress of each project you're working on.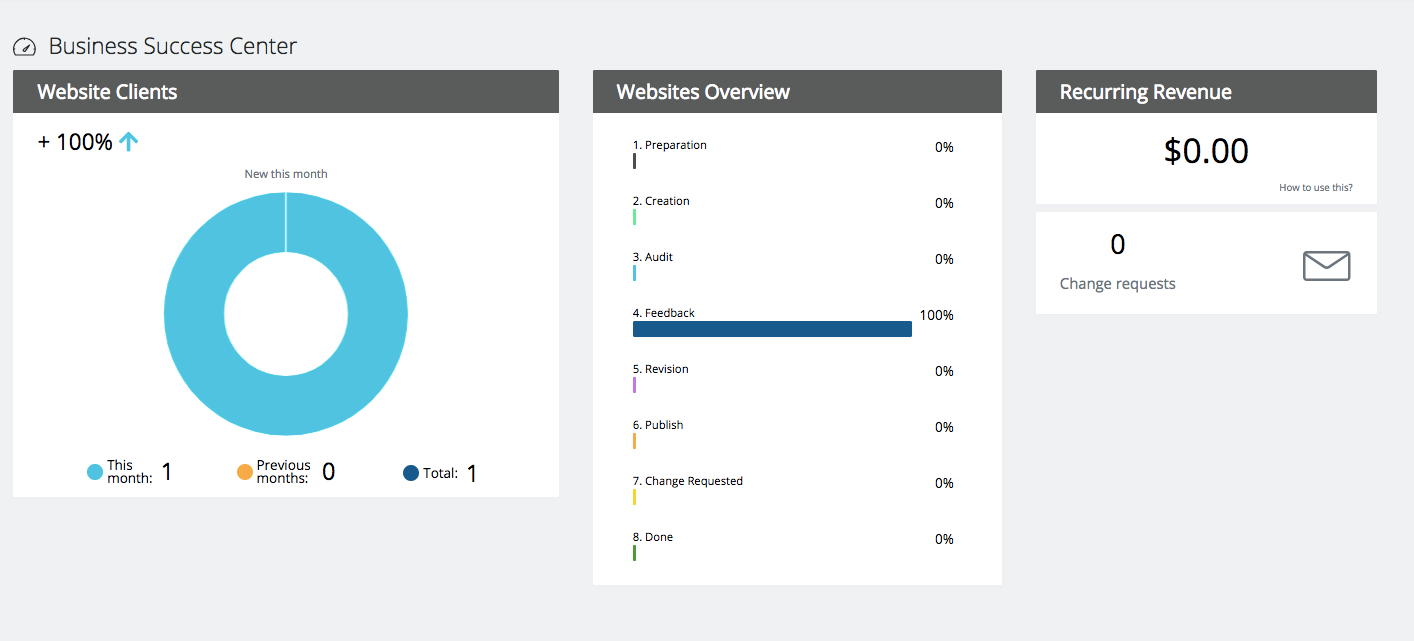 Collaboration Features
Sitejet makes client management a breeze for web designers. There are three collaboration options available depending on your requirements:
Collaborate With Colleagues: This function is allows design teams to work together on projects by leaving notes for each other, etc. without the need for individual logins.
Collaborate With Customers: With this function, customers can follow your workflow through each stage and leave project feedback as needed during construction.
Customer Self-Service Portal: Using the self-service portal, designers can hand the website off to the client whilst retaining control of the account and limiting any potential damage by restricting the access the client has to site elements.
Customer Support
The customer support available to users is better than I've seen in many other website builders. The Sitejet support system includes a wide range of tutorials (including video), a comprehensive FAQ section, and a step-by-step onboarding system. The support team is also on hand 24/7 on live chat.
Pricing
There are three plans to choose from after your 14 day free trial has ended: Professional, Team, and Agency.
Professional: Manage 1 website with free hosting and an automatic website generator. $5 p/m
Team: White label tools, all professional features, and multi-user permissions for up to 3 users. $19 p/m
Agency: White label tools, all professional features, multi-user permissions for up to 10 users, and an additional website export option. $89 p/m
The Professional plan is a good starting point but you'll need to upgrade to the Team or Agency plan if you want to avail of the collaborative features available.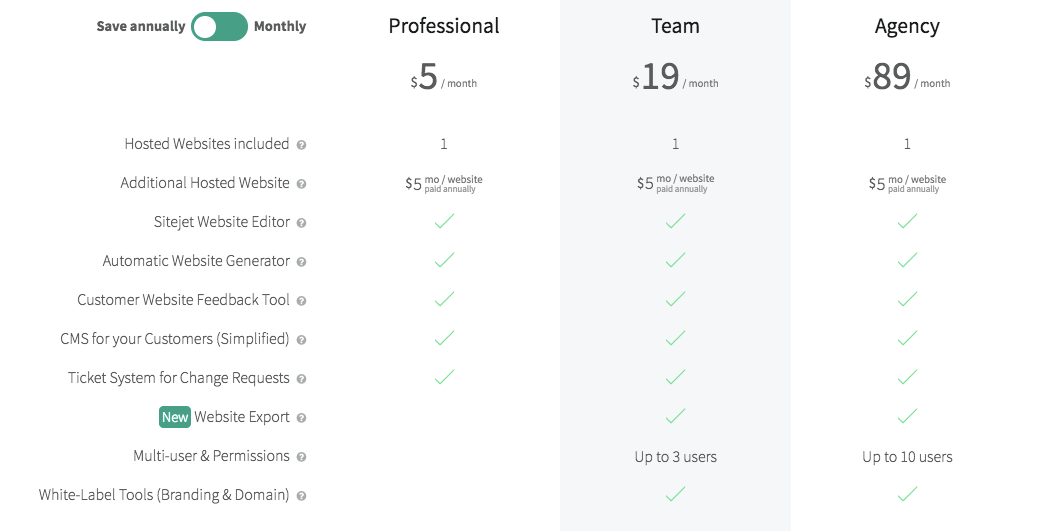 The Final Verdict
Score: 4/5
Sitejet is a refreshing alternative to WordPress and an excellent tool for any designer or agency to have in their kit. The interface is clearly designed with its target market in mind and offers powerful customization tools that really set it apart from the rest. The high quality templates also demonstrate that this product was developed by designers for designers.
Sure, there's a bit of a learning curve in comparison to less comprehensive website builders on the market. But this is more than just a website builder. It's a CMS, website builder, and project management system combined. So the extra bit of time it takes to get used to navigating the platform is definitely worth it.
I highly recommend checking out Sitejet if you're in the web design game. Have you tried it out yet? Let us know in the comments section below.