If you're a child of the 1980s – or just a fan of Stranger Things – you might remember the directory sign at your local mall. It was the one place you could find exactly what you were looking for in a sea of stores, and they're still a fixture to this day.
Unfortunately, most site searches can't even get you to the food court. In many cases, you're left sifting through a morass of results, wondering if you'll ever find your way to that rad new pair of acid-washed jeans.
Like malls, site search has been around for a long time. But now, it's becoming an even more vital part of the digital experience. After all, more than half of people are now "search dominant", meaning they will use a website's search over the navigation to find what they're looking for.
From an SEO perspective, navigation is key. But modern search tools can add a complementary layer of insights and analytics. These cutting-edge, AI-driven technologies can energize your marketing by understanding how your customers are searching – not just what they're searching for.
One of the best site search tools we've seen is Swiftype, which was purchased by Elastic in 2017. This powerful SaaS platform has positioned itself as a clear leader in the site search landscape and has evolved to include app search and a host of other features.
In this article, we'll take a close look at Swiftype's features and explore how you can customize your search results, leverage analytics, and even build marketing strategies within the platform. It's like a mall for best-of-breed site search capabilities – and we'll show you exactly where to shop.
Goodbye, Google Search
Back in the day, Google Site Search was the defacto standard. Not only was it easy to implement, but it brought the world's leading search technology down to the website level. Unfortunately, Google deprecated the service in 2018, forcing thousands of websites to scramble for a new solution.
Quite a few niche players answered the call, including Algolia, Cludo, and others. Enterprise brands also muscled their way into the game, with Amazon CloudSearch and Google Search Console offering alternatives.
What was missing was the best of both worlds – a cost-effective, cloud-based service that offered core site search with scalable enterprise features. That's where Swiftype comes in.
What is Swiftype?
Swiftype is a cloud-based SaaS platform that enables organizations of all sizes to create and manage a tailored search experience with real-time feedback, user insight, and search trend analytics. Users are able to monitor which content visitors are searching for and which results they're engaging with as they browse your website.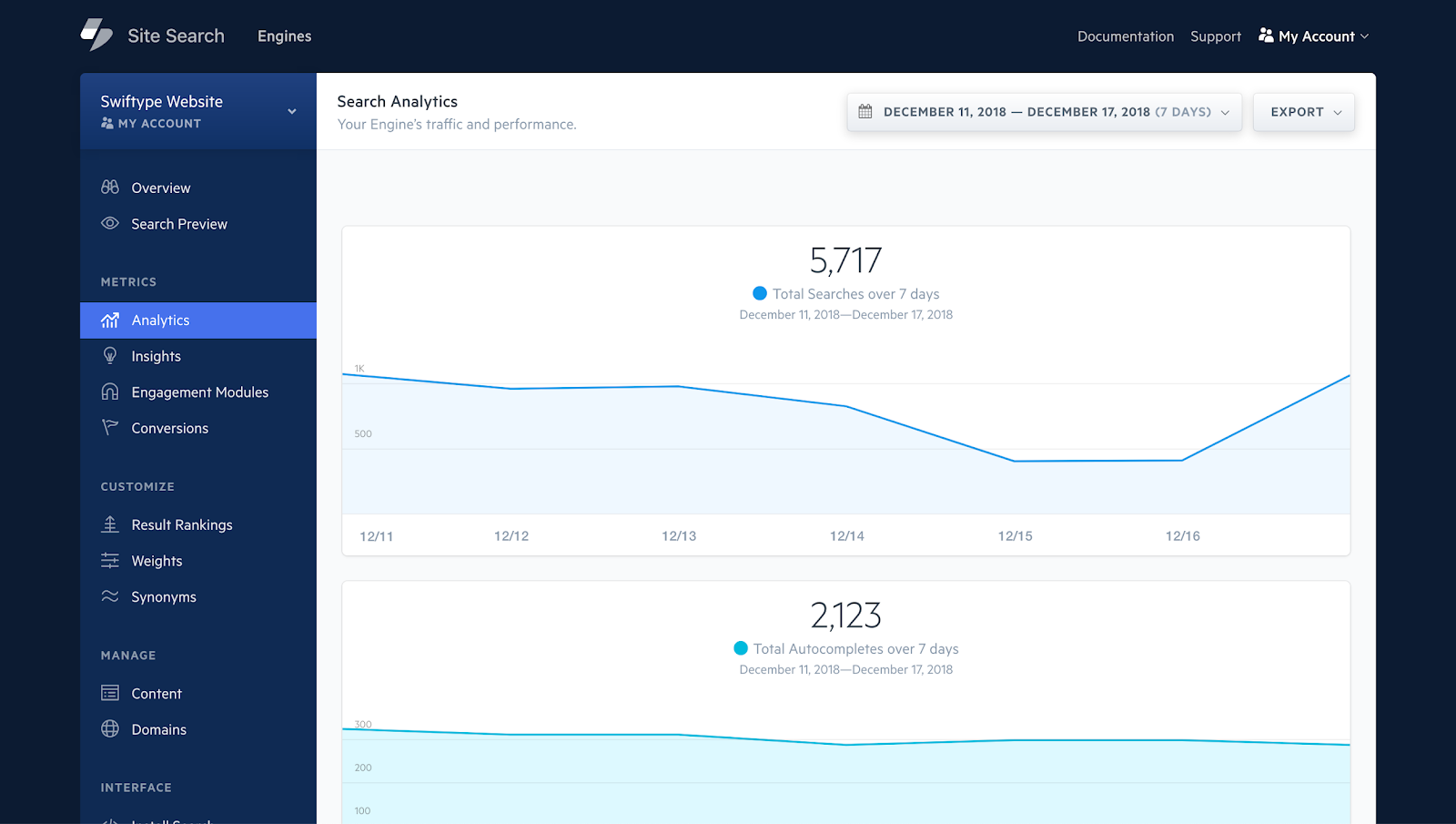 Swiftype is incredibly easy to install and customize. Once you sign up and enter your website's address, Swiftype automatically indexes your site and renders your custom search engine in real-time. In addition to providing a "marketer friendly" no-code experience, Swiftype also gives advanced developers access to resources including their API.
Swiftype offers two main products – Site Search and App Search – which can be added to websites and CMS platforms. We've explored both in more detail below.
Swiftype Site Search
Swiftype Site Search provides all the tools you need to deliver more relevant search results for your website users. It's simple to set up and use, and has some dynamite out-of-the-box features, including:
Autocomplete: Guide users to the content, answers, or products that matter most with real-time results – right as they type.
Search Refinements: Dynamically expand on simple search, allowing your users to refine results by attributes such as date, price, author, location, or content type.
Comprehensive Documentation: Swiftype has clear and simple guides that can help you build the perfect search experience. You'll have all the materials you need to become a master of high value search experiences.
Advanced Search Algorithm: Powered by AI/ML, Swiftype Site Search is built on an advanced search algorithm that delivers relevant results for even the most complicated queries.

Search Controls and Analytics: Site Search surfaces the most important data points and performance indicators for your search. It also gives you the tools to take action and improve performance, including patented technologies that allow you to tweak your search engine's output globally or on a per-query basis.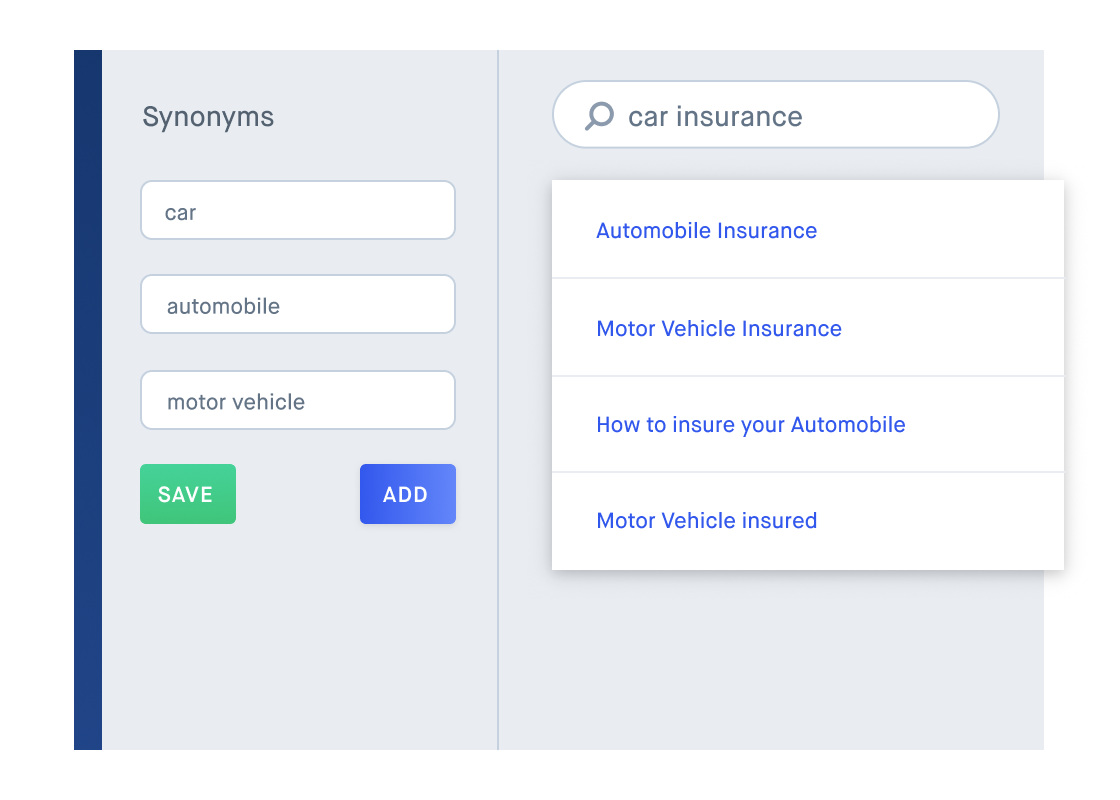 Developer Tools: One of Swiftype's strengths is its ability to appeal to marketers with a no-code experience. But it also provides a robust, developer-friendly API for creating custom record schemas, indexing data in real-time, embedding search into any user interface (such as a website or CMS), and programmatically tracking events. You can view the API documentation here.
Real-time Search Analytics: Swiftype allows you to see what your users are searching for, clicking on, and engaging with as it happens – so you have more actionable insight about their behaviors. With its powerful real-time search analytics, you can track the highest performing content on your website or app, assess which autocomplete queries are most popular, and learn what content was most commonly chosen from autocomplete suggestions.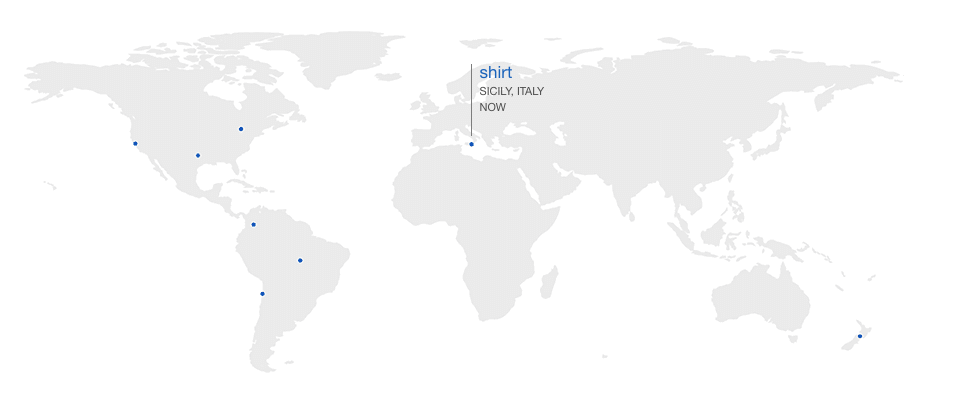 Tracking conversions and autocompletes: Search conversions tell you where your users go after performing a search.

Find out What Users Aren't Finding: Swiftype shows you common searches that return no results – so you can optimize your content strategy. Swiftype's custom result ranking feature lets you add results to these search terms to help visitors find more of what they're looking for.
Swiftype App Search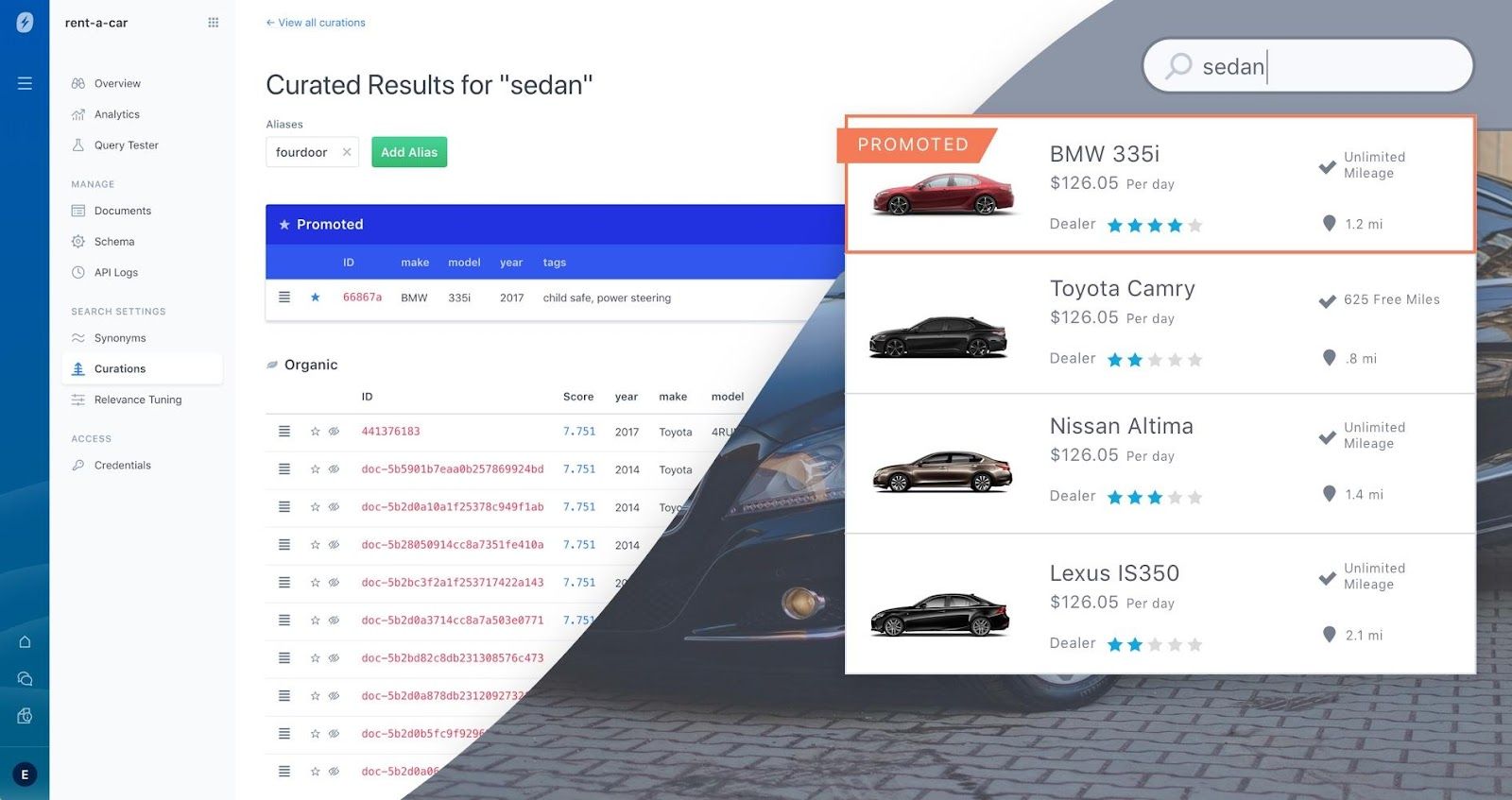 While Site Search provides a powerful solution without a steep learning curve, Swiftype App Search goes deep with developers. You get access to a robust set of APIs that allow you to customize your search experience – all backed by the Elastic Stack.
Swiftype App Search harnesses the power of Elasticsearch, built on the constantly improving foundation that Elastic provides. It includes features like typo-tolerance, stemming, bigram and phrase matching – as well as search customization capabilities like Curations, Weights, Boosts and Synonyms.
Together, these tools help you fine-tune relevance based on your business objectives in conjunction with data from App Search's Analytics platform.
Other key features include:
Real-time Analytics: Measure how users interact with your search engine and track everything in real-time, revealing unique insights into user behavior.
Relevance Tuning: The App Search Dashboard makes relevance tuning as simple as point-and-click. Make customizations in the web-based interface and preview their impact in real-time – all with no code.
Schemaless Indexing: App Search supports dynamic schemas and real-time reindexing. Simply send JSON to the API and Swiftype analyzes it for whatever search application you build.
You can see the full list of App Search features here.
How to Add Swiftype Site Search to Your Website
One of Swiftype's main selling points is its ease of installation – and based on our experience, it delivers as billed.
Swiftype's website claims it takes as little as five minutes, and for the essentials, that was pretty much spot on. The tools were a quick study, and the interface is clean and lightweight, making it pleasant to work in.
To set up Swiftype on your website, you first need to create your account, then an Engine (short for "Search Engine"). After beginning your Site Search trial, enter your website's URL when prompted.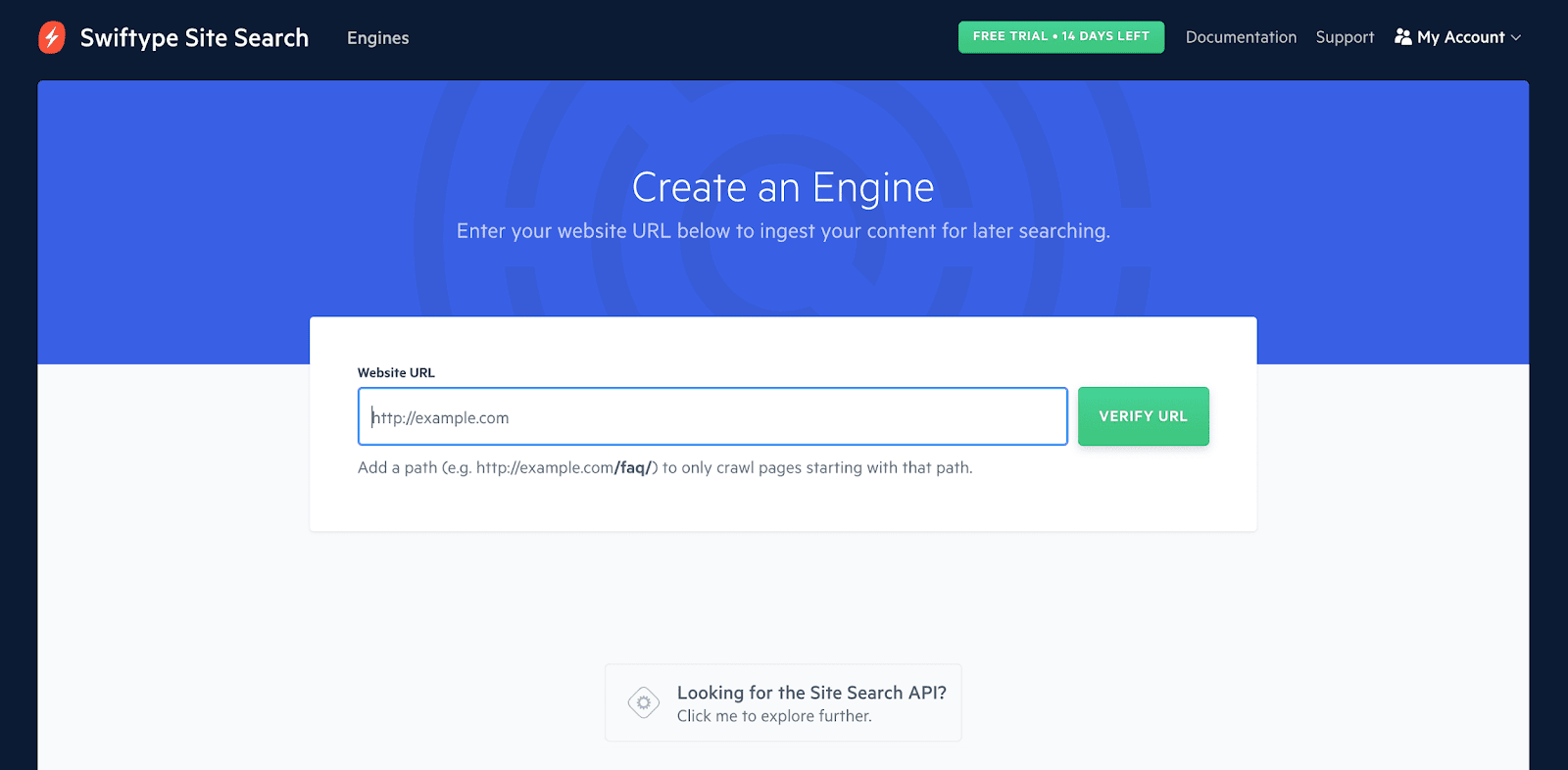 Once the scan is successful, provide your Engine with a name and select its default language. You can choose from over 13 different languages, including English, French, Chinese, Japanese, Korean, Russian, and German. For the full list, see Swiftype's documents on language support.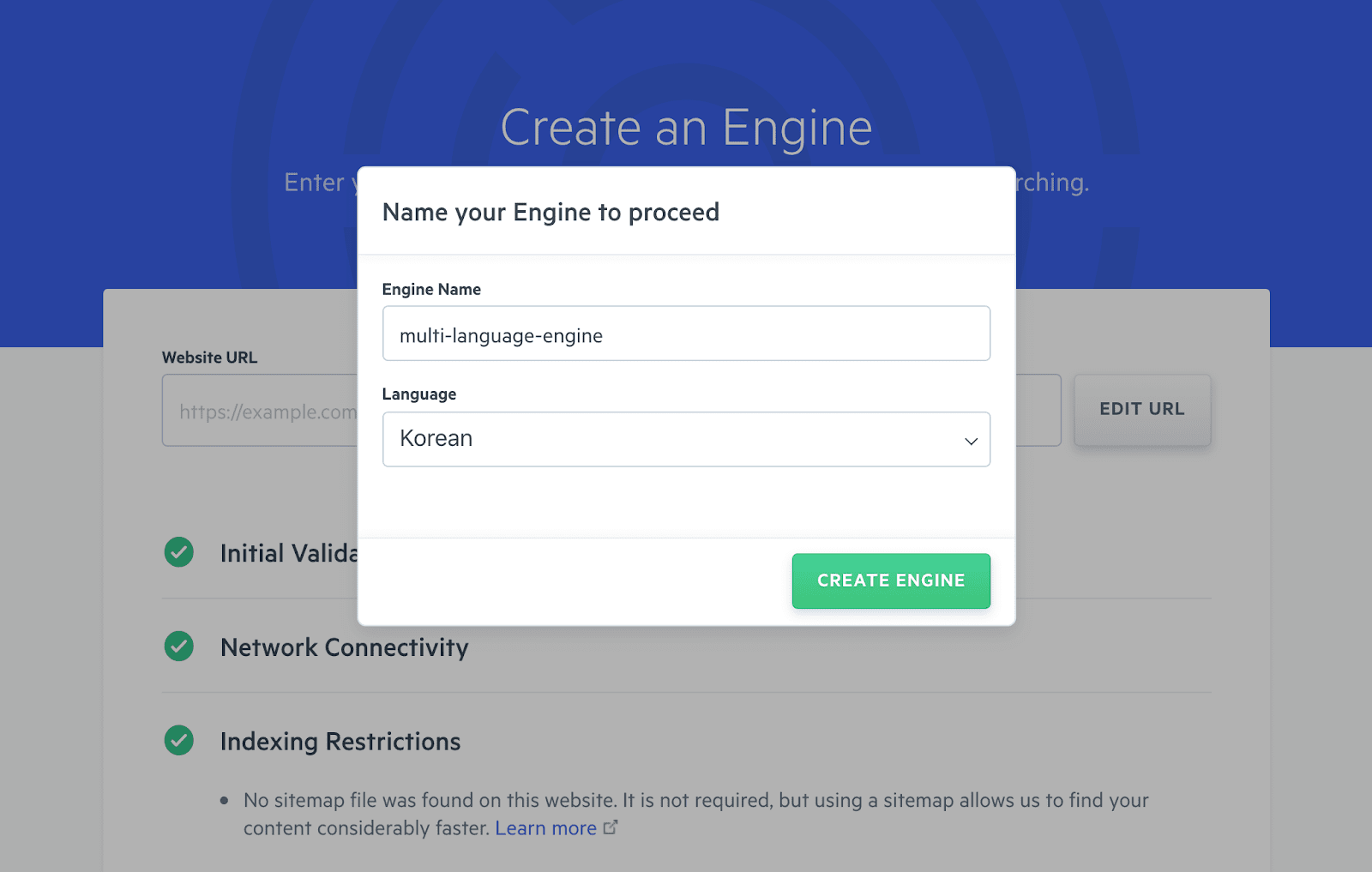 The final step is adding the search experience to your website. Once you click on the Installation button, you'll need to configure the design of your Search Field and Result Container. From there, you can choose how to style your results, configure autocomplete, and tune an array of options.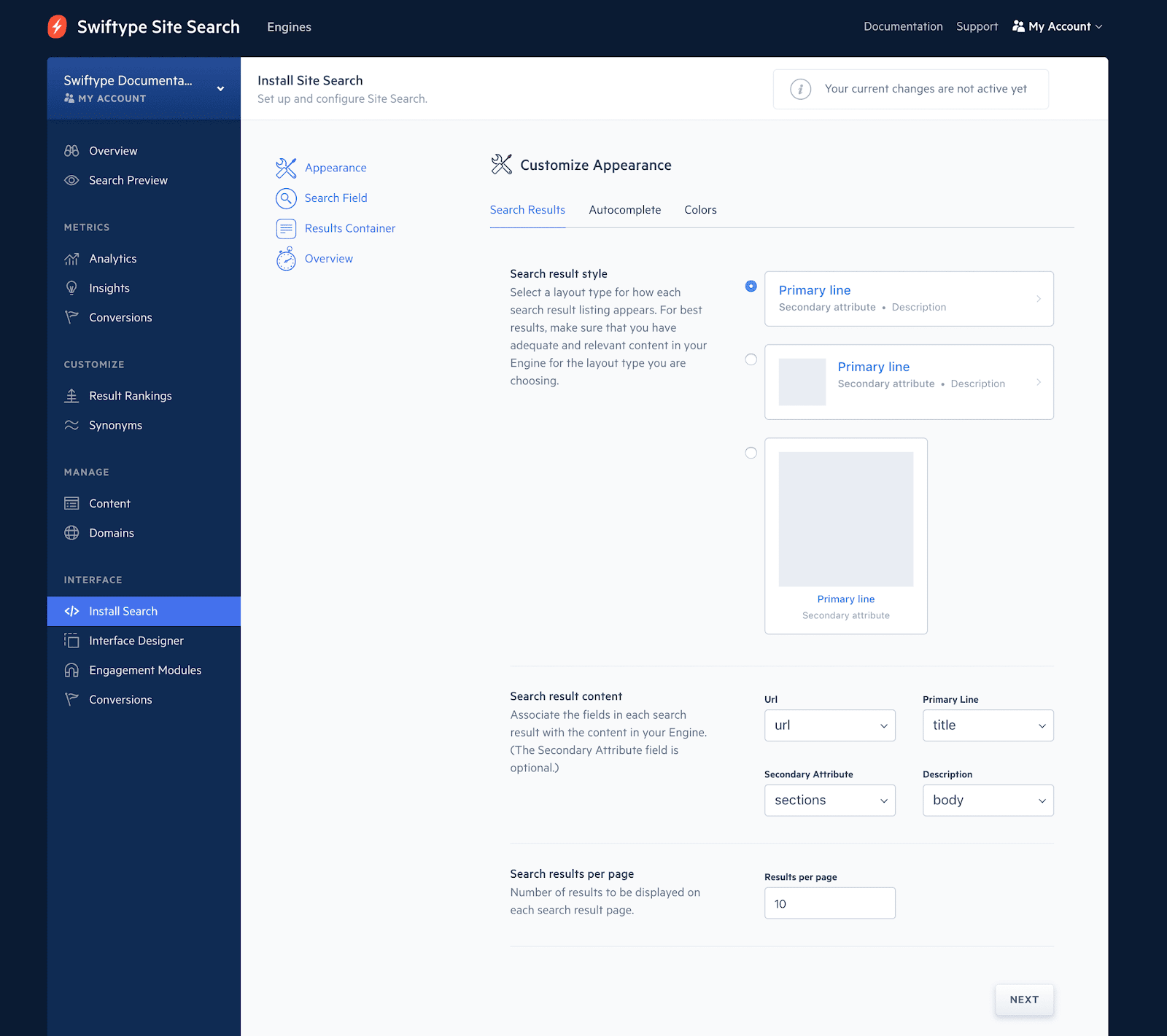 Once you have the basic configuration in place, you'll receive an embeddable JavaScript snippet. Place that snippet on each webpage to enable the search. The snippet will look like this:

And that's it. If you're savvy and committed, it can take just a few minutes – and that's pretty slick.
How to Add Swiftype Site Search to Your CMS
Content management systems often miss the mark on their own search capabilities. By adding Swiftype, you can instantly improve a CMS experience and add your CMS content automatically using Swiftype's Site Crawler.
On the more advanced end, you can even set up callbacks that can be used to hook into content, alerting Swiftype that new content is available to index.
While the installation process is relatively straight-forward – and works well for most CMS platforms based on their documentation – there are a few more steps involved. But Swiftype offers some great step-by-step guidance to build out the experience.
Customer Support
Swiftype offers broad customer support, and according to the reviews, it offers one of the best experiences around.
Swiftype Standard and Pro support is focused on making sure your Swiftype Engine is working as expected – and is fully available. To that end, they offer:
Analysis of the state of your engine
Actions you can perform to stabilize or tune your engine
Pointers to Swiftype documentation or forums if your question is outside the scope of the platform itself
Elastic reported their response time and hours below:

In addition, they provide a lively community of support for Swiftype users. With the community forums, you can get your more in-depth questions answered.
Pricing
Swiftype has two separate plans for Site Search and App Search. The Site Search plan starts at $79/month and App Search starts at $49/month.
Site Search:
There are three plans for site search: Standard, Pro, and Premium.
The standard plan gives you all the core search features and analytics, as well as multilingual support.
With the Pro plan, your website gets crawled twice a day instead of once per week. Additionally, you get cross-domain search and PDF/document indexing.
The Premium plan is their enterprise-level search and security.

App Search:
Just like the Site Search plans, Swiftype's App Search plans offer Standard, Pro, and Premium Packages.

Conclusion
While good navigation is important, people always seek the path of least resistance. That's why site search is so essential: it enables more control over intent, allowing a user to search for specific content quickly and easily – and even discovering new stuff along the way. In that sense, it's another layer in your personalization strategy.
While Swiftype is easy to set up, marketer- and developer-friendly, and offers a broad range of tools, it's not the cheapest solution on the market. But if you're looking for a platform that makes search a more strategic part of your experience, Swiftype is at the top of the list. It offers unmatched control and scalability, and brings more power and presence to site search as a strategic asset. With world-class customer support to boot, it's really a solid platform on every level.
You can start a free trial today. Acid-washed jeans not included.
About Swiftype
Swiftype is a search and index company based in San Francisco, California, that provides search software for organizations, websites, and computer programs. Notable customers include AT&T, Dr. Pepper, Hubspot and TechCrunch. Swiftype's site search can be used for faceted search, full text search, real-time search, and concept search queries. The company's plans offer on-demand and live recrawls and indexing of websites. Other features include drag-and-drop result customization, real-time analytics and adjustable weights. In an effort to further grow outside of site search, Swiftype introduced an enterprise search service in February 2017.
About Elastic
Elastic builds software to make data usable in real time and at scale for search, logging, security, and analytics use cases. Founded in 2012, the company develops the open source Elastic Stack (Elasticsearch, Kibana, Beats, and Logstash), X-Pack (commercial features), and Elastic Cloud (a SaaS offering). Elastic is used by organizations including Cisco, eBay, Goldman Sachs, NASA, Microsoft, Mayo Clinic, The New York Times, Wikipedia, and Verizon to power mission-critical systems.