Write.as is a no-frills ad-free publishing platform that lets you write down your thoughts, even if you don't have an audience in mind. You can keep your posts private or share them anonymously, but you can also create a public blog. That being said, Write.as isn't suitable for more complex blogging, content marketing, or building a website. Read on for our full review on Write.as below.
Getting Started
Getting started with Write.as is easy. You don't even need to register for a member account. Simply click on the "Start Writing" button on the homepage to create a blog post without an actual blog.
When you publish your post, it will open up in a web browser with a unique and anonymous URL. You can keep this URL to yourself or share it with others. Write.as automatically saves everything that you write, regardless of whether you have an account with them or not.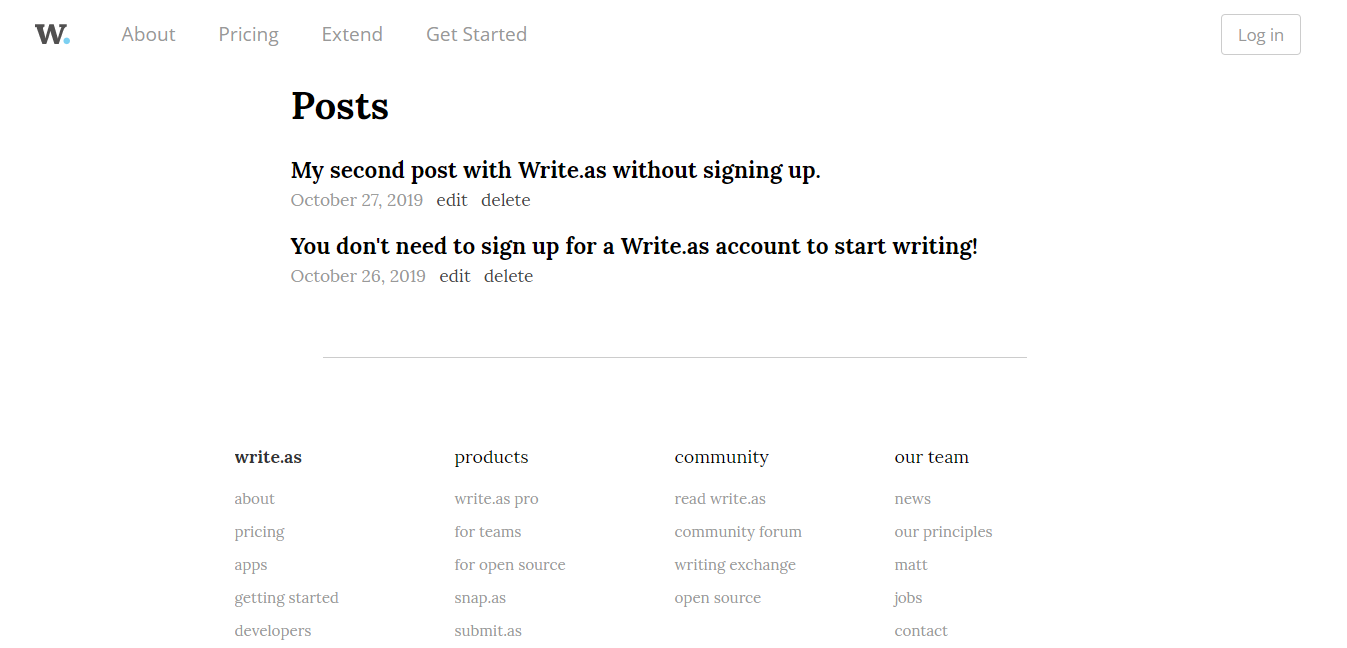 When you're ready to start a blog, select "Get Started" to begin your free trial or buy the Pro plan. Either way, you don't have to give your email address (but you can if you want to). Once you sign up, you can sync your anonymous posts to your account.
Design
Write.as has a clean design and interface, with zero unnecessary features. The text editor lets you write in plain text only, and you can choose from just three different fonts (serif, sans-serif, monospace). There's also a word count function and a light/dark toggle.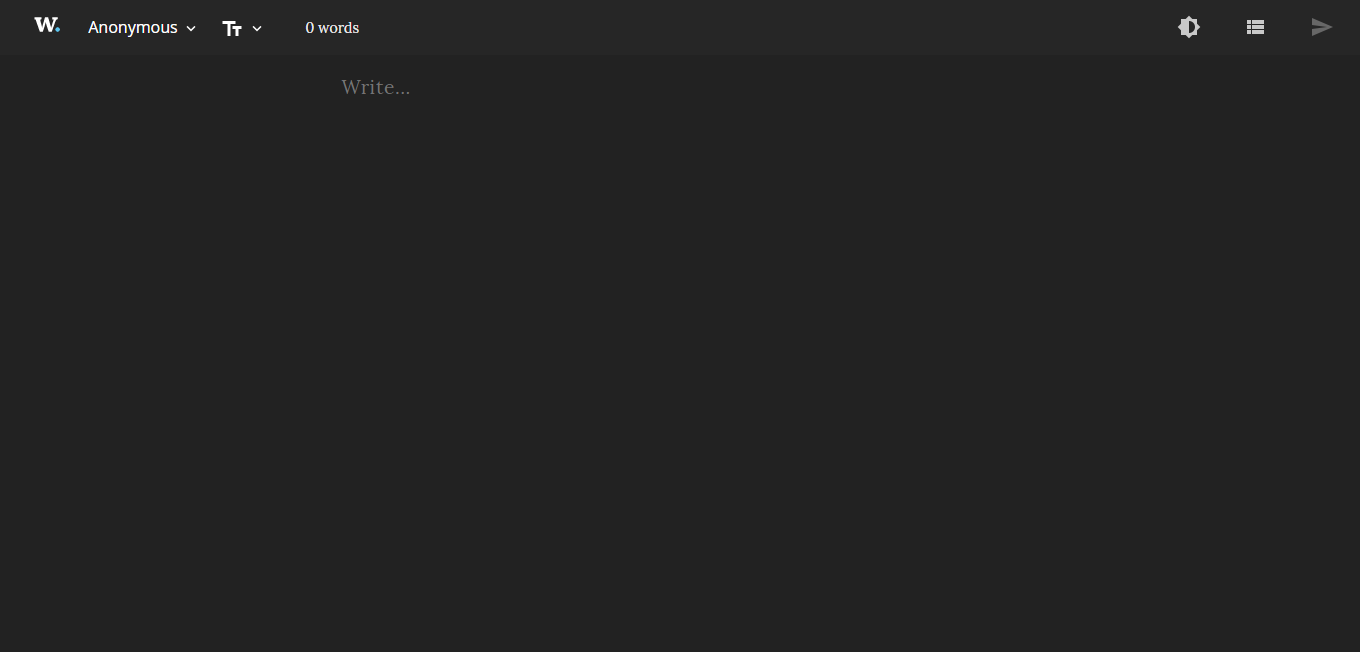 To format your text, you need to use Markdown, a plain text formatting syntax that lets you add headers, bold text, links, images, and so on. There's no way to preview the post, which is annoying.
Write.as is committed to simplicity, but it still lets you customize your blog. With Write.as, you can:
Change the title of your blog.
Add a blog description.
Pick a preferred URL (write.as/username/, username.writeas.com, or your own domain if you're on the Pro plan).
Add static pages like an "About Me" or "Contact".
Group your posts with hashtags.
Select your desired publicity level (unlisted, private, password-protected, or public).
Customize how plain text renders on your blog (Markdown or MathJax).
Enable custom CSS and Javascript.
Change the format of your site from a blog to novel (oldest posts, with no dates, are shown first) or notebook (latest posts, with no dates, are shown first).
Usability and Support
Write.as is minimalist in design and is therefore super easy to navigate. When you log into your account, Write.as brings you to a blank page so that you can start writing immediately.
In terms of support, Write.as has detailed writing guides that cover everything from sharing your posts to formatting quotes to adding images to your blog. There's also a Write.as community forum.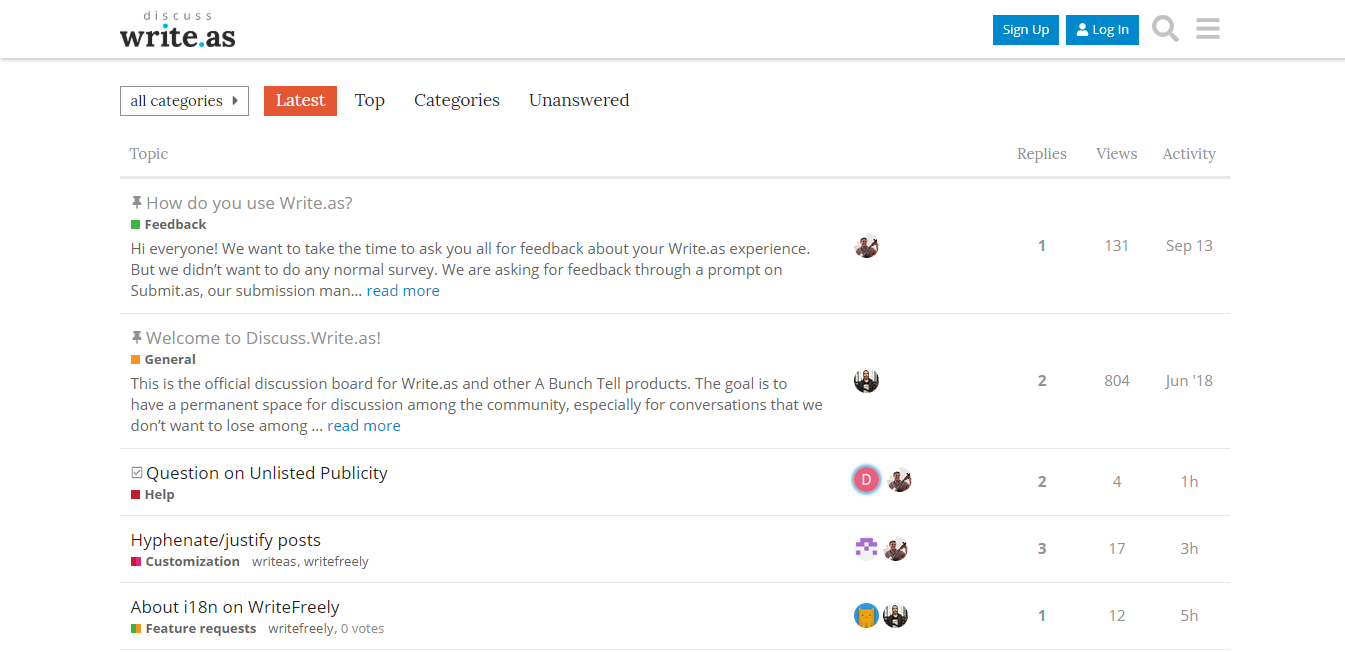 You can also ask for help on social media (Write.as is on Twitter, Instagram, and LinkedIn) or via email (Write.as support hours are Monday to Friday, 9 AM to 5 PM Eastern US time). Customer support representatives typically respond very promptly — I received a reply to my query within four hours on a Monday morning.
Key Features
Write.as focuses heavily on privacy and security, which is why all blogs are unlisted by default. However, you can make your blog public and cross-post your posts to other social media sites (like Twitter or Tumblr) or read.write.as, a separate "read stream".
You can also see the number of people that visit your blog and where they come from, as well as determine your most popular posts, via the statistics function.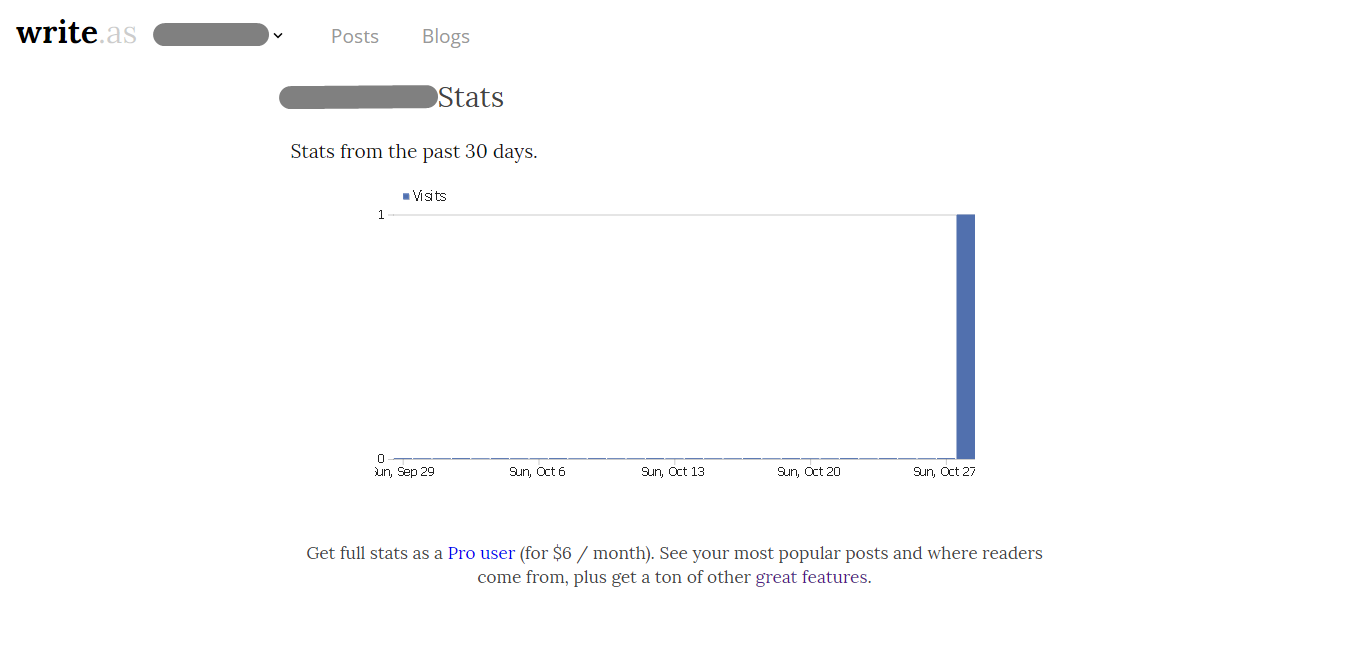 With Write.as, you can write a post via email and then send it to your blog. In this case, the subject line becomes the title of the post, and the body of the email becomes the post. This feature, which is only available to paying members, is useful if you want to post to your blog from your phone (Write.as has an app for Android and iOS, but they don't support blogging).
Speaking of email, Pro users get access to Write.as Letters, a beta feature that lets readers subscribe to your blog updates. New posts are sent out in the form of a beautiful email 15 minutes after publishing or when scheduled.
Pro members can also host their photos via Snap.as, a Chrome and Firefox browser extension. The extension pops up a window to drag a photo to, irrespective of where on the web you are.
When the photo is uploaded, the Markdown for it is copied to your clipboard. You can then paste it wherever you want the photo to appear.
Additionally, Snap.as lets you create shareable photo galleries and photo essays. Here is an example from Write.as founder's, Matt Baer's Snap.as account: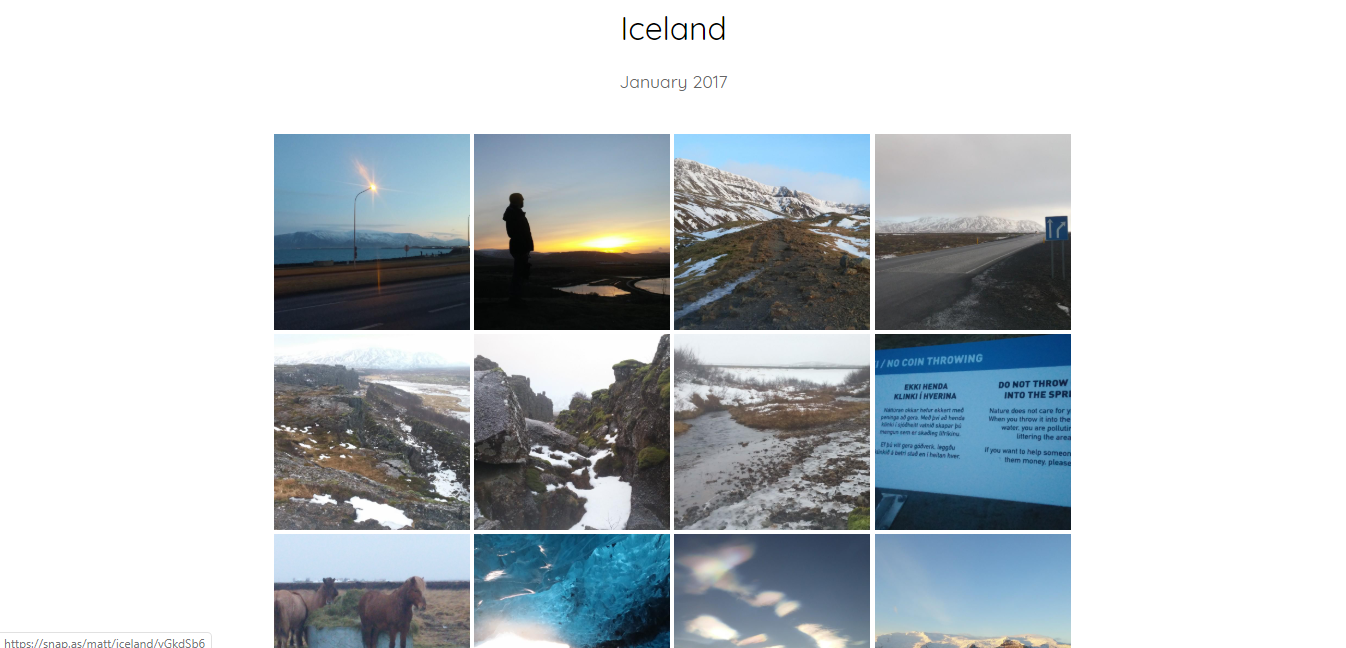 Write.as also offers Submit.as, a paid add-on that enables you to collect submissions, review them, and then publish them straight onto an online publication.
Pricing
Write.as has three pricing tiers:
The free plan brings with it basic publishing features, total anonymity, and unlimited monthly views. It supports Markdown and MathJax and lets you publish three Write.as posts per month to social media channels like Twitter and Tumblr. However, you only get one free blog (you can purchase as many additional blogs as you want for just $12 a year).
Write.as Pro ($5 per month when billed annually or $6 month-to-month) comes with a built-in audience, full customization features, and Snap.as image hosting. It also gets you three free blogs and early access to new features.
Teams ($9 per user per month) supports unlimited writers and group publishing. It also comes with priority support. However, it doesn't let you add extra blogs, cross-post to social media sites, or publish to read.write.as. If you have multiple teams, Write.as can create a custom enterprise plan for you.
Payment options include credit card, PayPal, and cryptocurrencies. There's a 14-day refund policy.
Final Verdict
Write.as is a distraction-free publishing platform that is less about the social media aspect of writing (the likes and follows that we all inadvertently seek) and more about getting your thoughts down fast. The platform's simplicity is refreshing, but not ideal for complex blogging, especially if you don't know any code. On the other hand, because Write.as is open source, technically-minded individuals can change it to suit their needs.