When it comes to content management systems, there's one platform that makes headless "like butter."
Of course, we're talking about ButterCMS, an aptly-named brand that's been making solid gains over the years, particularly around the rise in popularity of JAMstack and MACH-related microservices. The platform powers static site generators like Gatsby, for example – and makes it incredibly easy to connect their CMS to a fast, secure, high-performing frontend site.
Recently, the company announced some slick new additions to its content localization capabilities that aim to simplify the workflow, allowing users to translate content to any language right within the Butter UI.
Not to spread it on too thickly (pun intended), but this is exactly the kind of feature that CMS platforms need to serve global initiatives. The new functionality empowers international teams collaborating on projects to access information and quickly translate it for their specific region – all with just a few clicks. It also prevents any duplication of effort, allowing projects to be completed faster and more efficiently.
We've got more details below, but we'll butter you up with a little something extra: a brief Q&A with Butter's CEO, Jake Lumetta. Read what the company's founder had to say about their new localization capabilities, composable CMS, JAMstack, and the headless frontier. So grab your toast and dig in.
A new tool for clients with international teams and topics
There's no question that the Covid-19 pandemic has exacerbated the growth of remote work – and consequently, the rise of remote teams. This has been felt on a local level, but international teams have been working from a distance for quite some time.
According to Butter, companies with growing international interests need products that make working with their remote teams easy and effective. As such, their new localization enhancements are targeted at taking the work out of managing distributed teams, specifically marketers and translators across the globe.
The expanded set of features is a big leap forward in both speed and convenience for ButterCMS customers, giving them the option to import content in English – or any other language – as a base template to work from for any project. Once this base version is created, individual users can then copy that content and translate it for any region using simple features in the navigation menu.
Butter CMS localization: process and options
On a more granular level, the process of importing and translating content in ButterCMS is designed to be very intuitive. For example, when modifying content for a specific region, a user can select "Copy From" in the menu, and import existing content from any other locale. There's also a scrollable drop-down menu that includes all the languages that have been configured in a user's account, making it easy to select options on the fly.
After the base content has been imported, the content can be translated manually by local experts, via API by Google, or through another third-party service of your choice. Another point of convenience: regions that have already been translated are highlighted for quick recognition.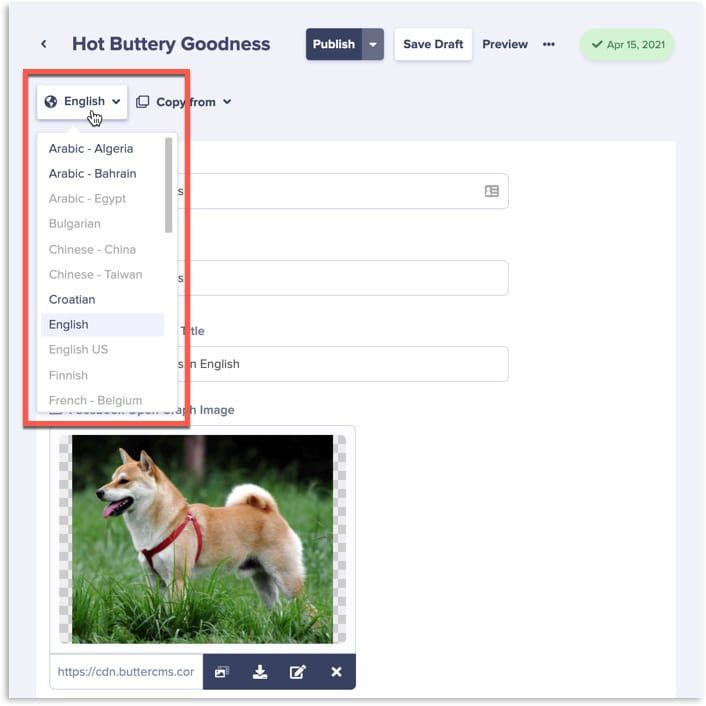 There's no limit to the number of languages you can support. That means your team members from any corner of the world can translate content to accommodate local languages and meet cultural-specific content requirements.
From a permissions perspective, another new feature is the ability to control editing privileges for various regions at the user level, allowing teams on the ButterCMS Enterprise plan to ensure that only approved members in a designated region can make changes to their specified content. This feature streamlines the interface for international teams, minimizes confusion, and prevents unauthorized changes.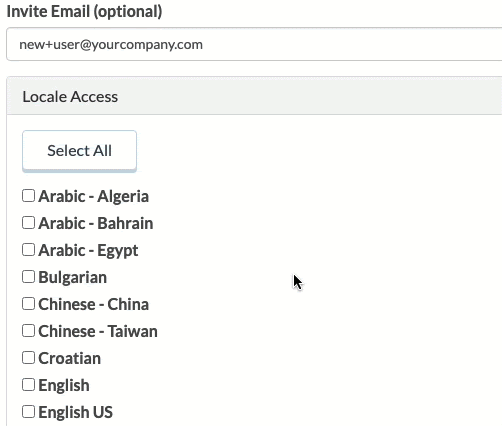 Additional CMS features and updates
For Butter, "convenience" has always been a key attribute. Their interface is familiar and intuitive, making it easy to learn and use. Along these lines, they've made several recent updates that improve the content production process – making it more flexible and less time-consuming.
For example, there's a new resizable preview panel that lets users preview live content inside the same window where they are currently editing. You can also use the same click-and-drag functionality to control the size of the API explorer window. This prevents the hassle of toggling back and forth between windows while working.
Reusable components help keep the development process as simple as possible with a unique component picker tool, allowing marketers to build dynamic landing pages using pre-defined, pre-styled components. It's a powerful feature for building dynamic landing pages without relying on a developer.
Another is Butter's pre-configured blog engine, which makes it really easy to add an SEO-friendly blog to an existing website or app. It supports all of the popular frontend frameworks, with drop-in SDKs for any language.
Users can also take advantage of Butter's native Media Library to host all the files necessary for a blog, app, or website. The Media Library can hold images, videos, audio files, PDFs, and more – and all files are distributed securely via Amazon CloudFront's CDN.
Summary and pricing
ButterCMS has just upped its game with some great content localization enhancements. Whether you're managing content for a mobile app, a hybrid web app, a static site, or just a blog, the platform provides an array of tools and features to improve your development and marketing efforts.
When it comes to pricing, there are several plans available that meet the needs of everyone – from freelancers and startups to enterprises and agencies – and can be scaled as your organization grows.
Q&A with Jake Lumetta, CEO and founder of ButterCMS
CMS Critic had a chance to connect with Butter's CEO and founder, Jake Lumetta. We asked about their growth opportunities, composable and reusable CMS trends, and what makes their headless CMS stand out in the crowd.
---
CMS Critic (CC): With localization being such a key focus in your recent update, it seems fair to say that ButterCMS is growing globally. What are your core markets? Where are you seeing the most growth internationally?
Jake Lumetta (JL): Butter has customers around the globe and in every vertical you can imagine.  If you need to manage content for a modern, highly performant application, then Butter is a great fit for your team. We've seen amazing growth in e-commerce, marketplaces, SaaS, e-learning, and financial services.
CC: Composable and reusable components are becoming essential to a CMS. Can you tell us more about your component strategy? What aspects are low code/no code? And how customizable is the framework?
JL: We heard early on from our customers that they wanted to build with components in Butter.  We built a field type called Components which enables our users to group related fields together in an intuitive way. A simple example might be an SEO component that contains all SEO meta information you might want to control for a page.  Butter Components work nicely alongside the concept of reusable components for your Front-end.  Design and marketing can work hand in hand to determine and build out beautiful and customizable experiences using Butter Components. We've made using Components really intuitive for non-developer users with another concept called a Component Picker as well. This allows any marketers to build out a custom, unique page or section of a website or mobile app using any components that they need.
CC: Headless is fast becoming the focus of the CMS market. What would you say is Butter's most unique advantage when considered against the landscape of options – particularly those that are growing rapidly in the JAMstack?
JL: One of Butter's unique advantages is our laser focus on superior customer support and experience. Our customers want to get their hands on the product and quickly get a proof of concept running with their preferred tech, and we allow every person to easily do that. Our Customer Success team aims to promptly support all folks at any stage of using Butter. We provide resources for learning, using, and scaling the use of Butter so that people can answer their own questions quickly. Our product is also simply more intuitive than most on the market – for both developers with our straightforward API and for marketers with our intuitive and clean interface.
About ButterCMS
ButterCMS offers a modern content management solution that helps companies across several markets tackle projects and manage content with ease. Their API-driven headless CMS has enjoyed strong success in several verticals, including e-commerce, agencies, SaaS, and marketplaces. Butter offers extensive documentation and a convenient API explorer interface for quick and painless integration with any application or website. If you need additional help, they offer live, personalized support for all clients.