Snapshot
Acquia held its flagship Engage Boston conference on November 14-15.
The event was part of its 2023/2024 Digital Freedom Tour, with more locations planned for next year.
Signature keynotes were delivered by Acquia leadership, renowned industry experts, customers, and partners. 
Big topics included AI, accessibility, and new Acquia product ecosystem innovations.
The company made several key announcements, including the acquisition of Monsido.
Attendees were offered an array of technical workshops and sessions focusing on a variety of topics.
---
As a recovering New Englander, every trip back to Boston feels like a homecoming. 
From Fenway to the North End, I miss it all. No visit would be complete without a comforting bowl of chowda and a pistachio cannoli from Mike's. Heck, even if the Patriots aren't doing so hot (like now), just being in Beantown is a win. 
Boston is a city built for experiences. People come here to pursue knowledge, art, and culture. They create, invent, and sometimes even break the rules. That spirit made it a perfect backdrop for Acquia Engage – the digital experience platform's annual conference – which took place this week.
As the kickoff to the company's 2023-2024 "Digital Freedom Tour," Boston provided a home-field advantage for Acquia, with its global HQ located in the heart of the city. This also marks the company's tenth year of hosting its Engage series, and the tour will continue across the globe with events planned in London, Paris, and Tokyo next year. 
With COVID (mostly) in the rearview, I'm frequently attending in-person vendor and industry conferences. I'm there for the content first, but live shindigs have always been multi-sensory, and some brands struggle to deliver an immersive mix of experiences.
But Acquia Engage? It was, in a word, engaging on every front. You can check out some footage here: 
Held at the luxurious Encore Boston Harbor – part of the acclaimed Wynn Casino and Resort dynasty – the event was draped in quality from head to toe. That included the food, which was off the charts for any conference. Seriously: there was fish at lunch. A risky venture for a buffet, but they knocked it out of the park. 
Along with a screen-printed t-shirt station and other myriad delights, sponsors offered an array of interactive experiences in their booths. A fun standout was Bounteous, an Acquia Elite Partner, with its novel Acquiascope. The agency's touchscreen kiosk harnessed a bit of React, AI, and personalization to predict your personality while showcasing the platform's potential.  

Over the course of the last few days, Acquia's leadership team covered a lot on stage from a business and market perspective. On the skills side, targeted workshops and sessions featured technical tracks on Drupal, DAM, and other products in the Acquia ecosystem.
In her opening remarks, Vangie Cleversey, Acquia's Chief Delivery Officer, noted that the company wanted to provide topics at Engage Boston that "helped people think differently." They delivered that in spades with thought-provoking keynotes from renowned leaders in AI and accessibility and diverse use cases from major brands like New Balance, Mars, and Tufts University. 
Throughout the event, I had the opportunity to connect with Acquia customers and partners, each reflecting on the quality of the content and the gravity of the announcements. The perception was overwhelmingly positive, with most saying the event was first-rate. Most of the tepid remarks were around missed product expectations and support within the Drupal community – something Jennifer Griffin-Smith, Acquia's CMO, told me that the company is committed to enriching.
With so much compressed into 48 hours, it would be impossible to cover everything in detail. But I'll share my five big takeaways from this world-class event, and why attendees – and the market – should feel engaged. 
1. Productive digital experiences are the name of the game
"Have you ever sworn at a website?" 
That was the question Jennifer Griffin-Smith asked during the opening session, sharing a timely story about losing her luggage on a recent flight and coping with a poor app experience. 
She went on to describe how disconnected systems, security breaches, and accessibility issues are eroding trust in brands. At the same time, content overload and a cookieless future are compounding pressure on marketers. 
So what's the answer? Delivering productive digital experiences. 
While intuitive on its face, Acquia's leadership team dedicated a lot of time to defining what this means for the company, its customers, and the market at large. Joined by Drupal founder and Acquia CTO Dries Buytaert – a literal legend in the open source realm – the pair outlined the tenants that comprise a productive digital experience for a new world: 
Frictionless. Accessible. Relevant. Safe.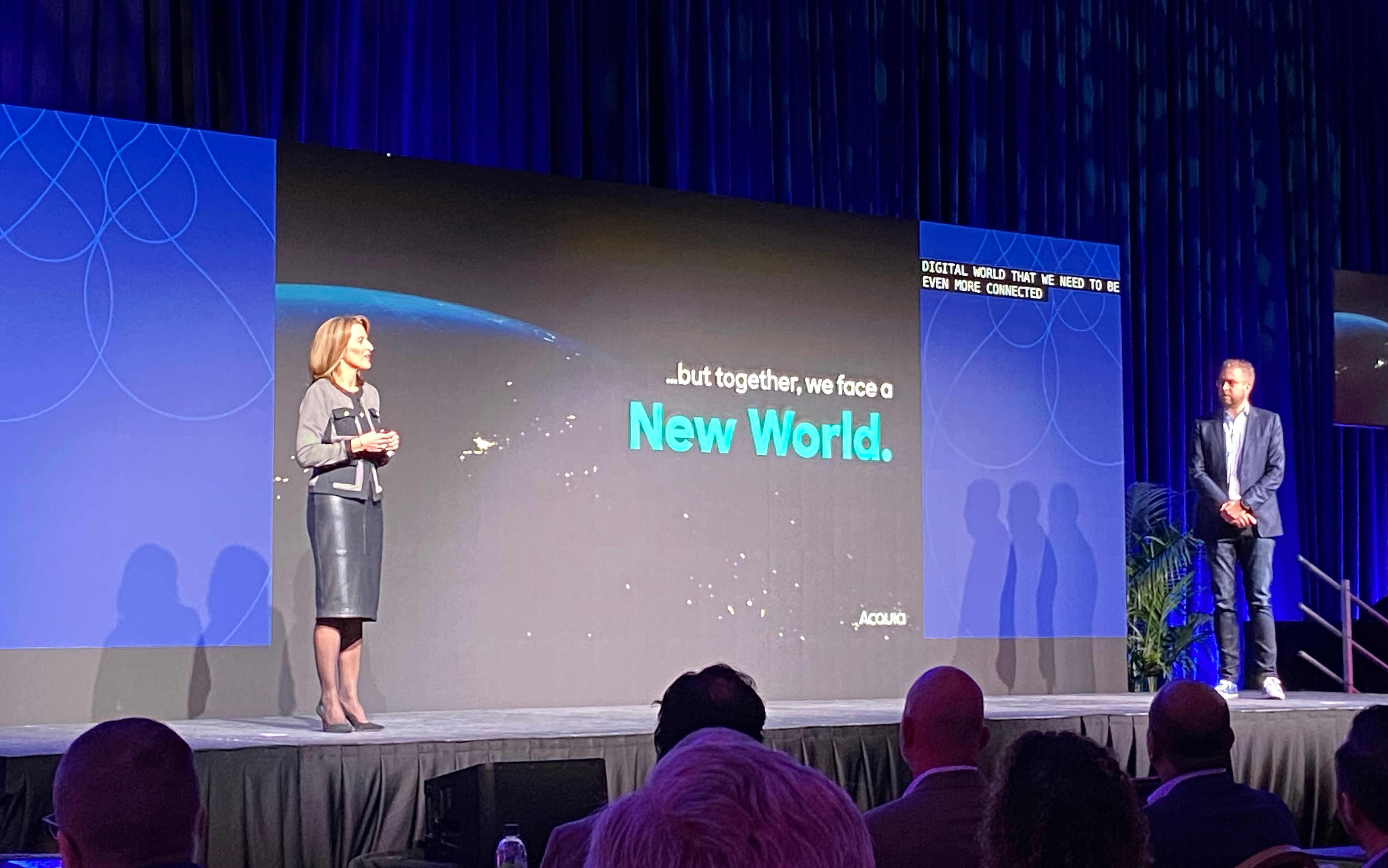 As a foundation for delivery, Jennifer and Dries walked through Acquia's Digital Experience Capability Model – a set of five core competencies that cover organizational alignment, data integration, content, UX, and connected processes. Customers can use this model to assess and score their strengths and weaknesses and where they can enhance their capabilities.
The concept of productive digital experiences closely aligns with the rise of digital experience optimization. This next frontier of focus for organizations is leveraging new technologies and governance to achieve greater efficiency and performance. 
During a DX panel featuring Acquia customers, Josh Soldo, VP of Digital Solutions at Fidelity, reflected on the pressure to optimize. 
"I had a manager say, 'we need to deliver these [sites] faster and cheaper," he recounted. That forced them to rethink their stack and look for a better CMS solution that was scalable in the right ways. Once they settled on Acquia, they were able to leverage Site Factory to clone and produce packages at a faster pace, which he described as a game changer. This equates to enhanced optimization – and a more productive digital experience. 
As Acquia focuses on this mission, it's clear that AI will impact every facet of delivery, helping to automate and streamline tasks that make users and teams more productive. At the same time, Acquia's open legacy may unlock greater optimization and allow it to compete better against its rivals. 
"There's a golden thread," Dries pointed out. "Open source, open APIs. It's the heartbeat, giving you flexibility and control. We've been doing this for 15 years and amassed a lot of experience and best practices."
Precisely what it needs to help customers realize productive digital experiences. 
2. Accessibility is inspiring action
It would be easy to say that AI was the star of the show at Engage; it certainly took up most of the air in every room. But in my one-on-one discussion with Jennifer Griffin-Smith, she validated what many attendees were also feeling: 
It's about accessibility.
Of course, there's more to the technical story. Accessibility is built on a foundation of structured data, which benefits SEO and site performance. Fixing broken links and missing descriptions will always make Google happier in its next crawl. But what's really driving Acquia's focus on accessibility is inclusion, which was made undeniably moving by its keynote speaker, Haben Girma.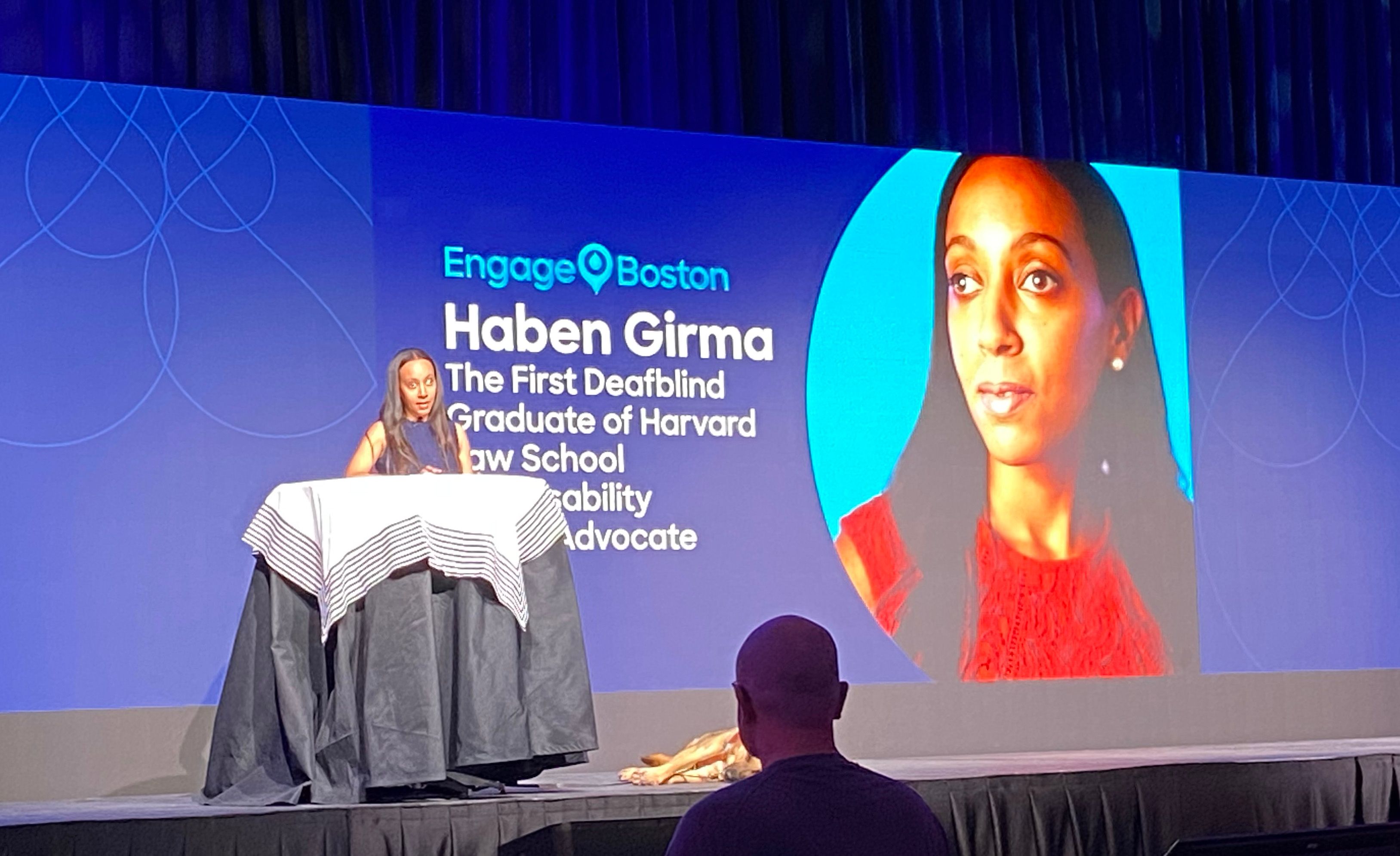 In her presentation, The Univeral Benefits of Inclusive Design, Haben stood in front of a crowded room and delivered a powerful talk – all without seeing or hearing the audience. 
Try to imagine that. 
Now, imagine doing it without any assistive resources. 
As the first deafblind graduate of Harvard Law School, Haben has long been an advocate for accessibility. Using her braille keyboard, she shared how technology has unlocked so much for her – even though most tech is developed with non-disabled users in mind. 
"Disability sparks innovation," she said emphatically. "It spurs creativity that ends up helping everyone." 
And that was undeniable in her personal examples, where she has frequently had to fight for innovation in an ableist world. That boldness has enabled her to conquer feats that might seem impossible for a deafblind person. She shared video after video of her salsa dancing, snow skiing, and even surfing – all testaments to her resolve. 
Seeing Haben Girma at Engage was a remarkable gift. It elevated the impact of accessibility in a truly human way. She reminded us that small changes can make a huge difference, like including captions and alt tags with images on social posts. But for products and experiences, she encouraged organizations to design with accessibility in mind and "not wait until later."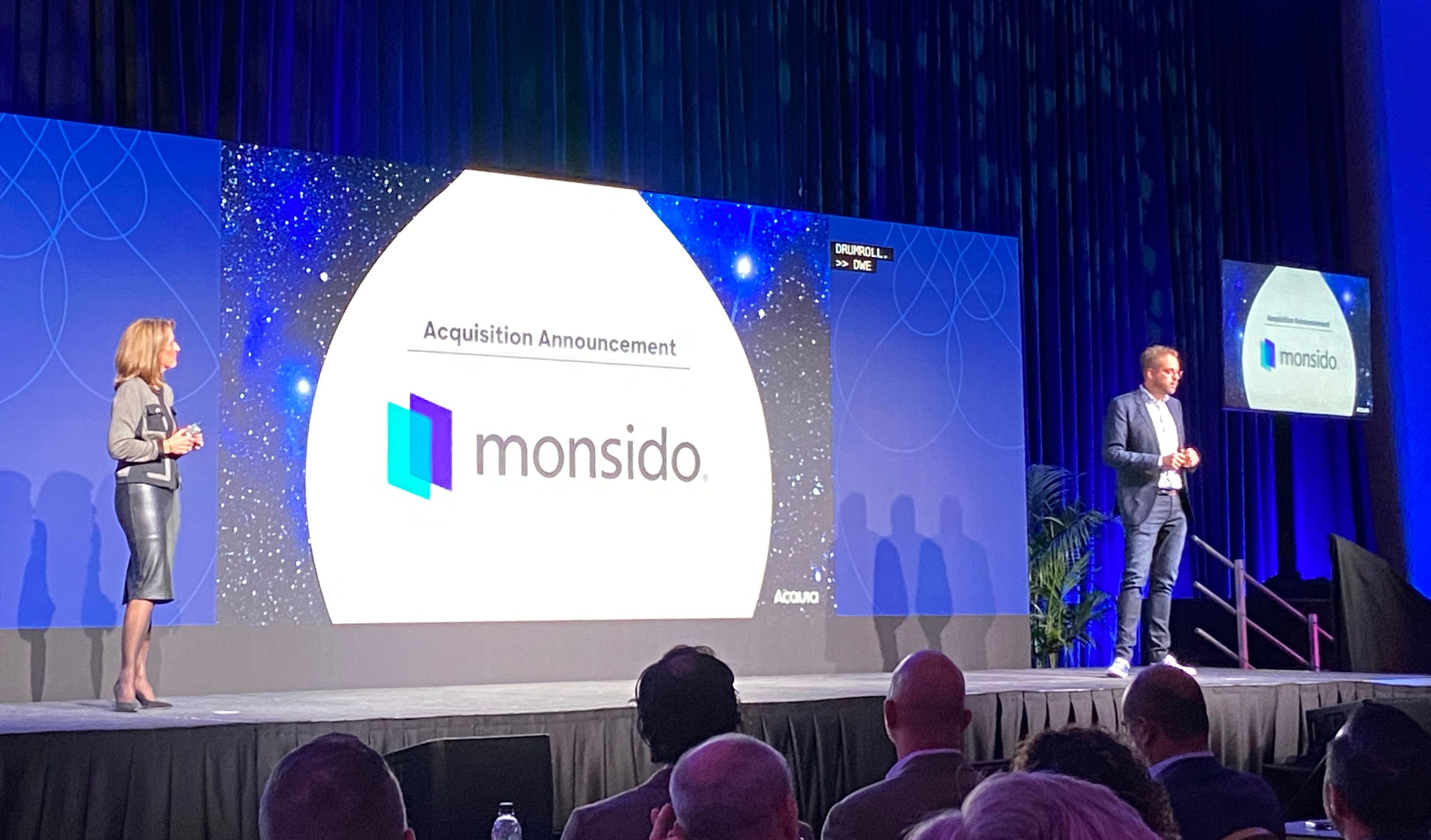 Acquia's commitment to accessibility was further crystallized by this week's announcement of the Monsido acquisition. CEO Steve Reny talked about the compelling legal imperative (there have been numerous ADA lawsuits over the years) but emphasized the broader social responsibility. 
And then there's the business opportunity: with 1.3 billion disabled people around the globe, accessibility unlocks a broader talent pool and a bigger marketplace of customers. 
I asked attendees what they thought just after the Monsido news broke. Many had never heard of the company, and for some, accessibility wasn't in their purview. But after Haben's talk, everyone seemed motivated to make a difference. This demonstrates how education can translate the Monsido strategy and the accessibility initiative into a critical activator for the company.
In one of my best conversations at the conference, an Acquia customer shared that he had already started using alt tags on LinkedIn right after seeing this presentation. 
Big things start small, which feels inspiring – a word Haben Girma appreciates, but only if it's tied to action.  
3. Keep calm and carry on with AI
AI-yai-yaaiii!
When that phrase appeared on screen during the opening session, there were some laughs, but mostly a collective sigh of agreement. Most people I spoke to were feeling what we all feel: AI whiplash. And that constant, frenetic change shows no signs of slowing down.
Case in point: the AI innovation cycle at Acquia. While machine learning technologies have long been a fixture in Acquia's products, the roll to generative AI was a bit slower than other platforms as it divined the hype from the hope. 
When I spoke to Deanna Ballew, the company's SVP of Product, just a few months ago, the roadmap was still evolving – in part because the Drupal community was already producing its own connectors. Fast forward to Engage Boston, and AI is being infused across the product portfolio.
In my one-on-one conversation with Jennifer Griffin-Smith, we talked candidly about AI and her palpable anxiety. Thanks to the insight of thought leaders like Paul Roetzer, she's traded that anxiety for optimism – and during Engage, the audience was able to experience that impact firsthand.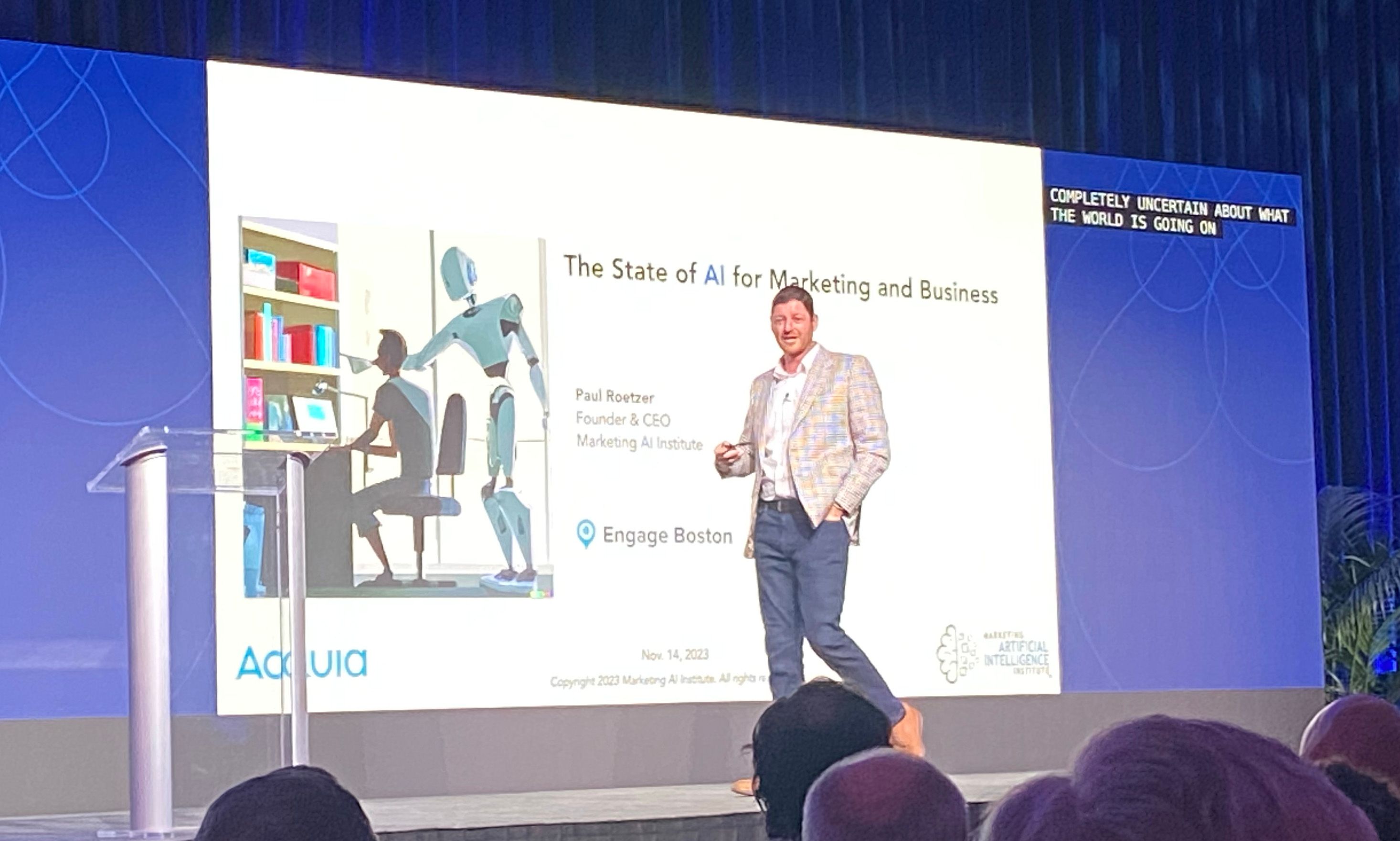 As founder and CEO of the Marketing AI Institute, Paul has become a sort of accidental wizard of artificial intelligence. During his keynote, he shared his circuitous path from journalism to marketing to AI visionary, and how the evolution is continuing to unfold. 
As Paul noted, the great pivot within the current generative AI revolution is that these new LLM technologies are impacting knowledge work, not blue-collar jobs. While modern AI has been building for over a decade, the awakening has been recent, creating much of that anxiety Jennifer spoke of.
"It's been 12 years," he said, "but we only started understanding in the last 12 months."
To help prepare for what's ahead, Paul shared 10 things in AI that are impacting marketing. He touched on why big tech is betting everything on it, and how it's rapidly becoming a part of every tool. He talked about the inevitable obsolescence of prompting, and how regulation won't stop AI from growing.  
And just how fast is that growth? While observing the current technologies available, he said: "This is the least capable AI you will ever use. Whatever you see today, try it again in 30 days."
Yes, there are real threats to society, and leaders must act to help shape the future. To do this, Paul advocated for the creation of AI councils within organizations, with top-down policies that help guide and skill workers confidently. "The future can be incredible if we choose responsible, human-centered AI," he puntuated.
Above all, Paul sees AI as a great time saver. That was certainly resonating with most people I spoke to after his session. As Acquia continues to infuse AI capabilities into its products, customers and partners are already thinking about ways to automate manual processes, all tapping the time-saving potential.
Bringing Paul to Engage was a genius move. It presented a real-world view of what's happening while projecting and promoting areas for opportunity and growth. He helped assuage fears and focus on what's really at stake. It was the perfect counter to the AI-yai-yaaiii anxiety – and a great way to build trust in Acquia's AI roadmap. 
4. Innovation is thriving across the ecosystem
During the company's innovation showcase, Dries Buytaert and Deanna Ballew took the audience Back to the Future with some prognostications from 80s pop culture. 
While not all predictions were spot on (we're still waiting on flying cars and food replicators), many imagined advancements are here – and in the realm of digital experiences, AI is accelerating that realization.
As Acquia looks to enhance its users with better tools and more productive digital experiences, it's also clear that the improvements are better positioning its competitive posture. As the company battles for DXP dominance with Adobe and Optimizely, the investments in accessibility and AI are delivering a more complete vision. 
There were quite a few product updates and announcements during the showcase and breakout sessions, but a few stood out:
Drupal 10 enhancements
First and foremost, the continued building of ChatGPT features in Drupal 10. As Dries pointed out, the open community introduced AI features before most of the market, getting it into the hands of Acquia users before many of its competitors. Kevin Quillen, the Drupal Practice Lead at Velir, shared a demo of the interface and talked about its open features.  
Drupal 10 also introduces content creation features, from field UI enhancements to improved UX features. Users can also customize the content creation experience based on specific needs – a consistent feature of the open source toolset. 
Acquia DAM AI features
AI in DAM was also a major boon. Users can now automatically add asset metadata and alt text and leverage a generative AI assistant for adding product descriptions in the PIM. There are also a host of other video capabilities coming via partners like Moovly and Vizit to enhance editing and improve measurement.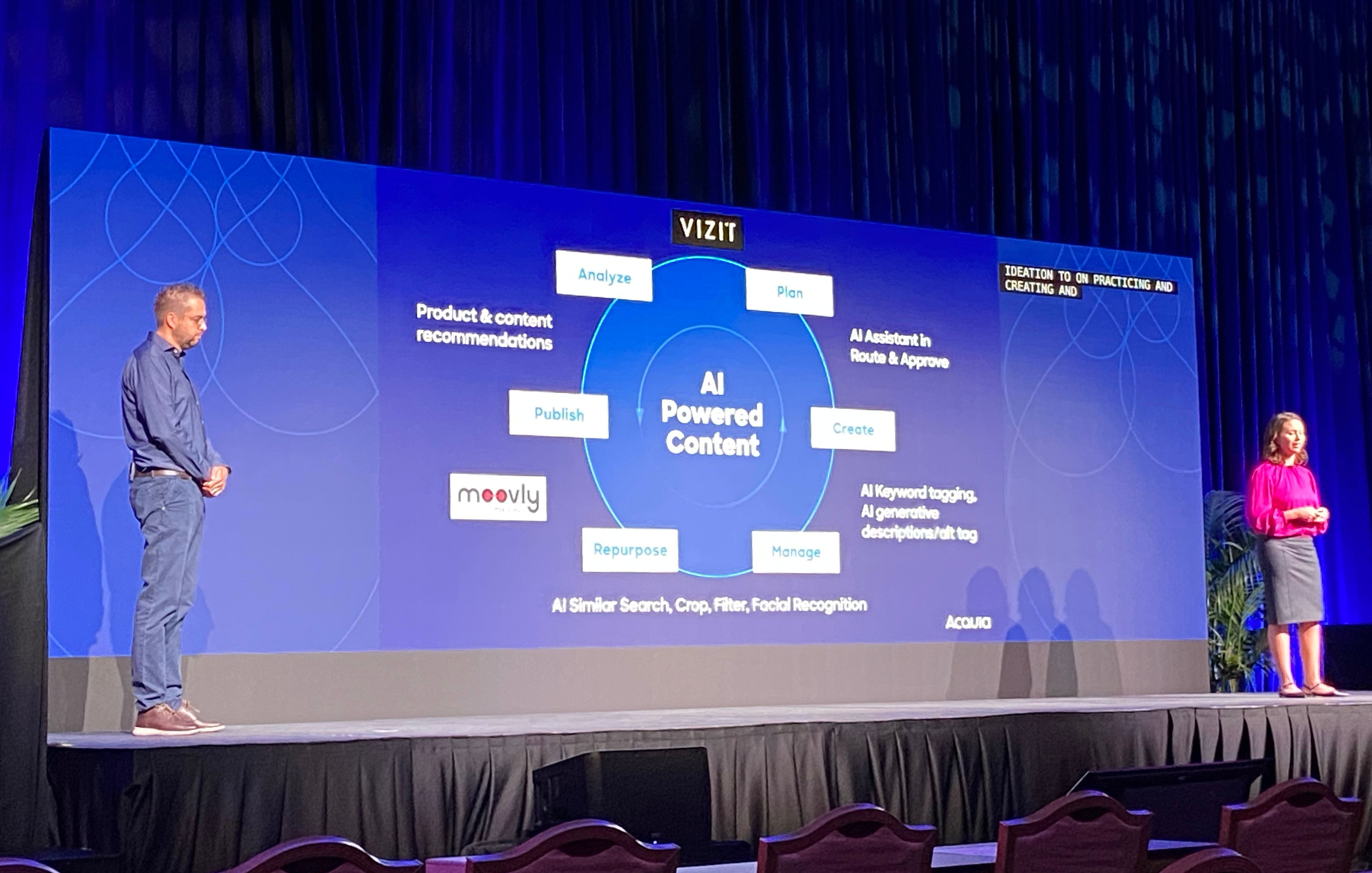 Integrating Shutterstock Generative AI
Shutterstock's generative AI also brings marketers confidence from an image perspective. When using Shutterstock via Acquia, you can be assured that images are properly copyrighted and generated ethically and safely. Even the artists in the ecosystem are being paid fairly. 
Dries also talked about AI watermarking and other improvements that will continue to ensure responsible image use. In a recent Wired article, this is proving to be a challenge, as the current crop of technologies has been easy to fake and break.
Conductor and VWO Partnerships
Along with the previously mentioned Monsido acquisition, Acquia announced new partnerships with Conductor and VWO this week. As Jennifer Griffin-Smith relayed, her marketing team is dogfooding both technologies successfully with their own internal programs.
A bit of background: Conductor's module in Acquia can instantly improve SEO on sites, while VWO's module provides testing and UX enhancement for both Drupal and non-Drupal sites. This buoys the commitment to be open and composable.
Acquia TV 
Look out, Netflix: Acquia TV is now streaming… and it's free!
Acquia's Senior Director of Brand and Creative, Shawn Perrit, introduced the new channel, which was inspired by a project that Brightcove created for Finastra. Acquia TV will feature episodic segments like "Open Sauce," a feature called "Mic Drop" that focuses on customer successes, product explainers, and more. 
I've checked it out already. The quality is top-notch, and the content is solid. Totally worth tuning in.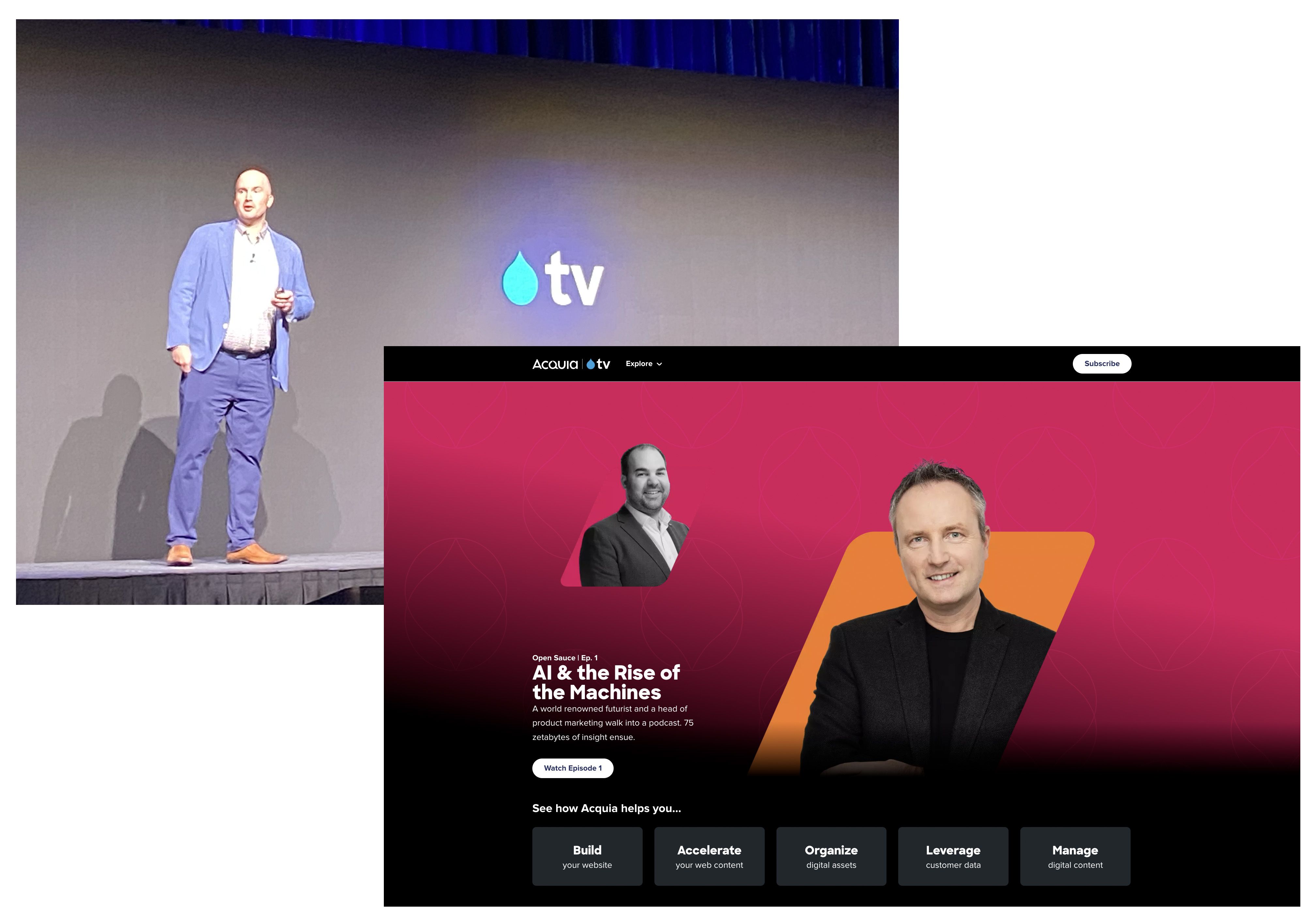 Tom Bianchi, Acquia's SVP of Product, set up the splashy debut by reinforcing the role of video in today's marketing mix. Based on a recent study, he shared that 82% of marketers said they need to create standout content to compete – and video is proving to be a key differentiator. 
Acquia Engage Awards 2023
Not to be overshadowed by other announcements, but the winners of the 2023 Acquia Engage Awards were also celebrated for some innovative work in key categories, including "Best ROI," "Best Use of DAM," and "Most Impactful Tech Stack Integration." There were also awards presented in Acquia's "Leader of the Pack" and "Global/Regional Excellence" categories.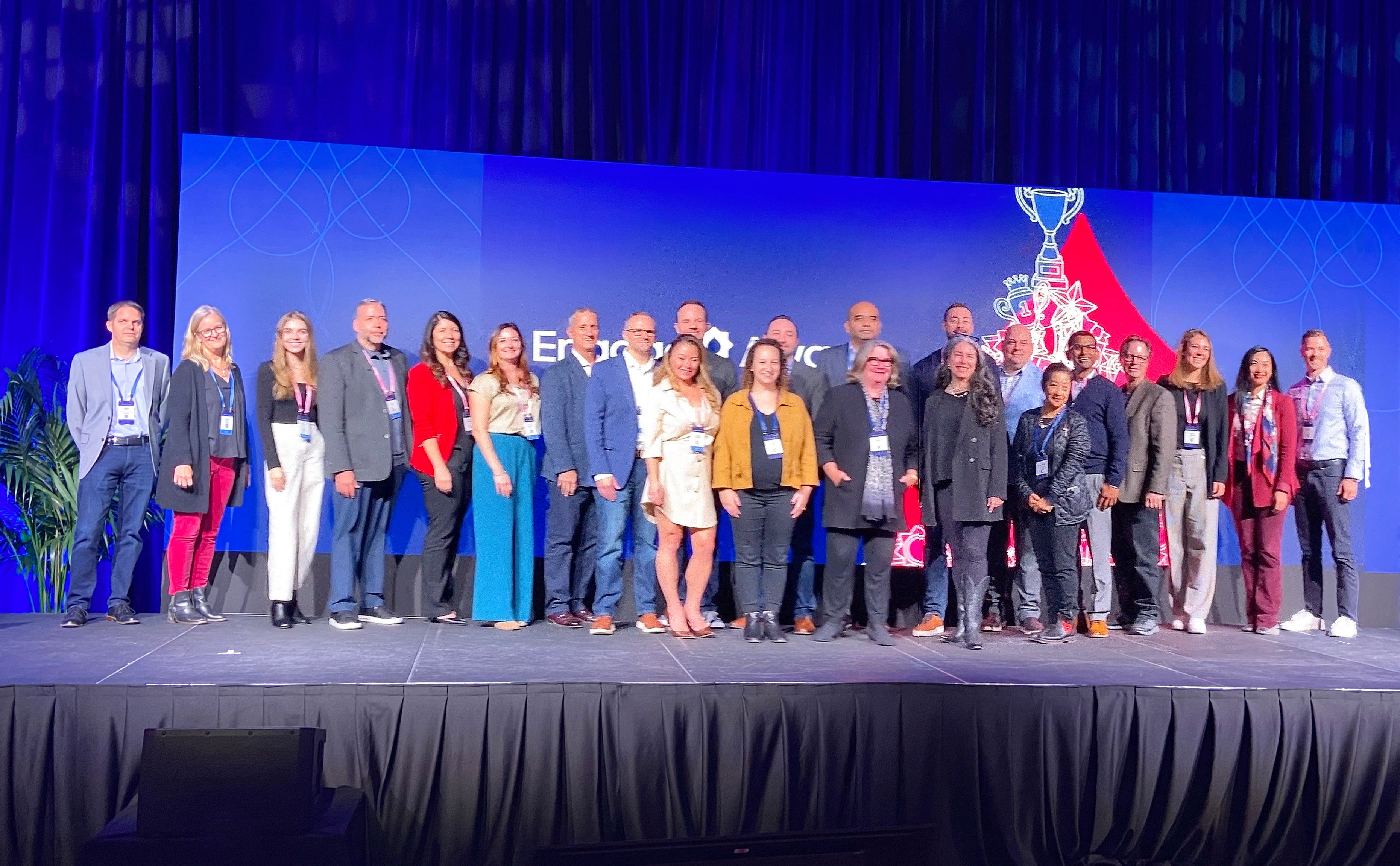 Judges included Jed Alpert, CMO of Smartling; Tim Doyle, CEO of the Drupal Association; Kathy Klingler, CMO and Board Member; and Jae Lee, VP of Product Marketing at SearchStax. All award winners can be found on the company's website.
5. Diversity, inclusion, and community are at the heart of it all
I've written before about the power and potential of open source communities. As of March 2022, there were nearly 1.4 million members in the Drupal community, including 124,000 users actively contributing. Together, they've made over 50,000 modules that extend and customize its functionality. 
It's important to remind ourselves that these tools have all been made by people – diverse people, often from a myriad of places and backgrounds. 
As a person with a non-binary family member, I am hyper-aware of diversity when I attend events. I'm also conscious of my own privilege as a white cisgender male in an industry that has been dominated by people who look like me. Even today, I attend conferences with a noticeable lack of diversity and minimal focus on inclusion initiatives. 
That was not the case at Engage. Being open has certainly contributed to Acquia's fabric as a company, and it has clearly stated its goals to be more inclusive. This is evidenced by its investment in accessibility, but also by the mix of attendees and the number of women on stage. 
In fact, on its newly launched Acquia TV site, there's a segment dedicated to "Inclusive Brands," where business leaders get frank about the importance of authenticity and accessibility in areas like AI and content. 
In my briefing with Jennifer Griffin-Smith, we discussed the importance of diversity. As a woman in a C-level leadership role, I wanted to know what it meant to her to be working for a company that is focused on this commitment – and how she's helping to shape it.
"I've been in technology leadership positions for 20 years," she said. "And 20 years ago, I would have been on an all-male management team. Today, it makes a huge difference, because it's about the value brought to the group by diversity."
As Jennifer described her move to Acquia earlier this year, she was heartened by the focus on diversity by the leadership team. Along with CEO Steve Reny, Acquia's Chief People Officer Heather Hartford has made a conscious commitment to practice inclusivity. This means having a mix of stories and backgrounds represented at events, but also investing in resources like Acquia's Center of Excellence in India. The focus on accessibility was also reinforced in almost every facet of the company's messaging at Engage.   
Without diversity, we won't learn about our differences or commonalities. And while businesses may struggle with putting these kinds of commitments into practice, there are many benefits to doing so. The fact is, we can always be doing better. 
As Haben Girma said, "Disability sparks innovation," which, in her experience, has led to greater business and human opportunities. 
Being conscious and aware is the first step. Seeing companies put it into action? That's inspiring.